Modal CRAFTsynth: 1st Hands-On Impressions & Video review
Don't be fooled by the size and affordable price of Modal's new CRAFTsynth. There's so much more to this digital monophonic synth kit than meets the eye. We dropped in to Modal HQ to get hands on.
Modal's new CRAFTsynth is a £79 / $99 monophonic digital synthesizer that punches way above its price tag. Knowing what Modal are capable of, it almost (just almost) came as no surprise just how sonically capable this diminutive looking synth is.
Last Friday, I popped by the Modal Electronics HQ in Bristol, UK to get my own hands-on with this semi-DIY synthesizer. Why semi-DIY? Well, it takes about 10 minutes to assemble it without the need for any soldering or specialized tools. I haven't personally tried making one yet as I won't be able to get hands on with a brand new unit for a week or so still... but, I can see that it's been intelligently constructed to allow for almost anyone to put this together.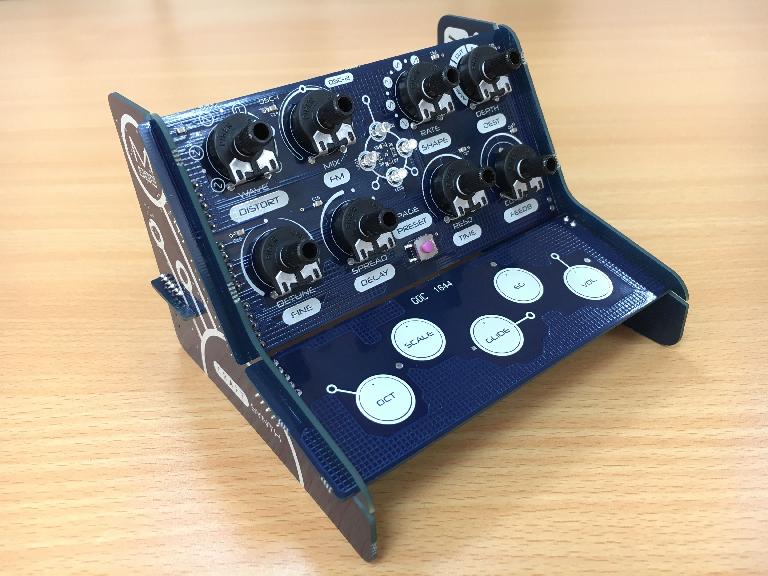 While Nick Batt from SonicState has done an in-depth video review of the CRAFTsynth (see below), I'm going to simply describe my initial impressions, good and bad of this tiny, accessible synthesizer.
First, let's talk about size. CRAFTsynth is small and cute. Although Modal probably won't be making little bags or cases for CRAFTsynth, I imagine others will want to. It just about fits in the palm of a hand although most users will be playing it on a surface. My second realization is just how light it is. Like, incredibly light. You might want to position it on your desk so it doesn't slide around. This doesn't detract from the experience of playing it though. And one of the attractions of CRAFTsynth is its maker-style feel.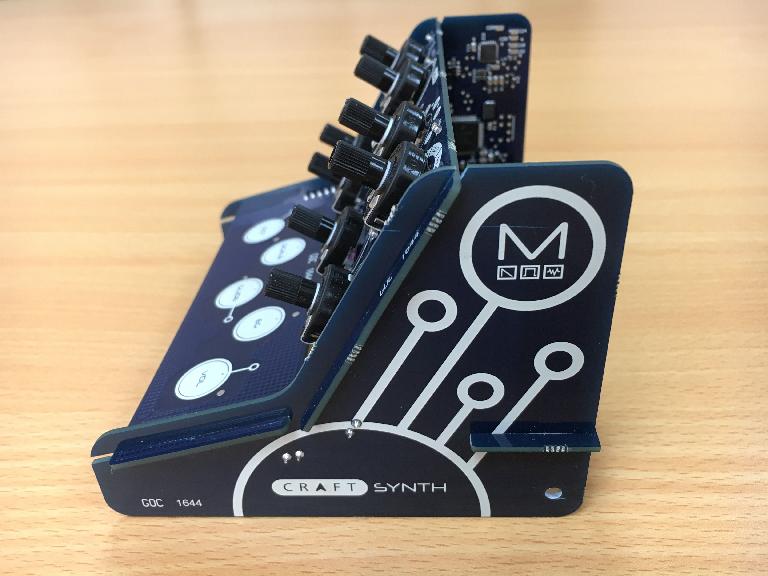 Before walking into the Modal offices, I knew it had a beefy spec. But still I wasn't prepared for the richness of the sound. CRAFTsynth is a craftily (sic) large sounding synthesizer. We're talking 2 oscillators per voice, Sine, Tri, Saw, PWM, Noise and FM and an LFO with six destinations, including VCA amplitude, filter cutoff and PWM. The interface took me a few minutes to get my head round. Thanks to the lead developer's help I was able to get up and running selecting waveforms in oscillator 1, adjusting the mix between it and oscillator 2, setting the rate, depth, detuning, spreading, resonance, etc. all without any hassle.
Due to its size the front panel knobs all have dual functionality which you access by switching pages. You'll need to press the multi-functional button to do so, and also to save and recall presets. The second page transforms the knobs to control distortion, FM synthesis, fine-tuning, delay and its time and feedback parameters.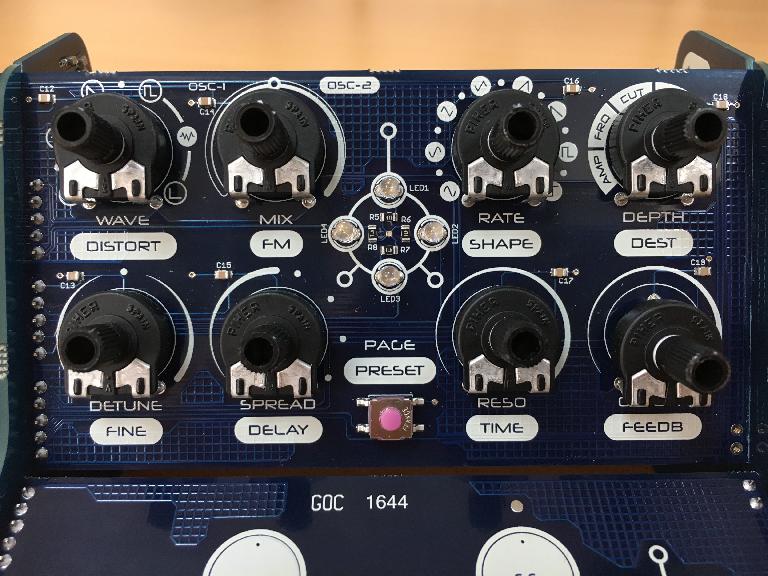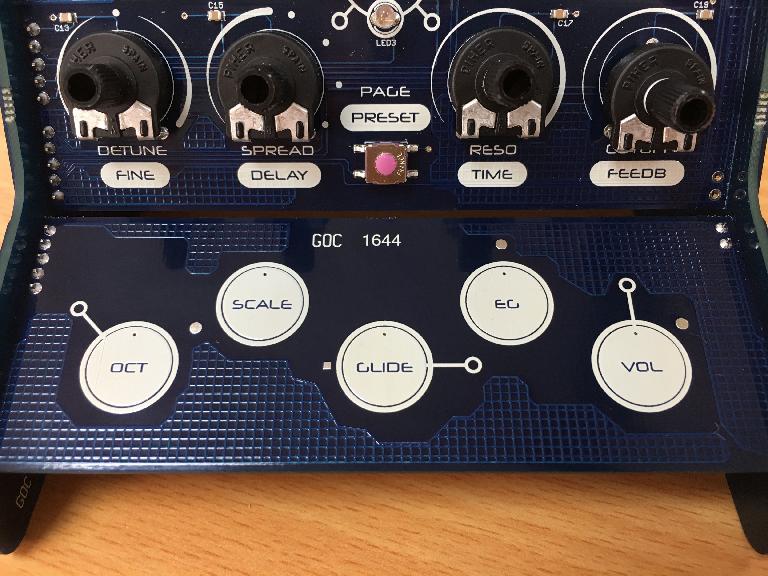 In case you didn't already know, CRAFTsynth features 5 touch buttons which you can use for note playback. In tandem with the Page/preset button you can use these to adjust the octave, scale, glide, envelope generator and volume. It might sound a bit complicated, but I honestly felt after playing with it for about 10 minutes I just wanted to explore its sounds some more. It was genuinely a hard decision to break away from CRAFTsynth to get hands on with the free pizza that arrived...!
While this isn't a review, my first impressions of this synthesizer are almost all positive. I did, however, find it confusing to visually see the parameter value selected as there is no mark or notch on the rotary knobs. However, it wouldn't be practical to have one as each knob controls two parameters depending on the "page" you're on. The sounds? Well, just wow. I was impressed with the depth and range and they sounded pretty darn good considering I hadn't a chance to delve in too deeply.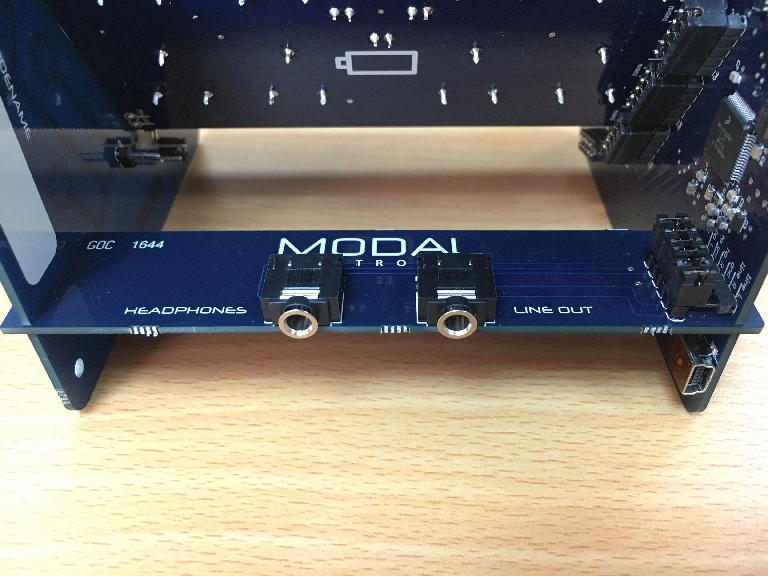 But there are even more reasons to be excited. The iOS, Mac and PC app coming out gives you more control over CRAFTsynth than the faceplate on the synth itself does. Then, there's not much I'm at liberty to say about the future except that CRAFTsynth is just the beginning. I think we're about to see Modal start a small revolution in the mini synth space that could blow our minds. Sure, Modal don't have the reach of the bigger brands like say Korg or Roland, but if my experience playing with this version... and my knowledge of future developments is anything to go by, CRAFTsynth should be a BIG hit. And at this price point, there simply isn't anything around that competes.
You can pre-order CRAFTsynth direct from
Gear4music
in the UK. Price: £79 GBP / $99 Street in US.
More details can be found on the Modal Electronics website
here
.
Learn synthesis tips, tricks and techniques in the AskAudio Academy
here
.