Modal Announces Skulpt, Sub $300 4-Voice, Portable, Polyphonic Synthesizer
Well, well, well. Modal Electronics have unveiled a rather stunning 4-voice, 32-oscillator polyphonic virtual analog synthesizer expected to retail for less than $300 USD! It sounds lovely too.
Let's launch right into the nitty gritty of this powerful, portable, polyphonic synthesizer from Modal Electronics.... that will be less than $300!! Here's the official video and press release for Skulpt:
Modal Electronics are proud to announce the latest in its line of innovative Machines For Musicians - the Modal SKULPT synthesiser.
Packing a huge range of synthesis power in a highly portable package, Modal SKULPT is ready to help you take your creativity to the next level wherever and whenever you want.
Representing not only a new synthesiser from Modal but the first in a new family of highly portable electronic musical instruments to come, SKULPT joins Modal Electronics highly acclaimed CRAFTsynth, 001 and 002 Digital / Analogue hybrid synthesisers and 008 Polyphonic Analogue synthesiser and CRAFTrhythm drum sampler.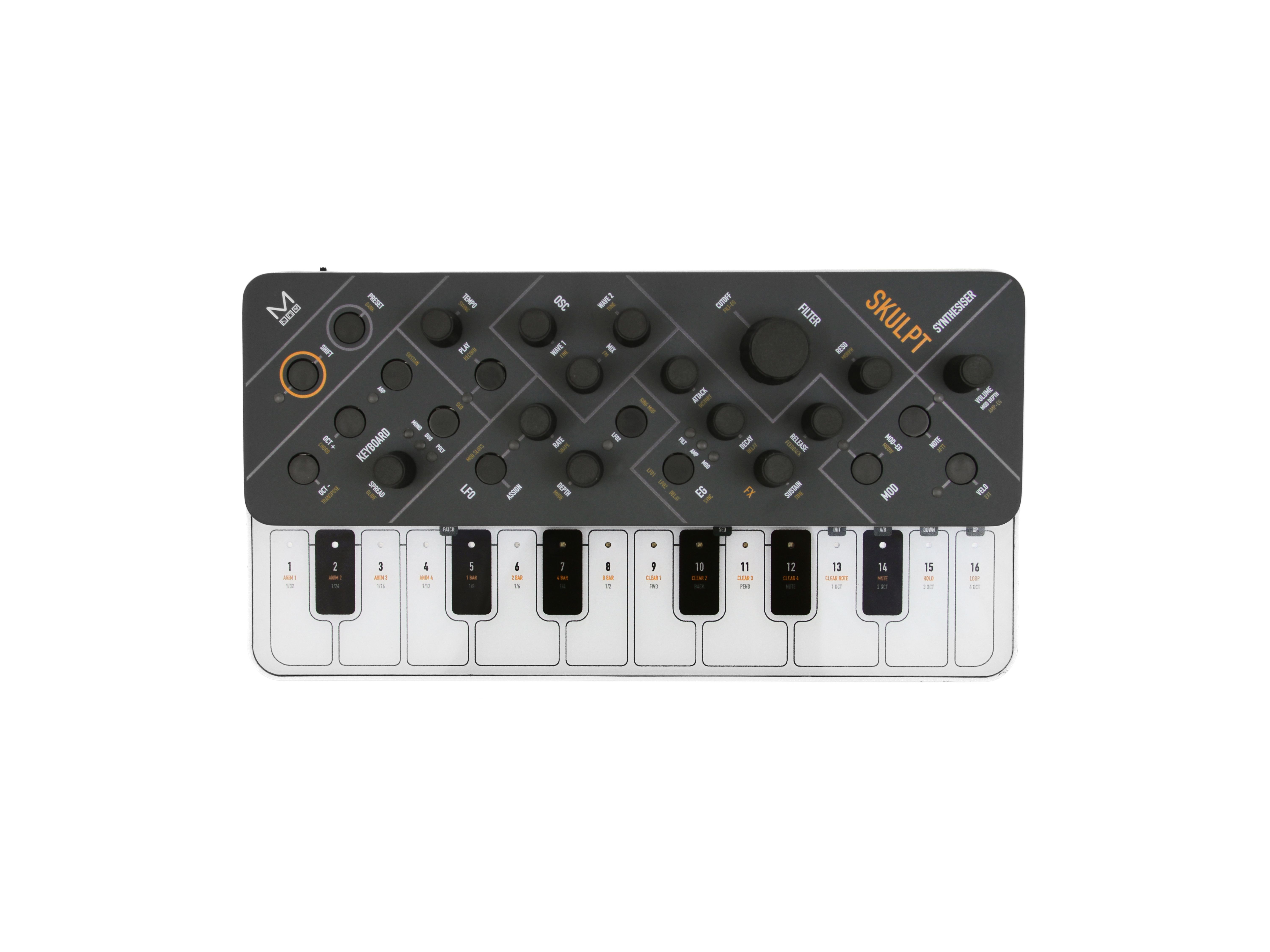 Based on the innovative voice architecture of the ground breaking Modal CRAFTsynth, SKULPT provides four true polyphonic voices of synthesis with sound creation features normally only found on instruments many times the price of Modal SKULPT.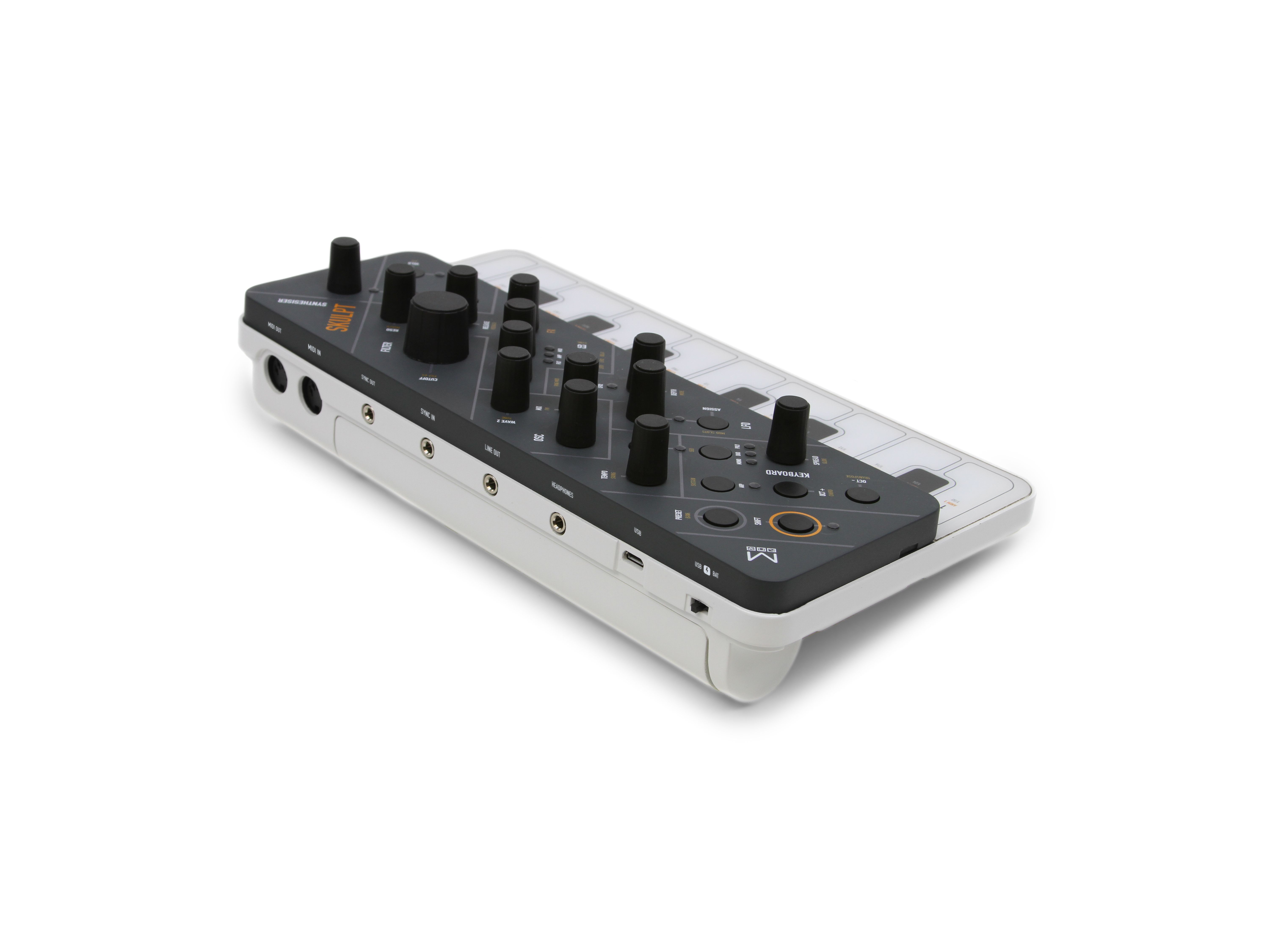 A quick overview of its features shows SKULPT pushes the bar up in portable electronic musical instruments:
Four virtual analogue discrete voices of polyphony with multiple keyboard modes 

Eight oscillators per voice for a total of 32 oscillators (4 x 8) 

Eight banks of sixteen patches (128 in total) patch storage and recall 

Smooth morphing waveforms for each oscillator 

FM (frequency modulation) 

Ring Modulator 

PWM 

Eight (8) modulation slots with eight sources and thirty seven destinations 

Three (3) EG's (envelopes) for Filter, Amp and Mod 

Two LFO's – audio rate and MIDI syncable, one global, one per voice / polyphonic 

2 pole resonant morphable modelled State Variable Filter (VCF) controllable from 
low pass, through band pass, to high pass 

Delay section - fully MIDI syncable 

Waveshaping Distortion 

Sequencer with real time polyphonic note input, storing 128 notes and four rows of 
parameter automation, 64 sequences can be stored onboard 

Feature rich Arpeggiator with selectable division, direction, swing and octave range 

16 key front keypad for note input and controls 

13 front panel encoders with shift mode for further access to functions
Front panel transmits MIDI CC's enabling it to control external software and 
hardware 

MIDI IN and OUT with soft THRU on 5 pin din sockets as well as Class Compliant MIDI 
over USB 

Analogue SYNC IN and OUT on 3.5mm sockets 

Dedicated headphone port 

Master output on 3.5mm socket 

Powered either by USB or 6 x AA batteries for extended playing time 

And Modal SKULPT is truly portable – measuring only 255 x 135 x 68mm (10"x5 1/2"x 3") and weighing less than 1.0kg (less than 2lb) – with batteries installed – means you can take SKULPT with you and continue making your music wherever you are. 

Powered by either 6 x AA batteries, providing over 12 hours* of continuous play on the road, the stage or in the studio, you can switch to USB power whenever you want.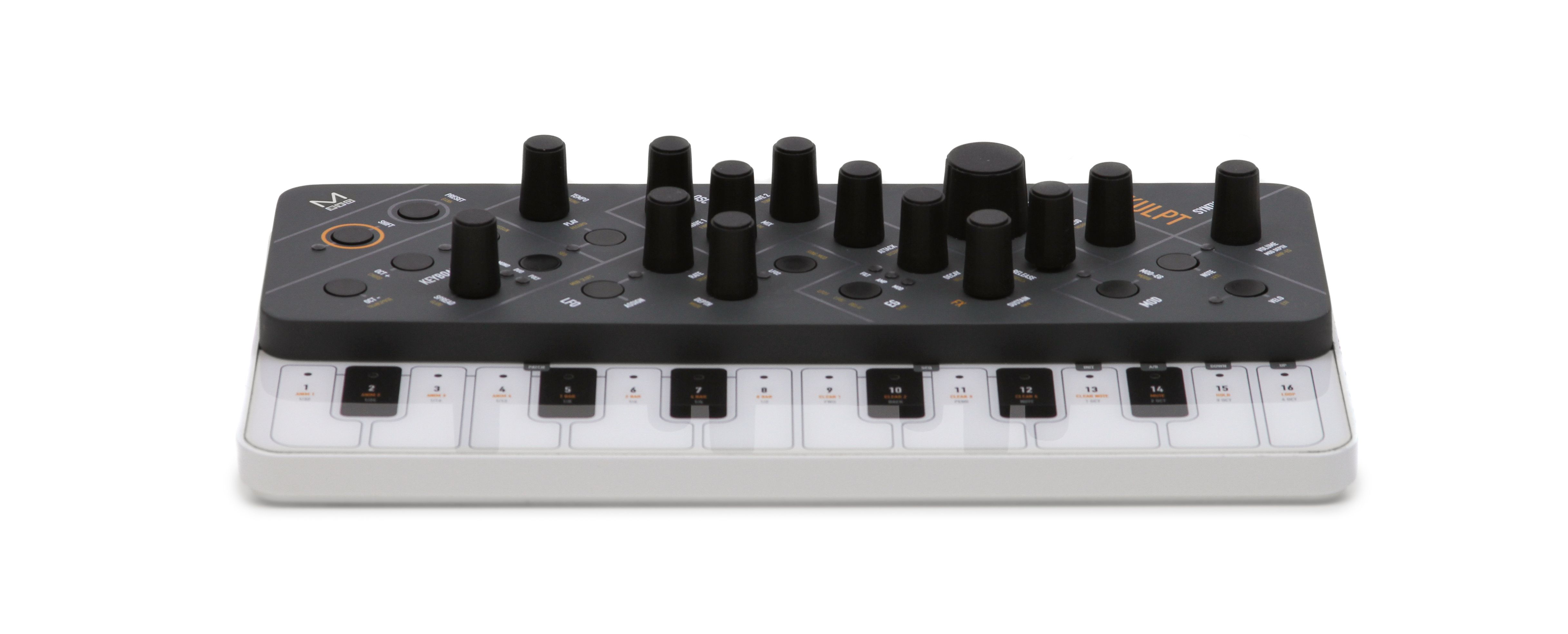 And USB isn't just for power – Modal SKULPT provides a Class Compliant USB MIDI connection, enabling SKULPT to play in an integrated setup with MacOSX, Windows or iOS & Android tablets and phones.

In addition the MODALapp editor provides complete visual access and control to all of SKULPTS incredible features, along with tight integration of Modal's CRAFTsynth and CRAFTrhythm devices – letting you work across your Modal instruments with one unified 
 high quality editing environment on the platform of choice including MacOSX, Windows or iOS & Android.
Small enough to fit in your backpack or sit on your master MIDI keyboard, yet powerful enough to bring big synth features into a musician's rig, Modal SKULPT redefines what it means to be portable – "Bigger on the Inside".
Modal SKULPT will shortly be available to order on Kickstarter, starting Friday 13th July 2018. For more details, consult www.modalelectronics.com/skulpt
Pricing to be confirmed shortly – expected to be LESS than US$300.