MOD DEVICES Announces MOD Dwarf, Endlessly Customizable Modular Effects Processor
The MOD Dwarf has already exceeded its crowd funding goal within one day. Find our what makes this tiny, portable, modular hardware effects module so enticing.
A steadily rising player in the international market for cutting-edge audio-tech innovation, MOD Devices takes a problem-solving approach to developing community-driven hardware and software that bring simplicity and low-cost utility to musicians. The Berlin-based music tech firm is announcing the February launch of a Kickstarter campaign to support the production of the MOD Dwarf, their latest one-stop solution to the need for a compact, economical, and endlessly customizable modular effects processor.
"Our products are developed to solve real musicians' problems, not to beat demands coming from specific market categories," says MOD Chief Executive Officer and Founder Gianfranco Ceccolini. "After two successful releases with open-source software, we now introduce the MOD Dwarf, for a more hands-on approach. MOD unlocks unlimited sonic solutions for musicians of all levels, without compromising, quality or expressiveness."
Compact yet powerful, the MOD Dwarf boasts the capacity to house a vast array of effects, virtual instruments, amp simulators, and MIDI utilities. While originally designed with guitar and bass players in mind, the unit's numerous hardware connections support inputs for anything from keyboards, synths, and modular rigs to microphones, grooveboxes, and even MP3 players. Set to become the most comprehensive and cost-effective hardware on the market for giving musicians access to limitless digital-modular effects, the unit is scheduled for release in Q4 of 2020 and aims to pre-sell 1000 units in its first round of production.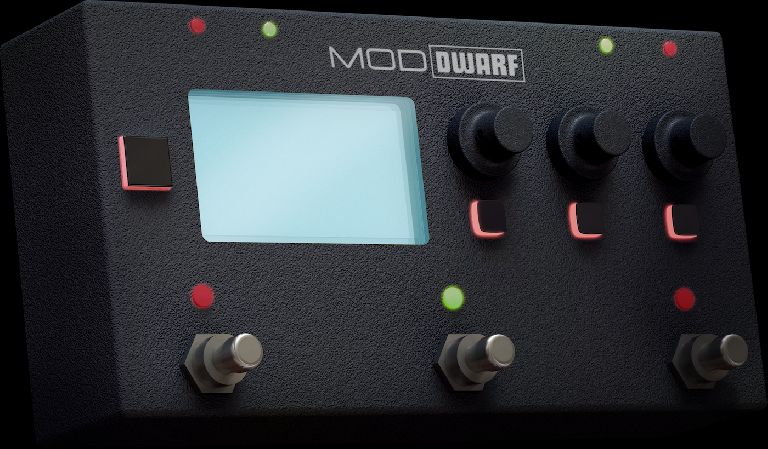 Dwarf Key features
Two fully independent audio channels, each with separate gain control allowing for any instrument or signal you plug in.
Modular patching: split, join, feedback and rearrange your signal chain freely.
More than four hundred free plugins available in the online Plugin Shop.
Standalone PX30 Quad-core 64 bit ARM CPU 1.3GHz , 8 gb storage, 1 gb RAM
TRS Midi Jacks and USB-MIDI expandable with any USB-Hub. Class-compliant MIDI Learn.
Designed for using both standalone or assisted by a computer for intensive creative patching.
3 Knobs, 3 push buttons and three footswitches fully assignable to any parameter.
Single large LED screens for maximum visual feedback.
Customizable User Profile slots for several plug & play scenarios.
The device features two independent audio channels, each equipped with independent gain controls, USB-MIDI, and TRS MIDI jacks for seamless live performance and studio applications. Three fully assignable knobs, three footswitch, and three pushbuttons make the MOD Dwarf a flexible powerhouse at your feet or your fingertips. If that's not enough, the MIDI learn function allows the unit to be manipulated by any class-compliant controller in the market.
Intuitively innovating ahead of both the current back-to-modular trend and the recent mass exodus away from computer-based production that characterizes the DAW-less movement, the developers of the MOD Dwarf successfully merge the virtual/studio world and standalone/live world. The MOD Dwarf will offer all the power and flexibility of computer-based effects and digital modulation in a standalone device with the compact portability and sturdiness of gig-friendly hardware. No other stage-ready device on the market matches the possibilities of the MOD platform.
When Gianfranco Ceccolini founded MOD Devices in Brazil in 2014, he had a dream of developing a next-generation, community-driven, and endlessly patchable multi-effects pedal, a device that would not need a computer to be brought on the stage, and one that could withstand scrutiny and win over the contemptuous hearts of audiophiles everywhere. With the help of free software developers, Ceccolini created the first product in the line that year, the MOD Duo. With it, he brought the MOD ecosystem to life: a system combining analog-digital hybrid hardware and an intuitive graphical interface with a community-oriented Plugin Store and Pedalboard sharing platform.
While MOD Devices has since moved its headquarters to Berlin and grown to include 18 employees, that foundational ecosystem has been a central element of the company's successful product development model ever since. Unlike most multi-effects units, MODs are all standalone devices that allow the user to download and swap out as many plugins as they desire. MOD's embedded operating system is then able to run any type of audio function, allowing users to create onboard solutions, custom-tailored to their needs.

MOD users also have access to more than four hundred free and commercial plugins, created by independent and renowned developers in the MOD Plugin Shop. Any of these plugins can be almost infinitely patched, using a browser-based visual interface that allows the user to split, join, and even feedback signals in a modular fashion. On the Pedalboard sharing platform, each user's patch creations can be saved, uploaded to the cloud, and shared with the ever-growing, open-source community, all without the necessity of a computer.
Says Ceccolini, "We create a box musicians can open to achieve their sonic ambitions, whatever they are - first with the MOD Duo and Duo X and now with the Dwarf, for a more hands-on approach for a great price."