Cross DJ, reviewed as the best free DJ app by Mixmag, is now available on iPad.

Rock your party with a pro DJ app
Cross DJ turns your iPad into a complete DJ system. Mix tracks in perfect sync, add effects, loops and much more. Building on MixVibes' 10 years of expertise, we made our app easy to use for music lovers, and powerful for experienced DJs. Achieve the same level of performance as with real decks!
Comprehensive feature set
Scratch, loops, effects, hot cues: Cross DJ is the first app for iPad that provides professional DJ features in an intuitive design.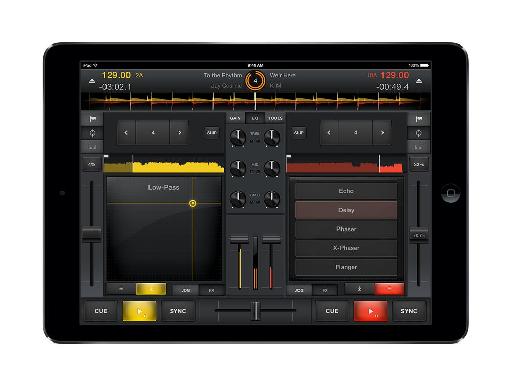 DJ standard design, for iPad
The layout of Cross DJ replicates the industry standard DJ setup: jog wheels, Cue/Play/Sync buttons, full­fledged mixer. The smart tab layout and big controls make mixing on the iPad screen a breeze.
The best BPM engine on the market
Based on the same engine as Cross DJ for Mac, the app has the most reliable synchronization tool & BPM analysis out there. Visually preview your mix with parallel waveforms & sync meter. To end with, you can even edit accurate beat grids!
Start DJing the easy way
Access your iTunes library and playlists directly within the app. Cross DJ is the best way to get a feel for DJing. According to CEO Eric Guez, 'Stepping up to regular decks will be easy, thanks to the app's standard layout.' Best of it all, it's FREE!
Go next level with in­app purchases
Record & Share: HQ live recording of your mixes + share on Soundcloud

Automix: Let Cross DJ mix your tracks automatically

Split mono + external mixer: pre­listen your tracks + control EQs & crossfader with hardware mixers

Essential effects: Hi­Pass, Low­Pass, Delay

Beat effects: Transform, Brake, Roll, Chopper

Morph effects: Phaser, X­Phaser, Jet, Crush, Bliss

Sampler: 12 pad, 72 samples

Harmonic mixing: Keylock & Key detection

MIDI Control: Control Mixvibes U­Mix Control Pro & U­Mix Control Pro 2, Pioneer DDJ­WeGo, Numark Mixtrack Pro & Mixtrack Pro 2, Hercules DJ Console RMX 2, DJ Control Instinct, DJ Control AIR (requires Apple iPad Camera Connection Kit), Vestax Spin2 & Numark iDJ Live.

Value Pack: Unlock all features

About Mixvibes
Mixvibes makes professional DJ software & apps for 15 years.
Cross DJ for iPad runs on the same platforms as its Mac/PC & Android apps, downloaded by millions worldwide.
Pricing and availability
Free version, unlimited playtime. In­app purchases.
Download: http://appstore.com/crossdjfreehdmixyourmusic
Video: