Mixed In Key unveils Captain Plugins 2.0, the new VST plugins for music composition. Captain Plugins 2.0 gives both seasoned pros and beginners the ability to compose music with faster composition tools. The plugins offer a full palette of custom chord structures from Minor and Major to Exotic scales, and intuitive controls that link to your DAW and other VST software instruments. Captain Chords 2.0 is an outstanding tool for auditioning, editing and experimenting with chord progressions to help you write hit tracks. The official website is: https://mixedinkey.com/captain-plugins
New Features in Captain Chords 2.0:
Identify and "write in" any chord from your MIDI keyboard:
 Captain Chords users can now connect their MIDI Keyboards to identify any chords played from MIDI and record them for further editing. 

Strum
: Adds a gentle delay to the notes of your chords, and creates a timing feel that's like strumming on a guitar. The exported MIDI clip contains the strummed notes with perfect millisecond spacing 

Swing: 
Advanced control to shape the funkiness of the groove. 

Chord Progression Layouts: 
Create unexpected and beautiful chord changes that happen at unexpected times. The new Captain Chords 2.0 provides a series of layouts to apply to your chord progressions and change their rhythm and timing. 

How-To-Guide
: There's a How-To-Guide link that's visible at all times. When this button is clicked, a web browser opens to display How-To-Guides for Captain Chords, Captain Deep, Captain Melody and an FAQ section.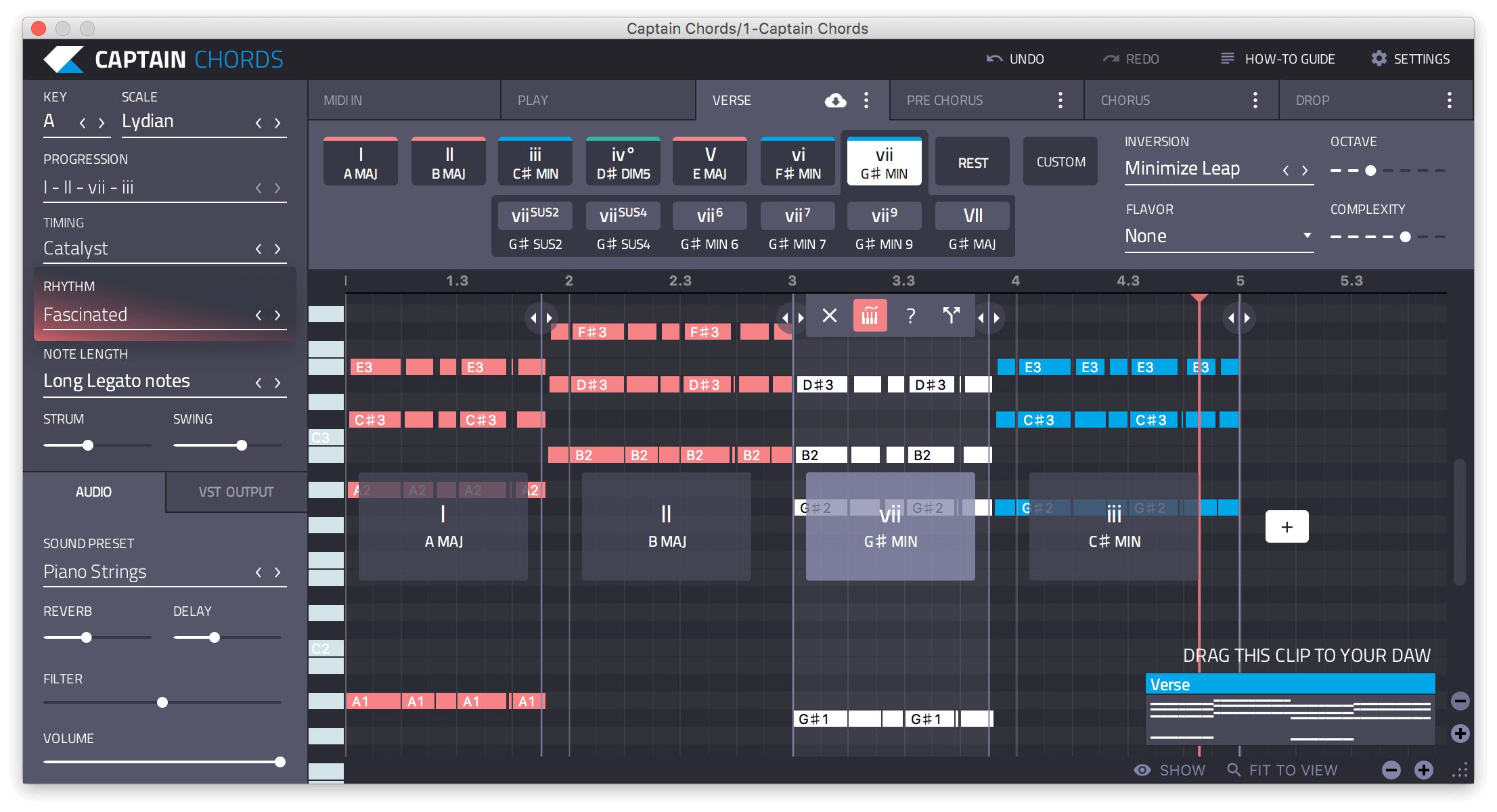 Captain Deep is Now Available on Both Windows and Mac
Captain Deep is designed to integrate with Captain Chords to help you create bass-lines which compliment your chord progressions created in Captain Chords.
Connect Your Captain Plugins Together
Every plugin in the Captain series can communicate with each other when running inside the same DAW. Captain Chords can send MIDI data to Captain Deep and the rest of the Captain plugins. This creates a collaborative experience when writing MIDI music, because making a change in one plugin automatically applies the change to other plugins.
Captain Plugins 2.0 allow real-time routing to other VST plugins, such as Sylenth1, Serum, Massive, Omnisphere, and Kontakt, and all others. Hardware output is also available: using the DAW, users can route Captain Plugins to their favorite analog synths such as Minimoog Voyager, and all other analog hardware that supports the MIDI protocol.
Pricing and Availability
Captain Chords 2.0 is available as a free update for existing customers. New customers can buy the entire suite of Captain Plugins for $79: