A powerhouse of an industry standard for recording and mixing, Pro Tools has not been traditionally well regarded for its MIDI capabilities. But recent incarnations of the DAW have extended the ways that you can view and edit MIDI to the extent where it is now up there with the best of them. Later Quick Tips will go into the details, so this one is an overview of the different ways you can view and edit MIDI data in Pro Tools 9.

Old School
Before MIDI and Score Editor windows were added in version 8, MIDI was (and still is) shown as a playlist on the Edit window alongside all your other tracks. The default view is Regions view, which allows you to manipulate regions without affecting notes.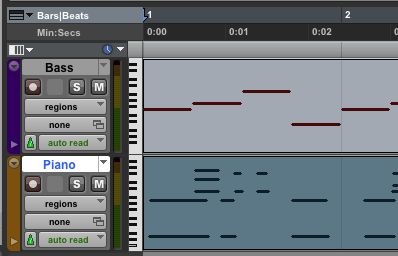 Regions view: the default view of MIDI tracks in Pro Tools.
Use the track view selector to switch to Notes view where you can manipulate individual notes.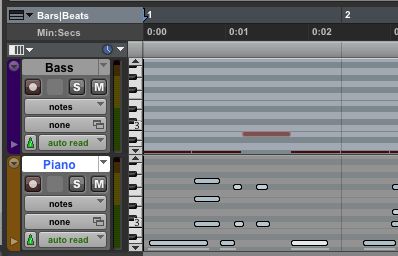 The Notes view.
Switch to Velocity view to see velocity is represented as stalks.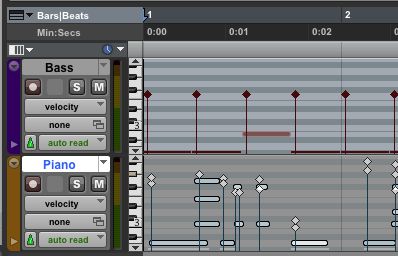 The Velocity view.
You can also choose to view any continuous controller to edit it much as you would any other automation playlist.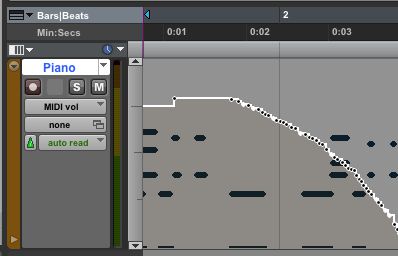 Controller view showing MIDI volume data.
The key to using this way of editing MIDI, which initially may appear to be quite limiting, is the use of zoom, track height and keyboard shortcuts to change track view modes. For example:
Control-Command-Left or Right arrow: changes track view for any track with a selection in it.

Control-Option-Command-Left or Right arrow: changes track view for all tracks regardless of selection.

Control-Command-Up or Down arrow: fits track height of selected track(s) to the window size.

Control-Up or Down arrow: adjusts track height.

The MIDI and Score Editor Windows
Pro Tools has always been a 2-window program, right? Mix and Edit. Lesser known perhaps is that since version 8 Pro Tools has also had MIDI and Score Editor windows. The MIDI Editor window resembles the piano-roll style editors found in all other popular DAWs. To open it double click the MIDI region (on the Edit window) with the Grabber tool, or choose Windows > MIDI Editor or shortcut Control-=).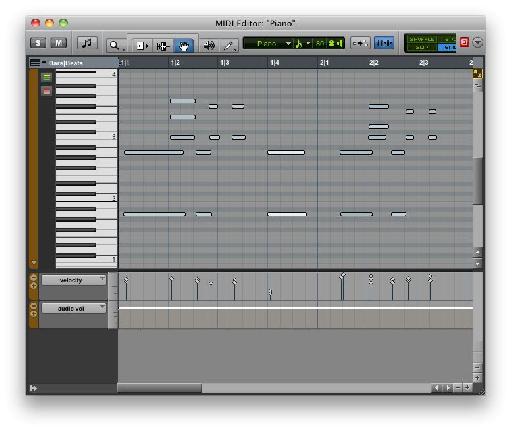 Pro Tools' MIDI Editor.
You can also use the MIDI Editor to get a single line notation view of the track(s) you are editing if you prefer to edit MIDI notes as notation, by clicking the Notation View selector button.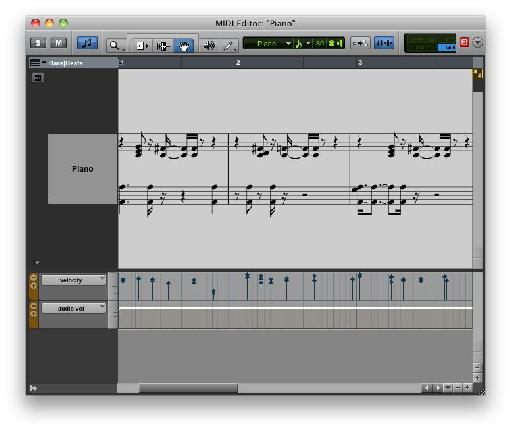 The MIDI Editor in Notation View.
The Score Editor (choose Window > Score Editor or Control-Option-=) uses some of the scoring algorithms found in Sibelius (Avid, owners of ProTools, acquired Sibelius just prior to the release of version 8) to allow you to create rudimentary scores from your MIDI notation. ProTools also has an export to Sibelius option (File > Export > Sibelius...) if you have that application installed and require its extended scoring features.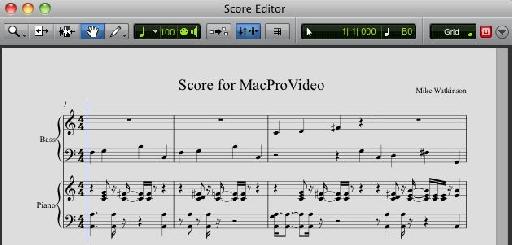 Pro Tools' Score Editor.
For Geeks Only: the Event List
For the real MIDI geeks (Hands up'"come on, it can't be just me!) Pro Tools provides a MIDI Event List (Window > MIDI Edit List or Option-=). Here you can view and edit MIDI as a list of text and numerical data'" yummy!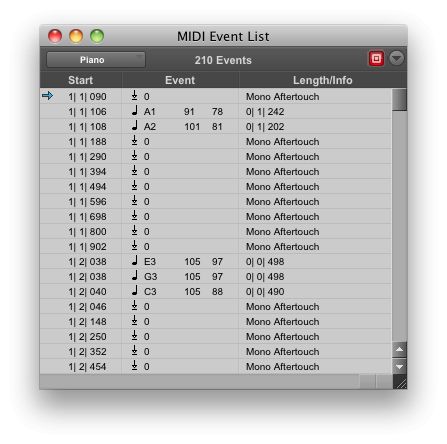 Pro Tools' MIDI Event List window.
In future Quick Tips I shall go into details of each of these methods of viewing and editing MIDI data, and realize that, when it comes to MIDI editing, Pro Tools now has it covered!