MIDI 2.0 enhances virtually all aspects of the original MIDI 1.0 spec, which revolutionized the world of technology and the arts when it was introduced in 1983. Unlike the original spec, which consisted of a transmitter talking to a receiver, the new specification now enables two-way communication between MIDI devices. This allows for features like automatic setup, based on one device querying another, obtaining a response, and configuring itself. This also ensures backward compatibility. If a MIDI 2.0 device can't carry on a two-way conversation, it recognizes that it's talking to a MIDI 1.0 device, and adjusts its communications accordingly.

Aside from improving ease of use and workflow, MIDI 2.0 delivers more nuanced expressiveness for electronic instruments. It's now possible to convey the same kind of subtle expression normally associated with acoustic instruments, thanks to higher-resolution dynamics and control data, vastly extended controller options (including per-note controllers for exceptional articulation), and simplified controller assignments.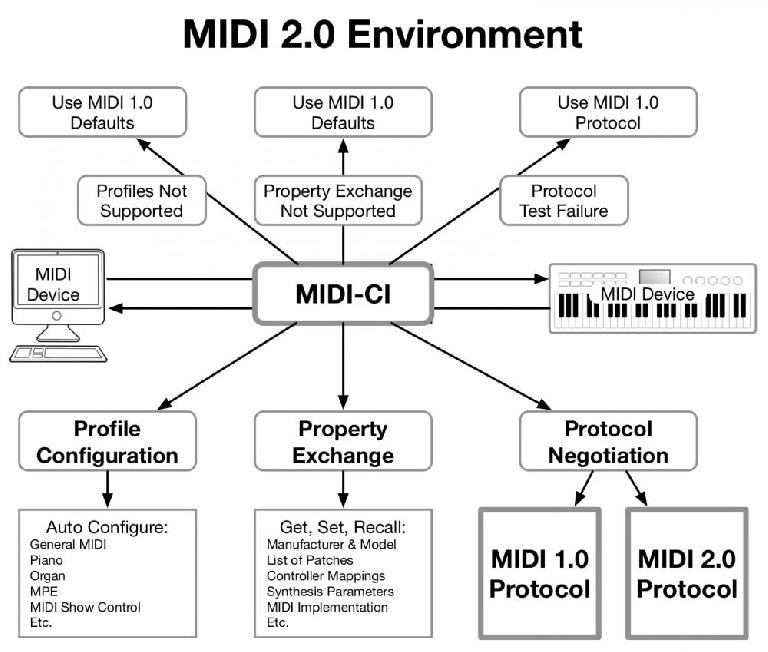 The complete set of five core MIDI 2.0 specifications, as ratified at the MMA (MIDI Manufacturers Association) meeting during the Winter NAMM (National Association of Music Merchants) convention in Anaheim, California, is now available for download to developers and the general public. To obtain the set of specifications, simply join The MIDI Association, the global community of people who work, play, and create with MIDI.
Anyone can sign up for a no-obligation, free membership at https://www.midi.org/midi-signup.
Companies that would like to become MMA members to access the MMA's software and tools for MIDI 2.0 development can now apply online here.
With over 23,000 members in 113 countries, TMA and its associated website have become the epicenter for everything relating to MIDI, including news, applications, articles and tutorials, downloads of the MIDI specification, discussion forums, and more.
Gene Joly, the MMA's current President, states "We are happy to provide access to the complete MIDI 2.0 specifications to everyone, and believe MIDI 2.0 will unleash a level of innovation in music and the arts we haven't seen since MIDI 1.0 changed the world. All of us are excited about what MIDI 2.0 will bring to music and the arts."
The following specifications are now available.
M2-100-U v1.0 MIDI 2.0 Specification Overview
M2-101-UM v1.1 MIDI-CI Specification
M2-102-U v1.0 Common Rules for MIDI-CI Profiles
M2-103-UM v1.0 Common Rules for MIDI-CI PE
M2-104-UM v1.0 UMP and MIDI 2.0 Protocol Specification