Soundiron's Microrgan is a vintage 49-key analog synth from 1950's Italian company, Farfisa. Rare and highly sought-after, little is known about the origins of this instrument, though the instrument's classic wooden exterior echoes the popular aesthetics of the 1970s and early 1980s, during which the instrument is thought to be produced. We've captured its old-school fat, creamy tone in 9 classic waveform shapes, with infinite sustains and tight staccatos. But to take this far beyond an ordinary analog synth sample library, we've also created 20 awesome sound-designed custom synth and effects presets and 40 unique sound-designed ambiences that can be played chromatically as atmospheric synths, dronescapes and pads or used directly in your DAW for underscoring and texture.
It comes packed with sound-shaping controls to give you tons of flexibility with Volume, Attack, Release, Transient Offset, Vibrato and Octave layering controls. The "Glide" slider allows you to play legato and portamento leads. Our adaptable LFO system offers selectable shape, modulation target parameter, speed, intensity, tempo-syncing and fade-in time. You can also apply your choice of 13 low-pass, high-pass and FX filter types, with assignable modulation options, including velocity, mod wheel, expression, after-touch, key position and step-sequencer table control. You can also use our customizable arpeggiator, with a built-in velocity sequencer table and control over arp direction, note timing, swing, randomization and duration. The GUI is rounded out by our modular FX rack tab, with 18 different DSP effect modules that you can assign in any of 10 slots, in any order you wish.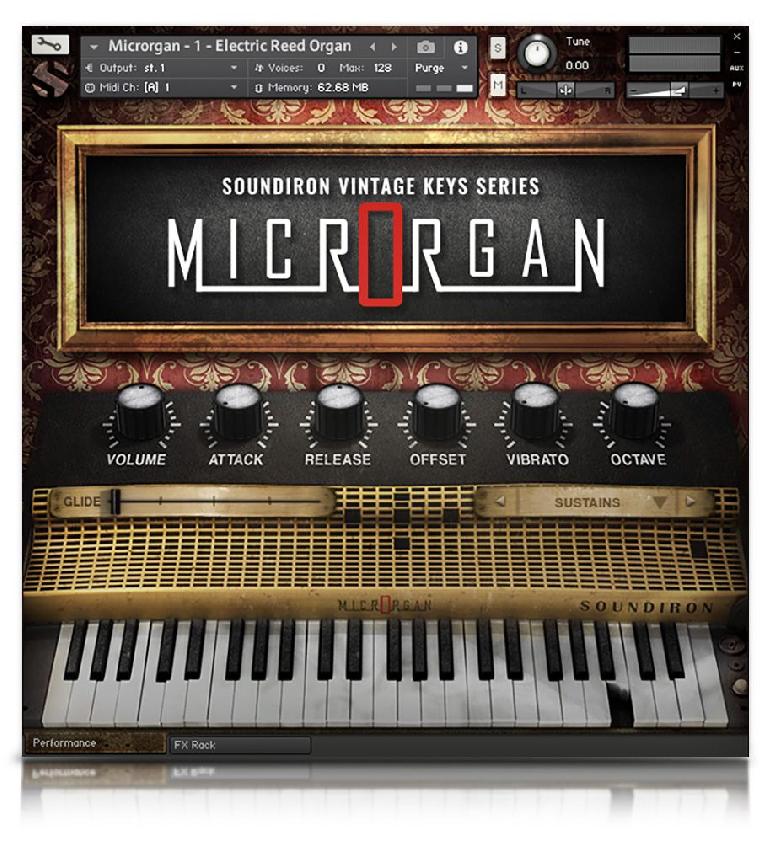 The user interface controls are rounded out by our modular FX rack tab, with 18 different DSP effect modules that you can assign in any of 10 slots, in any order you wish. You'll find classic phase, flanger, delay, distortion, amp and cab simulators, compressors, EQ, rotator and more. The Reverb effect includes 119 of our own convolution reverb impulse response presets, for a huge variety of different rooms, halls, chambers, outdoor environments and creative special effect impulses to completely transform the sound and take this classic synth into strange new territory. The Microrgan was recorded using its direct analog outputs by John Valasis, a Greek-born composer, producer and sound designer.
Microgan Spec
2 Main Powerful Open-Format .nki Instruments
20 Custom Sound-Designed FX and Ambient Presets
Sustains, Staccatos, and Sound-Designed Atmospheric Synths
398 Stereo Samples
655 MB Install
24 bit / 48 kHz Stereo PCM Wav Format
Flexible and Intuitive User Interface Controls with LFO, Filter, Glide and Arpeggiator
Full FX Rack with Convolution Reverb with Different Rooms, Halls, Chambers & FX Environments
Software Requirements: The full unlocked retail version of Kontakt 5.5.1 or later is required for all instrument presets in this library. The free Kontakt Player, Libraries rack and "Add Library" import feature do not support this library.
System Requirements: Windows 7 (or later) or OSX 10.9 (or later) is required.
Price: $29 (currently on sale for just $19)