Remember the Miclop CTRL X? It's a three-in-one tactile and touch-screen music controller for producers. It's a dedicated controller for a virtual synthesizer, a MIDI controller for hard and soft synths, and a powerful step sequencer too.
Here's more info from the Kickstarter page:
Oscillators
We have a polyphonic synthesizer with 2 oscillators based on samplers through the soundfont power. Classic waves, samplers from our favourite synthesizers or sampled instruments can be loaded on to it. Ctrl-x collects different types of synthesis such as FM and RM or one complete section to carry out waveshaper and other sections for synthesis by phase distortion. Both sections can be mixed with our oscillator sf2 or be used as single signal. It also counts on a unison engine with pitch independence to diffuse these voices through a different spectrum from the original signal. A sub-oscillator with classic waves and octave selection complete the oscillator.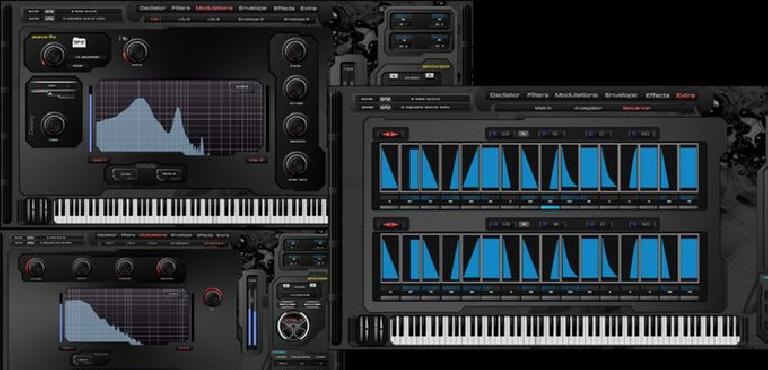 Filters
Filters and more filters sum up this section. We offer you different types of filters: classic filter emulations, transistor ladders, diodes, state variables, comb… with more than 50 types of slopes. And all these come with a slight equalization and a soft distortion to give character to signal.
Modulation
The stuff gets serious here. The LFOs also work through soundfont; again, hundreds of waves available to modulate. Adds a slight entrance fade or uses some from the sequencers to shoot the tune and create innovative rhythms in an easy and quick way, without forgetting the available modulation envelopes.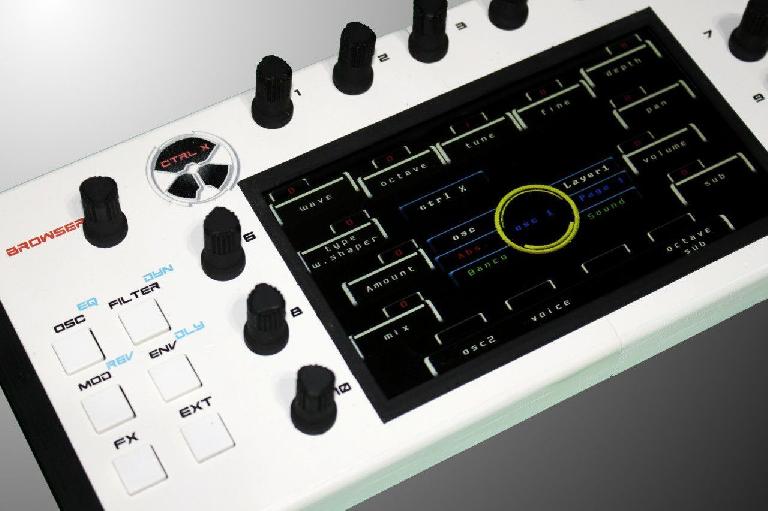 Matrix
The Matrix is the en-routing brain. We´ve divided the modulation destinations into two areas: One to choose the section and another to choose the value, to avoid huge menus, the quick allocation is thus guaranteed.
Arpeggiators
We´ve placed two arpeggiators - one for each oscillator. With one we can keep building a base with a powerful bass and with the other a catchy tune. It is also then possible to use an arpeggiator for the two oscillators' sound.
Effects
In the effects section we have delay, reverb, flanger... a wide range to have everything we want.
Hardware
All this handled with its specific controller, keeping the same control position for a perfect display of each value or section, improving the workflow, apart from visual aids such as the analyser or the scope which are always welcomed.
Ctrl x is the perfect controller for all types of synthesizers and plugins, thanks to its workflow and to its big multi-touch screen, we can have all the values mapped as well as get access to any of them in just 2 clicks.
Templates
We consider template creation something which is always tiresome, that´s why we´ve made an effort to create them in the quickest possible way. We´ve created a software where you'll be able to produce and personalize your own templates in a quick and simple way. To learn more about this, let´s take a look at the video.
Step Sequencer
At Ctrl x we count on an integrated step sequencer to use either with hardware or with software. Its multi-touch screen gives us quick and intuitive edition. The encoders give us the precision for certain more sensitive aspects. Together they are the perfect team.
Ih and did we mention it's open-source and Arduino-compatible?
If you like making a mess with stuff and you aren´t afraid of programming, Ctrl x is compatible with Arduino, which is why the possibilities are almost endless: Send some messages through the mackie control protocol to control your sequencer reproduction or stoppage, create your own arpeggiator or customize your machine.
Pledge for CTRL X from: €299 EUR