If you're struggling for inspiration or even if you're just always on the look out for fresh ideas, here's a new MIDI effect rack for Ableton Live 9.7 and higher, and it's the debut release from Berlin-based Manifest Audio.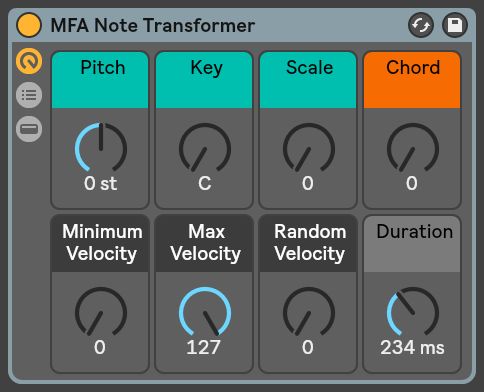 Manifest Audio's Note Transformer is here to inject new life into stale MIDI patterns, delivering fresh ideas with the easy twist of a dial or two.

Intuitively configured macro assignments allow for knob-driven expression of new harmonic formulations via 66 Chord types, transposable in any Key through 85 included Scales. Imbue any MIDI input with dynamic chord progressions or scaled melodies – and with a controller connected, generate unique harmonic content with rotary expression like never before.

The Note Transformer 001 MIDI Effect Rack can be used with Ableton Live 9.7.x and higher. Drag the .adg file to your User Library presets or another secure folder you can easily navigate to in Live's Browser. From there, simply drop it on any MIDI track in your set to process MIDI signal going to any Live instrument device, VSTi, or AU instrument.
Here's a video demonstrating what it can do:
Top Row Macros
1 · Pitch: Transpose the pitch of incoming MIDI notes by up to 36 semitones above or below incoming pitch value.
2 · Key: Set the root Key of the selected Scale.
3 · Scale: Choose from 85 Scales to force incoming MIDI through; see Scale appendix for list of included Scales.
4 · Chord: Choose from 66 Chord types to add additional notes to incoming MIDI; see Chord appendix for list of included Chords.
Bottom Row Macros
5 · Minimum Velocity: Sets the minimum outgoing velocity value.
6 · Max Velocity: Sets the maximum outgoing velocity value.
7 · Random Velocity: Sets the degree of randomization applied to incoming note velocity.
8 · Duration: Adjusts incoming note length in milliseconds.
Find out more about Manifest Audio: https://manifest.audio/
Become an Ableton Live master. Watch Noah Pred's video courses on Live and other software here.