IRVINE, CA, June 27, 2016 – MethodRed has updated MIDIPlayer X, their popular MIDI file player for the Mac, to v2.1.
MIDIPlayer X is a fast, easy way to play MIDI files on your Mac. It works with virtually all commercial MIDI hardware and software, and will play any MIDI file to your choice of available MIDI outputs, either hardware or software, or to its own built-in GM-compatible virtual synth.
"MIDIPlayer X plays MIDI files without the need to open a large, complicated DAW", says MethodRed founder Doug Hanson. "Its a simple, yet powerful, app that thousands of musicians choose for their MIDI needs".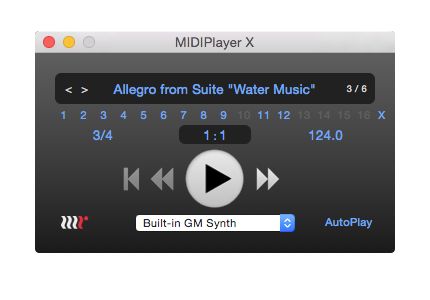 What's New in Version 2.1
New counter mode for minutes : seconds, in addition to the standard bars : beats.
New shortcut for convenient access to Audio MIDI Setup utility.
Fixed a bug that caused muted tracks to not show as muted when reloaded.
Updated key commands.
Key Standard Features
Plays any Standard MIDI File
Works with your MIDI hardware and software
Built-in GM-compatible synth
Simple drag and drop operation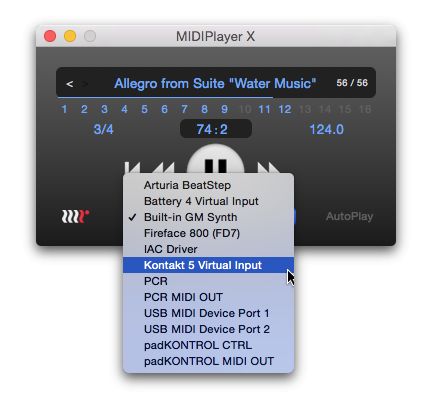 Selecting outputs in MIDIPlayer X is a click away.
Key Controls
Rewind, fast forward, and jump to any timeline location
Mute and Solo channels
Tempo control
Counter format
Load multiple files and folders via drag and drop
Save customized MIDI files
Audio MIDI Setup shortcut
System Requirements & Pricing
MIDIPlayer X requires Mac OS X 10.9 Mavericks or later.
MIDIPlayer X v2.1 is a free upgrade for current owners. MIDIPlayer X is now available in the Mac App Store for $1.99.
Web: http://www.methodred.net/midiplayerx/