Tone Shifter Mega is two accessories in one: a guitar-pedal-style MIDI controller and a studio quality audio interface for iPhone, iPad, Mac & PC. With the Tone Shifter Mega audio interface, guitar player can transform their iPhone/iPad, computer into a powerful guitar amp and effects rig, and control their favorite guitar APP or software on stage and in the studio with the foot switches.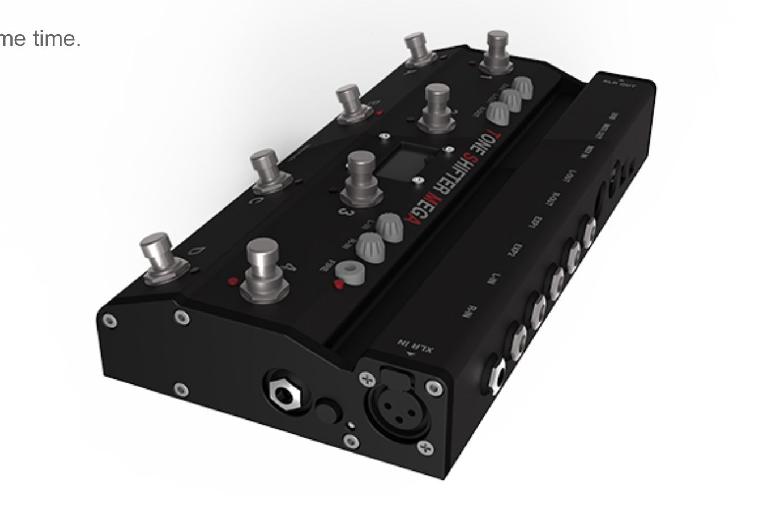 TS Mega has eight foot switches and two expression pedal jacks. TS Mega has L Input for guitar/bass, R Input for dynamic microphone and one XLR Input for condenser microphone. The L Input has integrated an analog guitar boost module, the module help to improve the tone of guitar. The R Input is designed for dynamic microphone. The XLR Input is perfect for condenser microphone. It can provide 12V low noise phantom power for the condenser microphone.
Armed with 192kHz/24-bit audio quality and innovative connectivity, the Tone Shifter Mega aims to be a flexible solution for guitar players to record or play live with the incredible software or APP such as Bias, JamUp, Garageband and so on. TS Mega adopts a high-performance audio codec that can realize 192kHz/24-bit sampling. The dynamic range can reach 112 dB and the THD+N can be as low as -100dB.

TS Mega will send out MIDI CC signal to control the software effect while guitar player stomping the foot switches. TS Mega can also work as USB MIDI controller or Stand alone MIDI controller. TS Mega has some default Host Configuration for popular software or racks such as Bias FX, JamUp, KPA, AXE. The users can also custom assign the foot switch in the learning mode. Two expression pedal jacks to control wah, volume or other effects at the same time.
Tone Shifter Mega Main Features
192kHz / 24bit audio interface and guitar-pedal-style controller
112 dB Dynamic Range; Lowest -100 dB THD + N
USB MIDI controller / Stand alone MIDI controller
8 foot switches with easy-to-use Host configuration
Integrated 200mW Hi-Fi earphone amplifier
Low noise phantom power for condenser microphone Input
Two Expression pedal jacks to control wah, volume, or other effects
Integrated analog guitar input booster module
Fully balanced L and R outputs and one XLR Output
Device powered; To charge your iPhone, iPad, or reduce power consumption while you play, add a standard mobile phone adaptor for power supply