Combining several synthesis methods into a very special expressive blend, Vector is a brand new hardware synth available for pre-order now. With a touchscreen interface, smooth rotary encoders and firm toggles for navigating the partials — control how they evolve, modulate, mix and cut.

Warp the orbit to explore the different motions through which the mix point travels. Change the shape's size, position and rotation directly on the touchscreen display in realtime. Morph fast or smooth through a wide sonic palette to drone, lead, stab and pad.
With a powerful arpeggiator and an array of effects to sculpt the sound to taste, it features a responsive and snappy UI with a careful balance between hardware and touch. Other features include Mono, Poly and Dual modes for a thick unison or interval playing and Standalone, Master and Slave MIDI modes to sync Vector with your devices.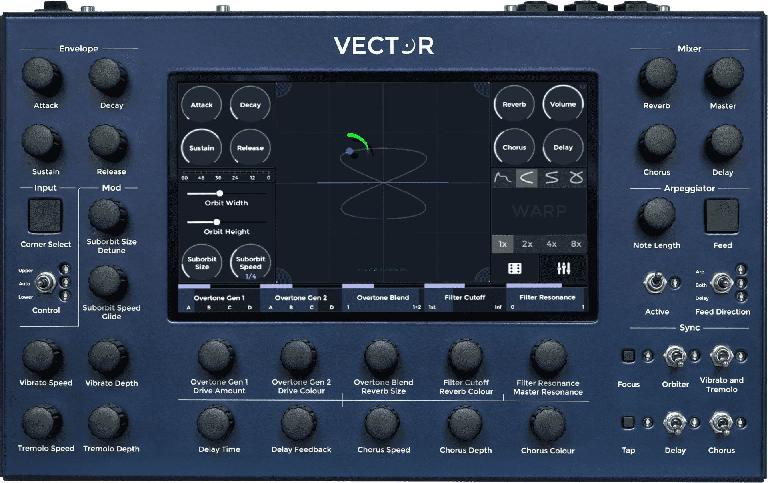 Features
Hybrid synthesis engine
Complex modulators
10 voice polyphony with per-voice filters
Effects affect synthesis
Extensive arpeggiator with a step sequencer
7" capacitive touchscreen
25 smooth rotary encoders
7 toggle switches
Metal case 289×176×44mm
1.5kg weight
Stereo 6.35mm output (2× mono jack)
Stereo 6.35mm headphone output
Ethernet port
USB device, USB host
MIDI input
Runs on ARM® Cortex™-A53
Powered by realtime Linux
32bit internal processing
32bit DAC (-106dB SNR)
Firmware update via LAN