Meet Oddball - The Unique Drum Machine & MIDI Controller In A Bouncy Ball
We caught up with the developers of this tactile drum machine and MIDI trigger to find out what it can do, and made a short video showing off its many talents.
Oddball is a new product from Oddballing, a London-based company headed by Nathan Webb, an award winning graphic designer, and Pasquale Totaro, a musician and mechanical engineer. It's on Kickstarter now with early bird pricing from just £49 / $65. Here's how they described it to us when we went to visit them at their studios.
"We wanted to give everybody the opportunity to create music the same way musicians do. With OddBall, making beats is easy, intuitive, fun and can be done wherever you are.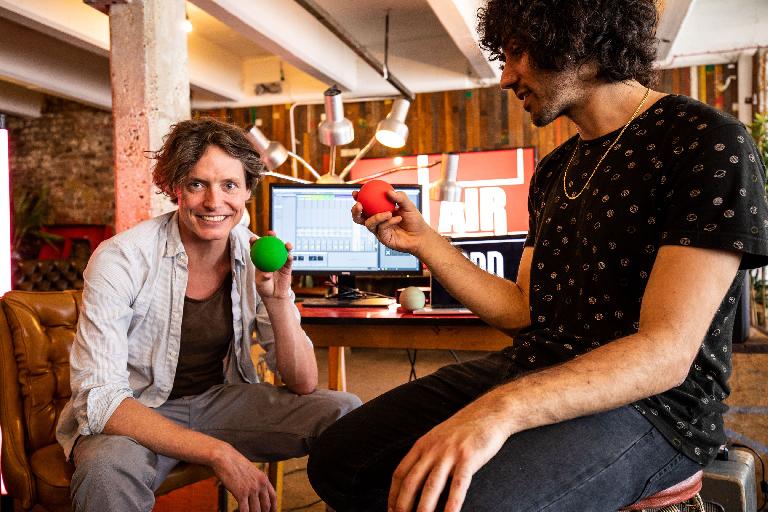 Photo by Hollin Jones
Oddball comes in two parts - the ball, and the app. The ball behaves as the percussion trigger. Every time you bounce it off a surface, sensors at the heart of the ball communicate with the app via Bluetooth to play a sound through your headphones, speakers, or just the internal speaker on your phone. Oddball is pressure sensitive – the harder you bounce it the more intense the sound, the lighter you bounce it the more delicate.
You can loop your beats to make complex, intricate tunes, play over your favourite songs and add effects. Since Oddball is inherently shareable, the app will have its own social environment, where you can post your latest beats and share them with your community."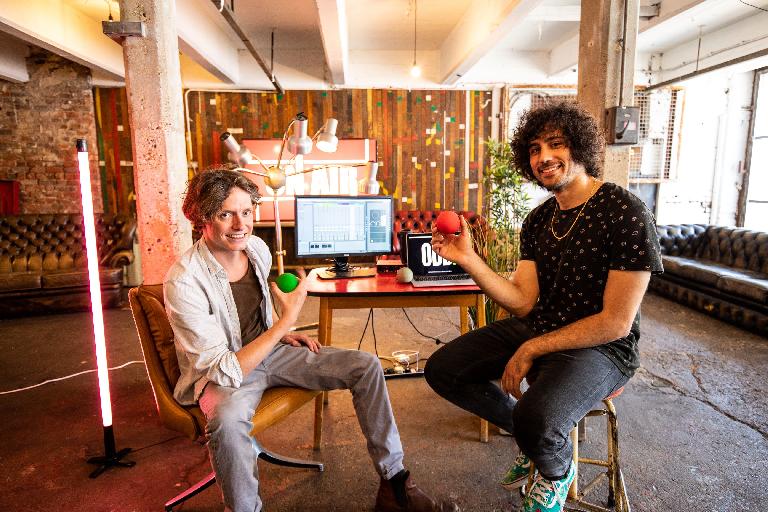 Photo by Hollin Jones
"To get all the experimental musicians excited, we made it possible to use Oddball as a velocity sensitive Bluetooth MIDI controller, so you can connect it to any DAW software on your laptop (such as Ableton, Logic Pro, Pro Tools, etc) and control your favourite plugins."
Ask.Audio shot a short video in which the guys show off everything Oddball can do, which you can watch below:
Oddball is expected to ship in January 2019 and is on Kickstarter now.