MIDI hardware has made a remarkable comback in recent years, thanks in part to the popularity of Eurorack gear and the wealth of new, small developers around. Meeblip's new thru5 is a small MIDI splitter kit that can help you take one MIDI signal and route it to up to five destinations at the same time. Here's what the company says about it.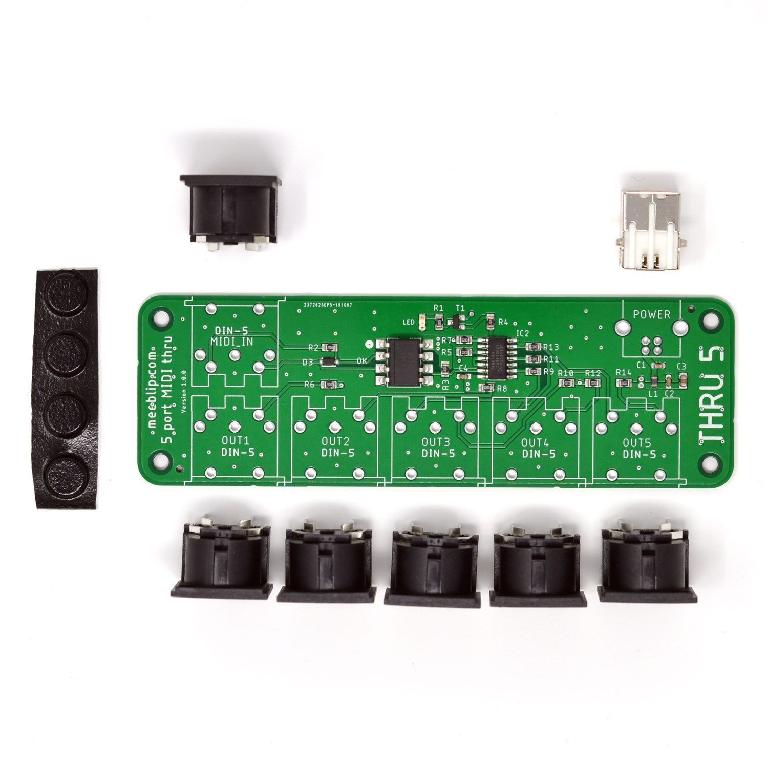 "thru5 is an affordable kit that's invaluable in your studio. It's a 5-port MIDI splitter (thru box) that copies MIDI messages received at the MIDI IN and passes them to the five MIDI OUTs. Each output is processed through a low-latency active circuit. The thru5 kit comes with all the tricky components pre-installed. You simply solder the MIDI and USB jacks. No cables are included - use your own, or get them in our shop."
Features
This is an easy-to-build kit; some through-hole soldering required
Passes MIDI data from the MIDI IN to five MIDI OUT jacks
Low latency hardware MIDI pass-through
Runs on 5V Power from a computer USB port or USB wall wart (power only, does not pass data)
Opto-isolated MIDI IN to eliminate ground loops
Individual active signal processing for each MIDI OUT
Size: 125 x 40 x 25 mm (4.9" x 1.6" x 1"), weight: 72 g (2.5 oz)
Don't forget cables - get a four pack of MIDI cables for just US$19.95.