You've worked with some incredible artists like Jordan Rudess, Mark Rivera (Billy Joel Band). Tell us more.

I always enjoy performing at the NAMM show in Anaheim. I've been playing there with various artists and companies for the past few years now and there is something about playing to a giant crowd of musicians that really helps you amp up your performance. I also played a huge show in Houston a while back with Mark Wood (Trans-Siberian Orchestra) that was right in NASA's backyard. There were astronauts and rocket scientists at the meet and greet. It was pretty amazing to hang out with those guys.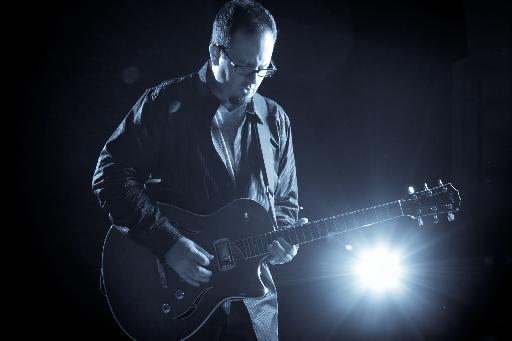 You've also had original compositions used in films. Tell us more!
I remember working on a movie scene for Lion's Gate that they had already filmed and synchronized to a song by a very famous artist. They couldn't acquire the rights to the song, so had to ditch it. We then had to write a song that sounded nothing like the original tune but matched up in every way to the choreography that was on screen. It was a real challenge, but quite a lot of fun.

I teach film scoring now in a public school and one of the things I focus on the most is composing using a cue sheet. Now that we have QuickTime and all these tools to shuttle video back and forth, synchronize picture to your DAW and such - I think a lot of composers get caught up in putting a 'button' on every visual element they see on the screen. It doesn't particularly make for interesting music and in the end, it's an example of how technology can hold us back if you don't learn the fundamentals of composition and how film scoring was done pre Pro Tools.

What hardware do you use in studio/when playing live?
More hardware than I can list! My main keyboard is a Nord Stage 2. I love the piano sounds and the feel of that keyboard is unparalleled. If the gig doesn't have the budget to fly out my entire keyboard rig, then I typically use MachFive 3 inside Apple's MainStage. I've got a bunch of custom setups I've done for MainStage for various types of gigs, and I can usually configure it to the show pretty quickly!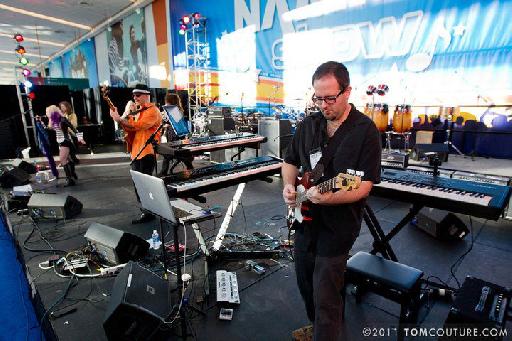 What about software? What do you enjoy using right now?
Well, MachFive 3 from MOTU is huge for me. I think, quality-wise, for the 'meat and potatoes' sounds that MachFive has (Piano, Bass, Rhodes, Synths) there really isn't anything that sounds quite as good. I use Komplete to round out my library because in terms of the sheer number of different instruments available at your fingertips, there's not much you can't find in there. Digital Performer and Logic are my DAWs of choice, depending on the situation.

You're also a trainer for AskVideo.com and have recently completed a number of NI Komplete 9 courses. How does the process of remote teaching differ from in-class?
I enjoy creating the remote courses and lecturing online. I'm kind of a 'Type-A' guy, and I like to prepare for just about everything. That's really what makes a good course, I think. I look at what the software is, then make a list of 'what do my students typically ask when I teach this thing'. I then go back through the course and work everything on that list into my curriculum. Then repeat the process. Most of what you'll learn about software will come from using it, so I try to just make it so that as you're using it, you don't get frustrated.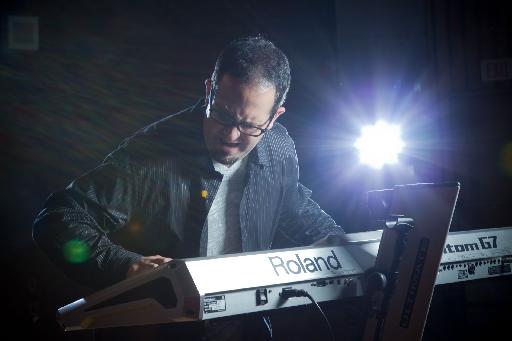 You've got a very relaxed, yet informative style in your AskVideo courses. How do you approach the preparation and theory behind how you create training videos?
I write a curriculum much the same way I would if I were going to teach to my public school students. I envision, 'What kind of lesson would I teach if I could teach uninterrupted all day?". I also try very hard to treat it like a conversation.

Is there a musical instrument/tech that has transformed the way you make music?
I'm going to go all mainstream and say the iPad. It's not really the music apps, though. What has transformed my work process / career the most is the ability to organize, manage and have my entire library of charts on me at all times. I can do twice as many gigs these days as I used to be able to just because I can keep everything I need cataloged and with me at all times. I can practice wherever there is a piano, because I always have my music on me. I can use time-stretching apps to slow down tunes and work on difficult sections, I can notate scores I'm working on, and I can take on a gig I might not have been able to before simply because I know I can buy the charts on my iPad and have them on me. So with the technology on it I find I'm practicing more by ear since I have my entire iTunes library with me, and at the same time, I'm reading more by having my charts with me. So, fun synth apps and such aside, just having the iPad with me all the time has made me a better musician.

Check out all of Matt's video training here: