Studio One Professional really is an all-in-one application. You can begin your productions in the Song files and take these all the way through to the Projects page where your songs can be mastered and finalized. In the Projects Page you have a bundle of tools that can assist you with mastering your project. Let's take a look at how the Projects Page works and what's included to help you with your mastering.

Song Files vs Project files
The first thing to get your head around is the terminology used in Studio One. You have Song files and Project files. The Song files are where you build up your songs such as recording audio, programming MIDI instruments and editing and mixing your audio tracks. The Project file is where you build up your songs for your Audio CD or Digital Release. Mastering effects and processors are applied to bring it up to the standard of commercial releases, and then these songs and finalized to a physical form such as a CD or digitally released to online media such as SoundCloud or Nimbit. Now that that's cleared up, let's take a look at how the Projects page works.
On the Start Page create a new Project, or you can click on the Project Tab to view your recent Project files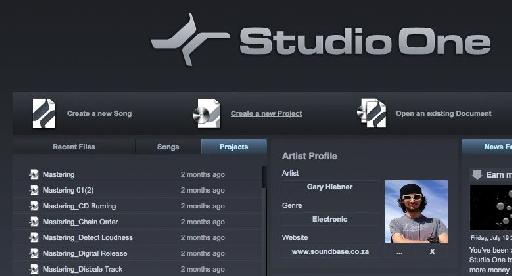 Pic 1
On the left you have your Artists and Disc Information that will be embedded to your audio when exported. Under this is the Track Column. This will list all the tracks in the project. On the bottom is the Timeline showing the placement of your tracks. If you move a track around in the track column the changes will be reflected in the Timeline.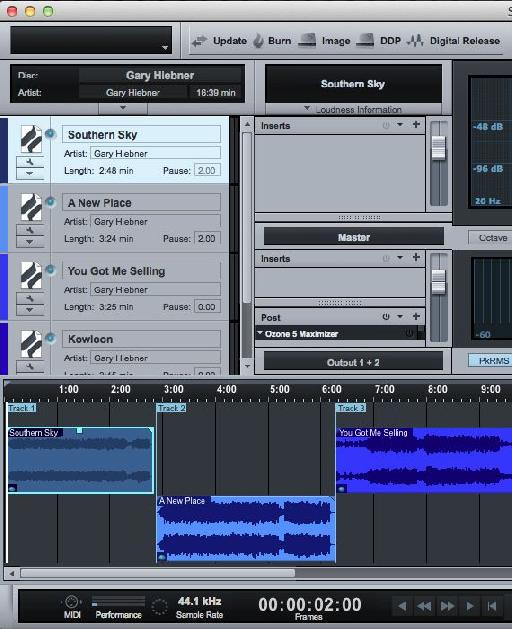 Pic 2
Inserts, Master and Post
In the middle you have a list of inserts that process the tracks or audio as a whole. The first inserts slot is applied to each individual track. Here you can add processing effects such as EQ, compression to correct any audio discrepancies between the tracks. Maybe on one of your tracks you need to add a slight cut in the 600 Hz region to get it to sound similar to the other tracks in the project. So this insert works on a track basis.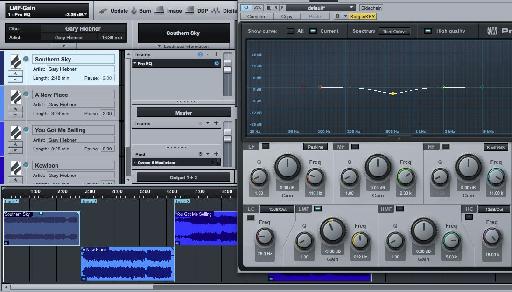 Pic 3
The next two insert sections apply to the audio as a whole. There is a pre-Master and then a Post Master section. Maybe you want to add a slight reverb to all your audio to help gel them together and give them a space they belong in.

Pic 4
And then on the Post is where your limiters can be added to help increase the overall loudness of the audio.
Spectral and Level Meters
Included with Studio One is a selection of excellent spectral and level meters to help you assess how your tracks are sounding in comparison to each other. Jump between the different tracks on your timeline and view how the frequency of the track is being displayed in the spectral meter. This can give you a good visual indication if some tracks may have more high-end than others or maybe one of them has a slightly bassier sound. Use this spectral meter as a visual aid to make sure what you're hearing is also what is being displayed. And if needed go back to the track inserts to make and EQ changes. You can also quite easily go back to your song and edit it through the Projects Page, but I'll talk about how this is done a bit later.

Pic 5
Under the spectral meter is the level meter that can be used to monitor the overall loudness of your tracks. Different metering systems can be used. You have a Peak/RMS meter plus you have a choice of different K-metering, which comes in very handy if you work between different styles such as broadcast material through to orchestral and classical music. These K-meters help you as each meter determines a standard across different styles of audio. You can also choose to show the Peak and RMS level on the spectral view. And there is a Correlation Meter next to the Level Meter showing how your audio is transforming across the stereo spread. This is a good tool to look for any phasing issues with your audio.
Detect Audio Loudness
Another handy feature is the Detect Loudness bar. Just above the Inserts is a Loudness Information tab. Click on this and then choose '˜Detect Loudness'. This will scan you track and provide you with the loudness information on each track, such as the Peak and RMS levels. You can use this information to adjust the loudness levels of your tracks in your project. Or you can go back to the song and edit them there. Now let's talk about how to easily edit your song while in the Project page.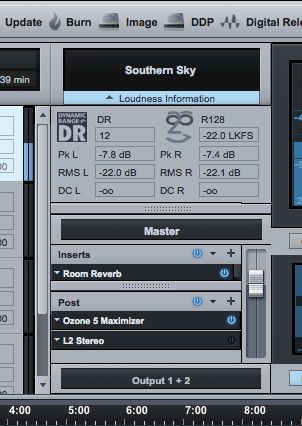 Pic 6
Going Back to the Mix and Editing the Song
Often during the mastering stage you may find that you need to go back to the mix to correct something there. Studio One has really streamlined this process. In the Track Colum you'll see a wrench icon on each track. This is the Edit Song button.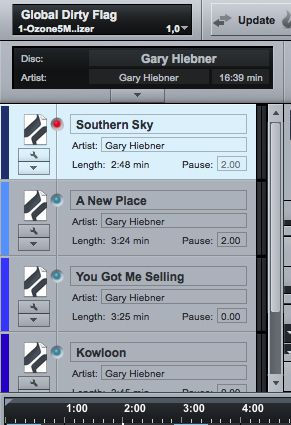 Pic 7
If you click this it'll take you back to the Song file. You can make the necessary changes here, save the song and then jump back to the Project file. When you update the song it's changes will reflect accordingly in the Project file. So no need to jump between different applications it's all done within Studio One. On each track is a Mastering File Status light. If this light is red it means that changes have been made to the Song file. If its blue the Song file is up to date in the project.
Click on this indicator light if it's red and it'll jump back to the Song file and export out the song. A message will come up once it's done that the song file has been updated in the project.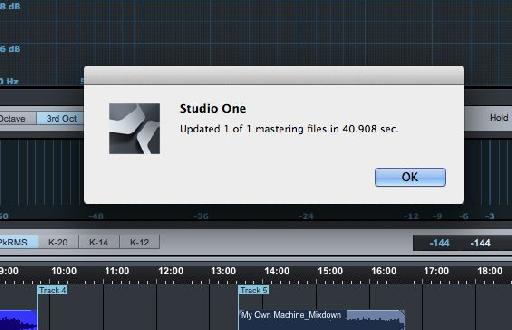 Pic 8
That's how easy it is to make song changes within the projects Page.
Exporting and Audio CD, Image or Digital Release
In the Projects Page there is a selection of different export options. You can export out your audio CD, or you can export it out as an Image if you're going to be sending it to a mastering house or for CD Duplication. Then there are the Digital Releases where your audio can be exported out to digital media formats such as MP3, and can be uploaded directly to Soundcloud and Nimbit from within the application. How neat is that!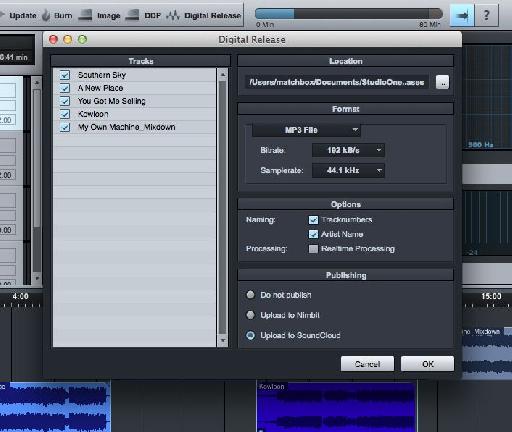 Pic 10
Conclusion
So once you've built up a collection of songs in Studio One, try out the Projects page and see what it has to offer. There are so many tools and features that will really help get your tracks up to spec with commercial releases. The visual meters are good tools to really help you with your tracks and confirm what you may be hearing with your ears. Studio One really streamlines the whole process from song creation all the way through to the mastering and finalization of your audio.
For more tips and techniques on Studio one check out the following tutorials:
Studio One 101: Songwriters & Musicians Toolbox
Studio One 102: Producers and Engineers Toolbox
Studio One 103: Advanced MIDI Toolbox