Just because Apple want to consign wired headphones to a display cabinet in a museum doesn't mean we're going to stop wearing them, or buying them. Quality counts for a lot amongst the audiophile and music making communities. Having said that, Master & Dynamic also do a range of Bluetooth headphones too! And if you're serious about sound then you'll probbaly love Master & Dynamic headphones and earphones.
Their popular ME05 earphone range have had a color addition. Now available in "brilliant black" these New York designed and made earphones really look and sound as good as their price tag suggests they should. Here's what the good folks at Master & Dynamic tell us about this new color version of the ME05s.
[New York, NY] September, 2016: Today New York City-based premium audio company Master & Dynamic released the latest colorway for its widely celebrated brass ME05 Earphones: a brilliant black. Named the "top pick (for earphones) of 2015" by tech outlet WIRED, the earphones have now received their third colorway, one fitting of the city where they were designed and its latest Fashion Week. The black ME05 Earphones are available at www.masterdynamic.com for $199.

Much like the original brass ME05 Earphones and the palladium-coated colorway released shortly after, the black ME05 Earphones have the same acoustic properties – via 8mm titanium drivers housed in the product's elegant body – that Hypebeast dubbed "first class audio capabilities," making them the perfect fit for those that want high quality audio on the go. Similarly, the black ME05 Earphones also incorporate the same sophisticated ergonomic elements and elegant details, including their brass build, laser etching and mirrored accents that brilliantly reflect light. The appealing aesthetic of the ME05 makes them a perfect fit for New York Fashion Week, which coincides with the product's launch.
Included in the box are two replacement sound filters, a polishing cloth, an aluminum clothing clip and a leather storage box. Replaceable acoustic filters (extra acoustic filters are included) prevent dirt and debris from blocking the acoustic chamber and exemplify Master & Dynamic's commitment to detail and longevity.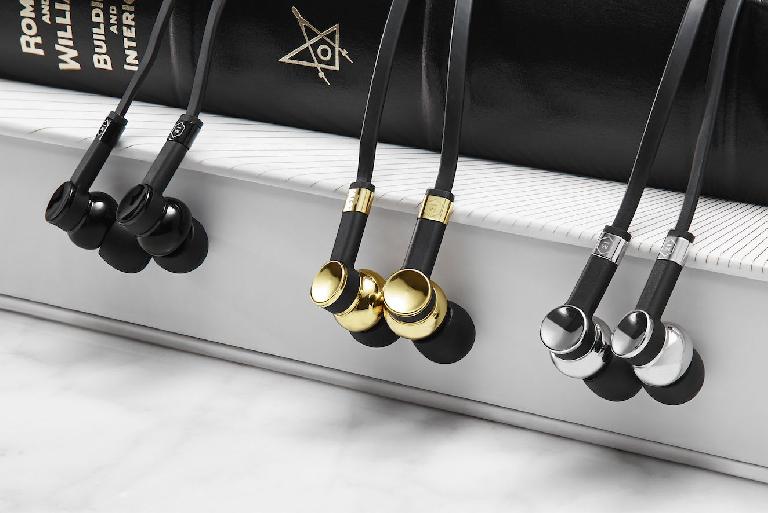 Master & Dynamic's new ME05 Earphones colorway marks the latest offering from the rapidly expanding premium audio company, which has added projects with Spotify, The Rolling Stones and Japanese designer Poggy to its resume in 2016, along with a new palladium colorway for the brass ME05 Earphones, which Hypebeast praised for their "first class audio capabilities."
Thus far Master & Dynamic has unveiled a number of exciting projects in 2016, including a new limited-edition cobalt blue colorway exclusive to luxury boutique Colette in Paris and the first official headphones of legendary rock band The Rolling Stones. The brand's commitment to excellence earned it high marks in 2015 as well, with the release of a number of products and designs such as the MW60 Wireless Over Ear Headphones and the brass ME05 Earphones, each awarded "top pick" in their respective categories by Wired Magazine.