Massive Mechanical 808 Drum Machine: Sequenced By You, Played By Robots
What could be better than an 808-style drum machine you can fit in your bag? How about one you could barely fit in a bedroom that's played by mechanical robots? Say hello to MR-808.
When programming a sequence on your analog drum machine, Push 2, MPC or Maschine have you ever imagined each of the sounds being played by individual robots? We're not talking ghosts in the machine… more, robots in the machine.
Think this is a strange idea? Sonic Robots like strange. They also like over-sized robotic drum machines that be programmed in real-time by an audience using a tablet app. The result is a replica installation of Roland's iconic TR-808 but with a big difference. Each drum sound in the MR-808 is played by a mechanical robot.
There's something extremely satisfying and musically engaging about the MR-808. Not only is it an obviously fun way to program beats collaboratively, but you get to see the sounds being created by mechanical actors and physical tone-makers. This seems to add to the magic of the machine rather than detract from the mystique of electronic music creation from a box.
As we all know, the original 1981 TR-808 has had a huge influence on a wide range of electronic music genres. It's been hacked by passionate users, cloned by admirers and re-invented by Roland themselves. And yet, people still can't get enough of the 808.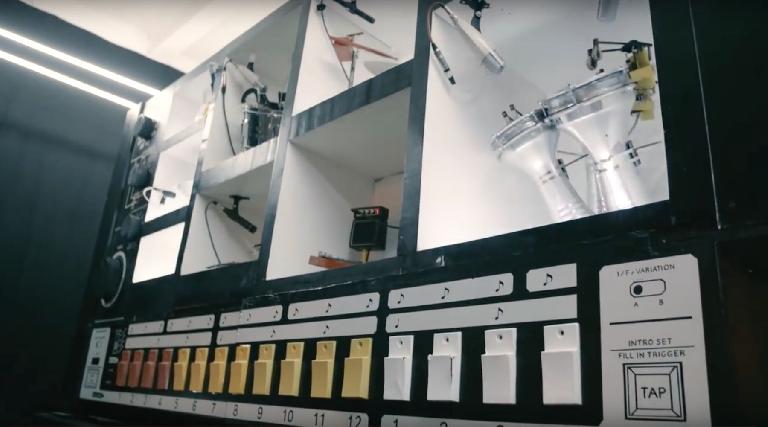 If you're interested in the acoustics, mechanics, electronics, and software-side of the MR-808 you can find a comprehensive article about it here.
The MR-808 Drum Robot isn't currently available to purchase. It can be found at select festivals. The last known installation of the MR-808 was at Krake Festival Berlin in August 2016.
However, regular readers of AskAudio might remember the Polyend PERC which allows you to connect real drums to sequencers and digital software. And you WILL be able to buy this once it arrives. Check out PERC in action in this video from Musikmesse 2016.