If you are into the 'SuperSaw' (or multi oscillator) sound and find it useful for making huge synth patterns, then you might want to think about layering several together and using noise to enhance the whole effect.
If you are a Reason user and not entirely sure how to go about this, here's a quick tutorial on one way it can be achieved. This should take you from a single weedy saw wave to a huge stereo patch in a few simple moves!
The Original Vanilla Pattern
To start with we have a pretty solid sequence, playing back a very straight forward saw wave based patch. No frills here at all, just a saw, a fully open low pass filter, and no effects or modulation.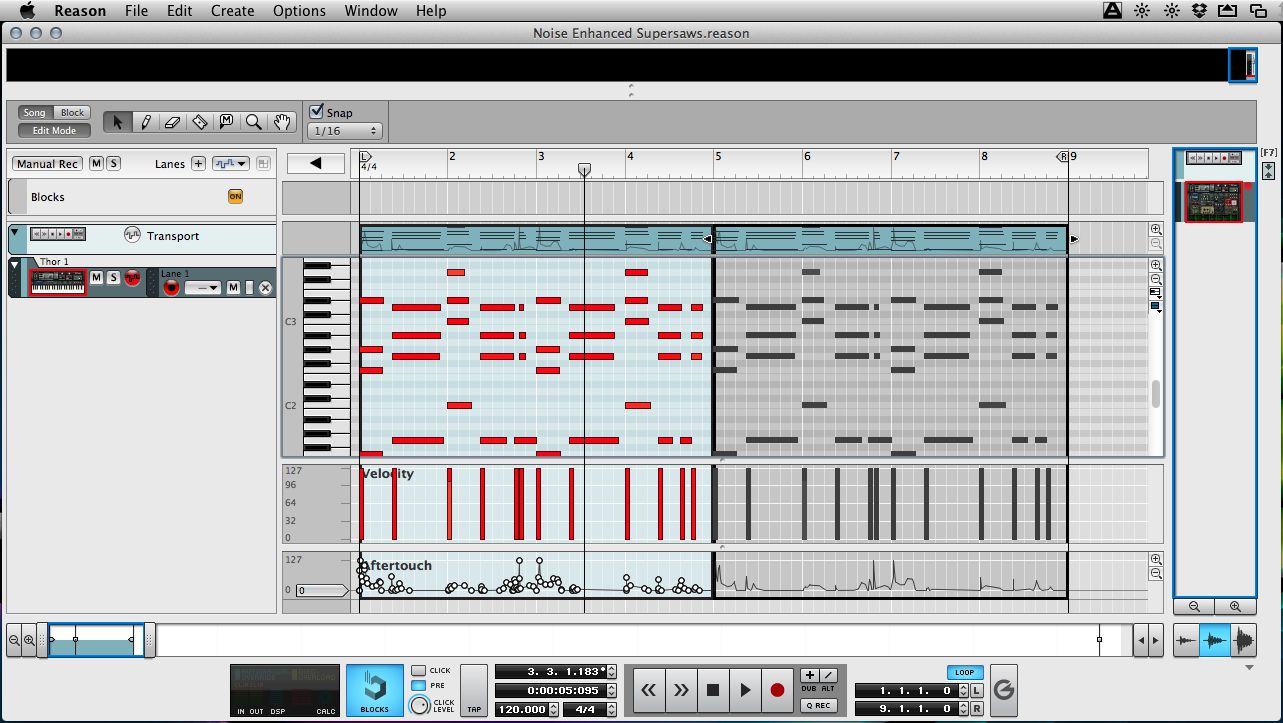 The chord sequence we'll be working with.
The straight up pattern with a single saw:
Of course, adding extra oscillators would beef things up here, but I want to show you something a bit more advanced. Saying that at this point, I did add an extra 'sub' layer by introducing a layered note exactly one octave down from the root note.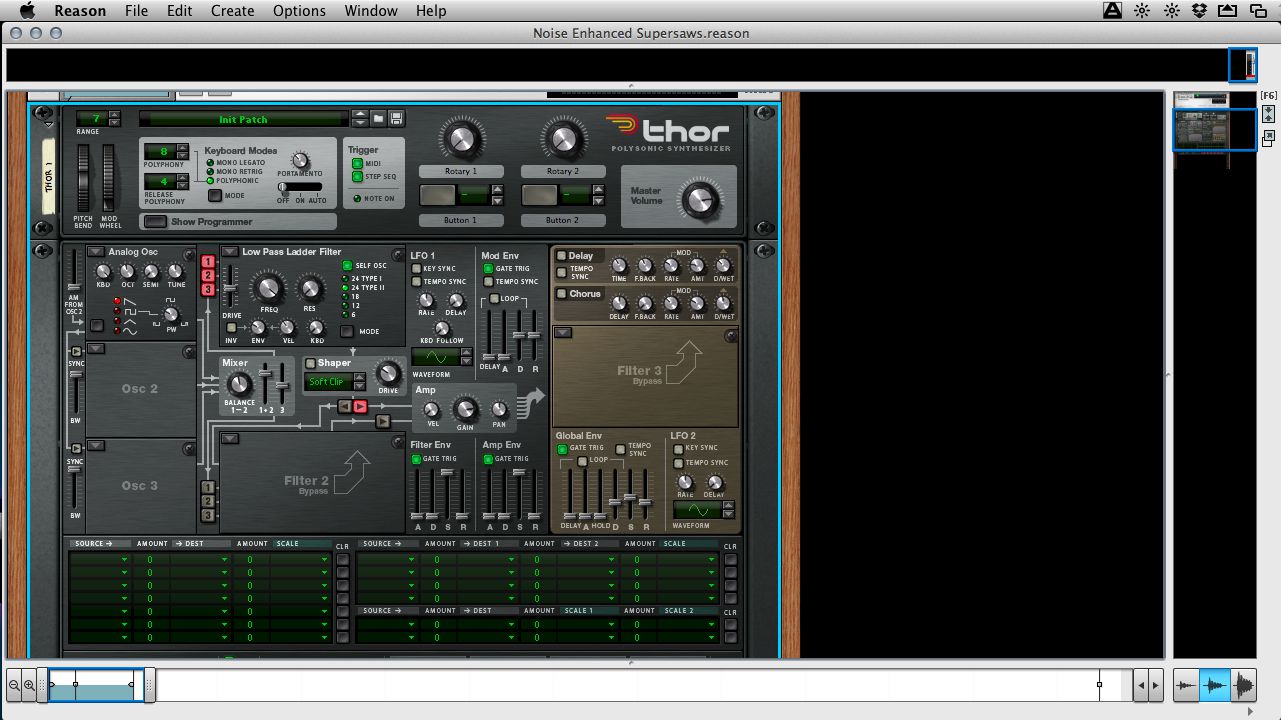 And the super simple saw wave based patch we are kicking off with.
The sequence with a sub note added:
Creating The 'SuperSaws'
The first step to making our patch wider, fatter and generally bigger was converting the standard saw wave based oscillator into a 'SuperSaw' or multi oscillator. This was simple, I just switched the oscillator out and made a direct replacement.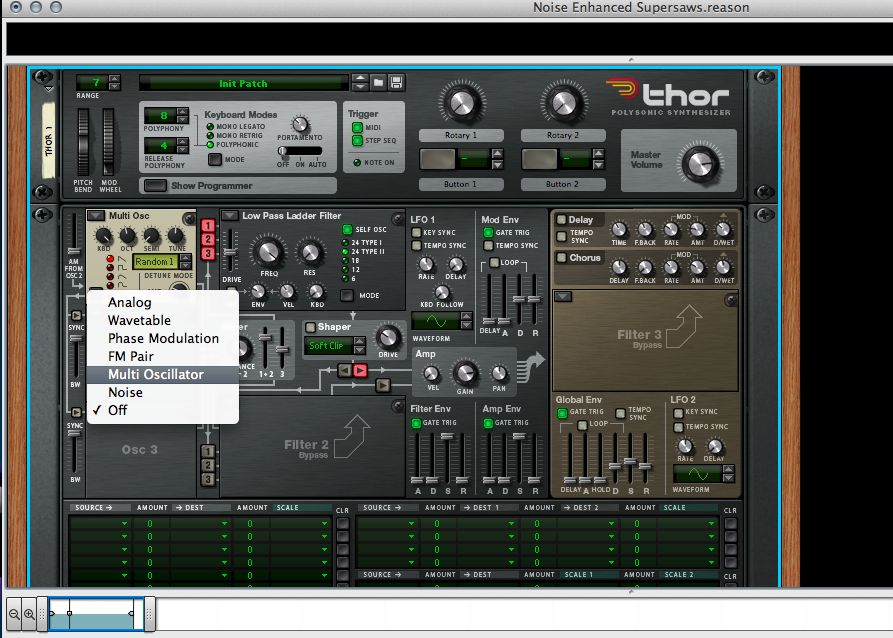 The standard saw wave is swapped out for a multi oscillator.
The patch plays back with the new SuperSaw style oscillator:
I dialed in a touch of 'amount' and I was more or less done. Finally I saved the patch to my desktop, exactly why I did this will become clear in the next step!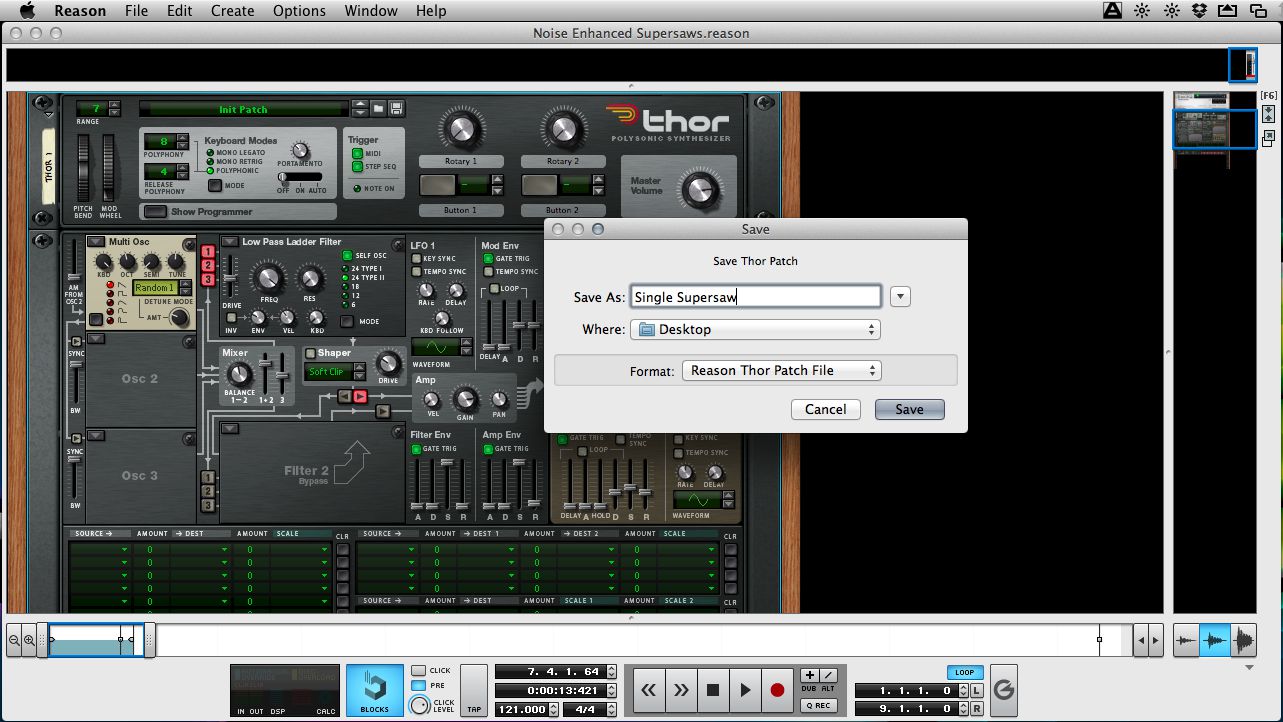 The patch is saved for the next step.
Adding A Combinator And Extra Synths
I created a second Thor at this point and loaded our previously saved patch into it. This means we had two identical synths with identical patches loaded in each one. By right-clicking and choosing combine they were then placed into a Combinator.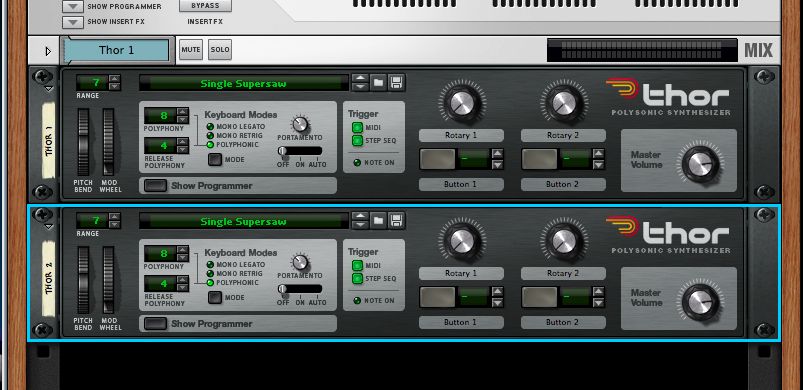 The synth is duplicated and loaded with our saved sound.
The two synths are then combined.
Our first taste of the SuperSaw sound!
I used a line mixer here to ensure we could hear both synths and then detuned one synth very slightly. This created an even thicker unison effect between the two instruments. The two synths were then panned hard left and right creating a very wide stereo patch.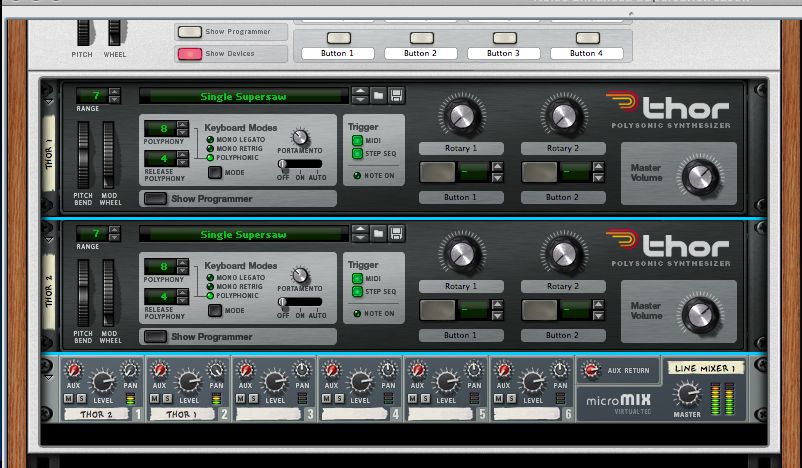 The combined synths are mixed and panned.
Adding Noise and Effects For Extra Edge
The final touch was to introduce a little white noise. I added noise oscillators to both synths in the third oscillator slot. These were then mixed using the dedicated level control for slot number 3. A small amount of noise goes a long way here, so go easy.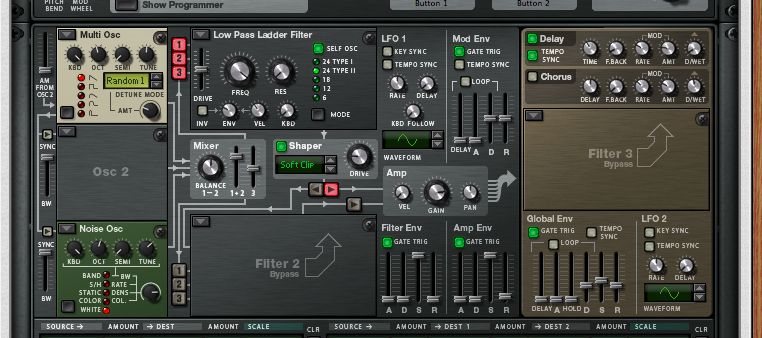 Noise and effects are added to the patch.
The final synth patch in action:
To top it all off I added a touch of saturation and drive to each synths filter section and introduced some subtle synced delay, with low feedback and a pretty short delay time. This lifted the whole patch. You can hear the results below with a simple house beat. Try this yourself with some different waveforms and add filtering for a more dynamic twist.
The final patch with a drum loop: