It seems to be a common perception that given the choice, musicians, engineers and producers would 'mix in Pro Tools, edit MIDI in Logic Pro'. But why does the belief that MIDI editing is 'hard' in Pro Tools still persist? It's partly historical – before Pro Tools 8 (we are now on version 11) there was no MIDI Editor window. And it's partly down to what you can see when you view MIDI for the first time in Pro Tools – usually it's very small and not user friendly in the same way that it appears to be when you view it for the first time in Logic Pro (other DAWs are also available!) But with a little tweakage, you can transform your views of the spaces where graphic MIDI editing can be performed, turning them into powerful and easy-to-use editors.

Editing on Track
Before the MIDI Editor window came along, MIDI editing was (and still is) achieved in the Edit window itself, which offers a variety of track views to support this. For newcomers to MIDI editing in Pro Tools it is important to realize that MIDI data that has been recorded onto a track will be displayed in 'clips' view. This means you can edit the MIDI clips (what users of other DAWs might call 'regions') but not the notes themselves.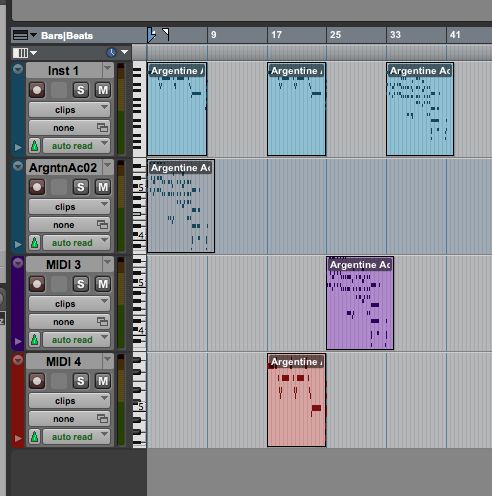 Default view of MIDI recorded in Pro Tools.
Double-clicking a MIDI clip will of course open the MIDI Editor window, but more of that later. For now, let's stay in the Edit window and deal with the challenges it presents. Changing the track view to 'notes' is a first step, and the keyboard command to toggle clips and notes track view is Control--(Control plus the minus key). But without making any changes to different settings what you typically see at this point is frankly underwhelming and almost impossible to use as an editor, especially if your track height is small!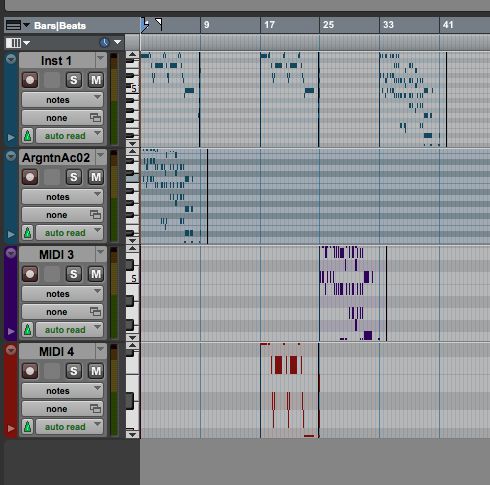 Notes view - still unusable!
You could then change the track type manually, and zoom in into the view of MIDI notes by clicking on the upper half of the MIDI Zoom In button in the toolbar.

The MIDI Zoom In button.
But given all that, I must say I much prefer to zoom straight into a selection as a one-stop process with an easy keyboard shortcut! Here's how:
Open Preferences from the Pro Tools or Setup menus and click the 'Editing' tab

In the 'Zoom Toggle' section change the 'Vertical MIDI Zoom' and 'Horizontal Zoom' settings to 'selection'

Leave the 'Remove Range Selection After Zooming In' unticked

Change 'Track Height' to 'fit to window'

Change Track View to 'waveform/notes' - this means that the track view will automatically change to notes view if you are making selections in clips view

If you want the grid settings in your 'zoomed in' view to be independent of the grid settings in your standard view, then tick 'Separate Grid Settings When Zoomed In'

Tick 'Zoom Toggle Follows Edit Selection'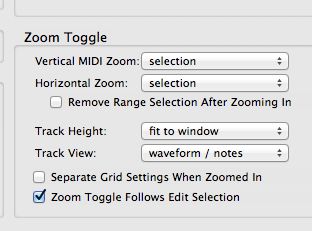 Preferences settings for Zoom Toggle.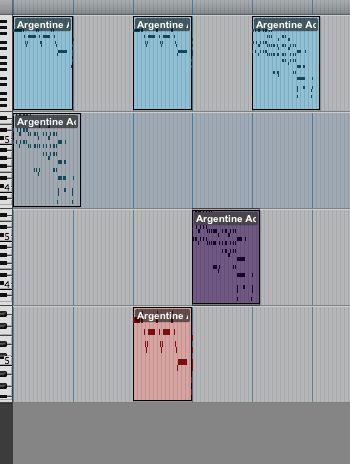 Now make an edit selection in your standard 'tracks' view of the edit window.
Click the Zoom Toggle button – the edit selection should fill the window, with the notes zoomed in to the maximum zoom setting that still shows them all, and you should also be in notes view, ready to edit.


The Zoom Toggle button.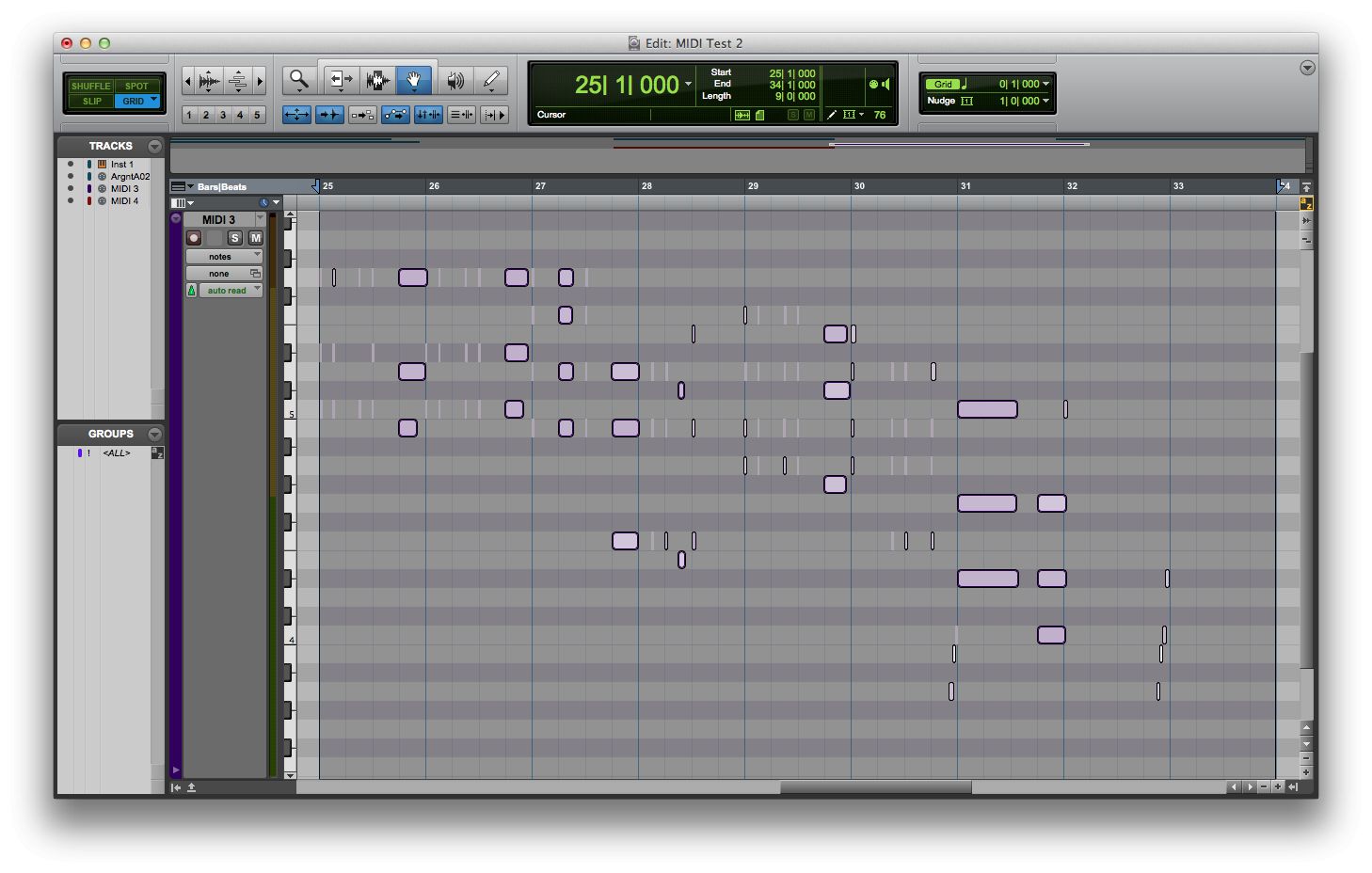 After clicking Zoom Toggle!
Click Zoom Toggle to return to your previous view.


With key focus enabled, the keyboard shortcut for Zoom Toggle is E.
This also works with multiple clip selection and across multiple tracks, so to help identify notes from different tracks in multiple selections, turn on Default Track Color Coding for 'Tracks and MIDI Channels' in the color coding section of the Preferences Display tab.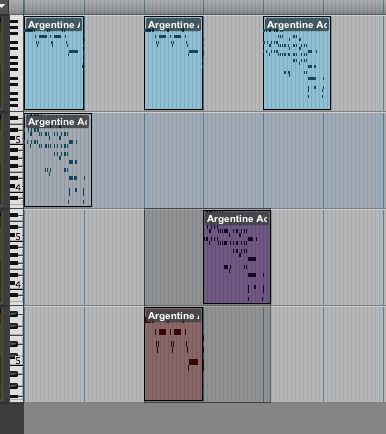 Multiple clips on multiple tracks selected.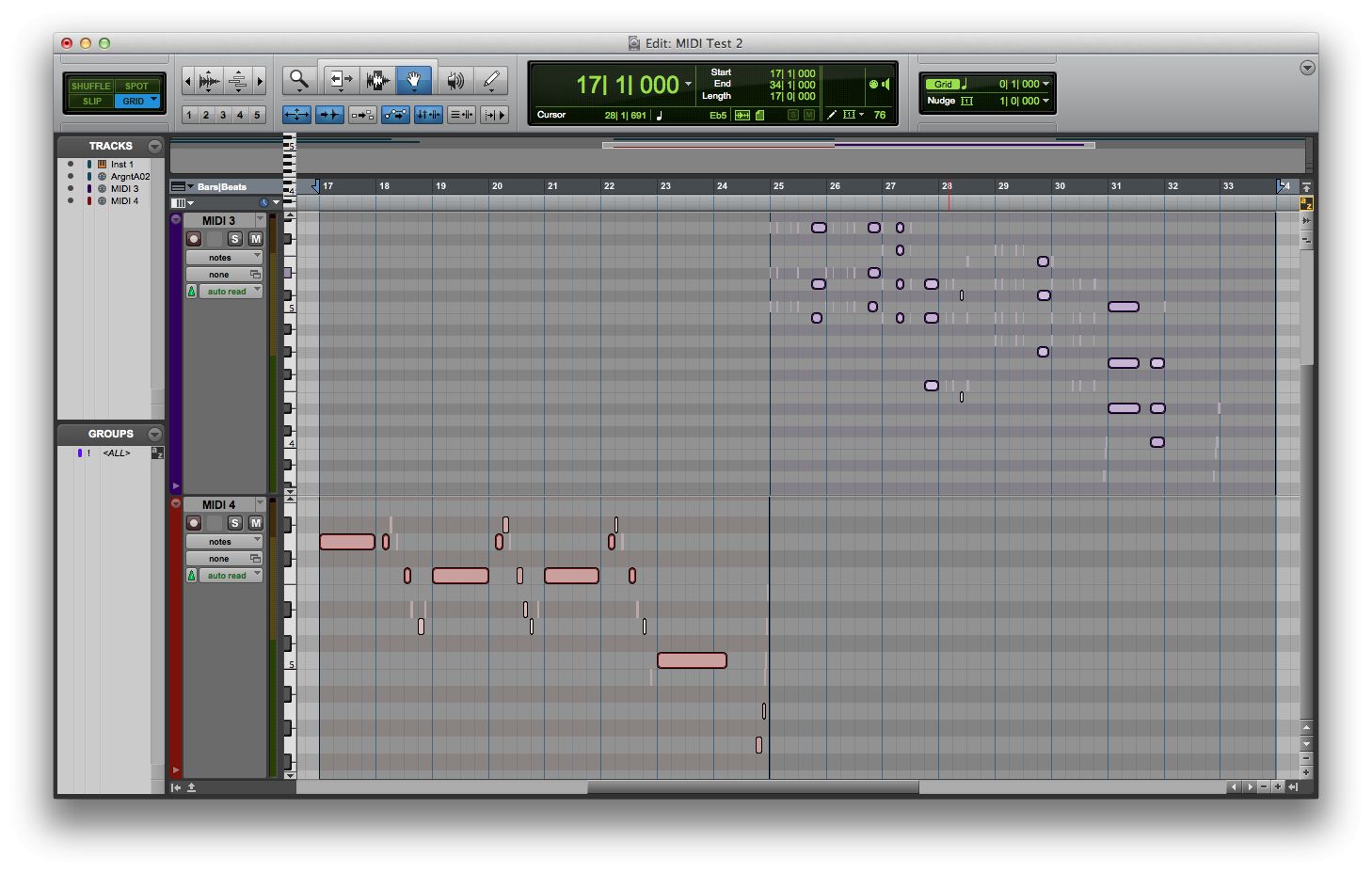 Zoom Toggle!
Memory Locations
Creating a Memory Location creates a Marker by default, which is a reference to a single position on the timeline. But memory locations can also be selections, and if there is an edit selection (a clip for example) that you wish to return to frequently for editing and don't want to keep reselecting it in order to perform the Zoom Toggle trick, then creating a Memory Location for that selection makes great sense. Here's how:
Make the Edit selection

Add a memory location by either clicking the '+' button in the Marker Conductor Ruler or pressing 'Enter' on the numeric keypad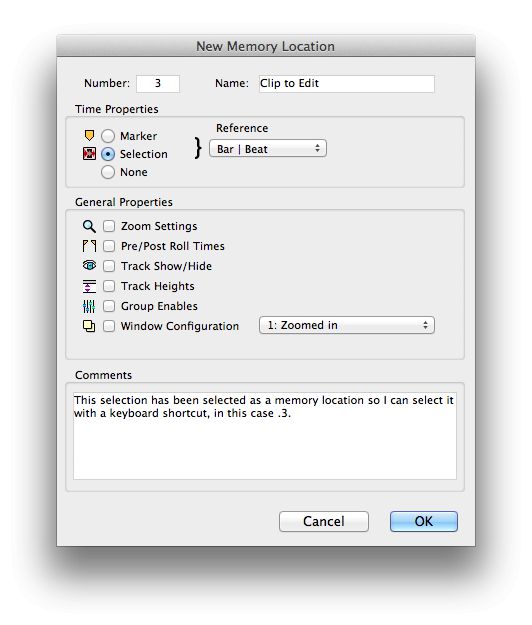 In the 'New Marker Location' dialogue that appears change the 'Time Property' to 'Selection' – you may now want to change its name as it takes the first bar of the selection as its default name.
To view the notes in the selection use the keyboard command .number. (all on the numeric keypad - where 'number' is the number of the memory location) to select the edit selection, then press 'E' to Zoom Toggle to its contents as set up in the previous section (see above).
Tip – if using this method also make a memory location that represents a selection of the entire session so you quickly return to a view of the whole session using a simple keyboard shortcut, in the same format as that described above.
The MIDI Editor Window
As mentioned above, the MIDI Editor Window opens when you double-click a MIDI clip. You can also use the keyboard shortcut Control-=.
Again, without adjustment, the MIDI Editor Window may not initially be 'zoomed in' enough to edit the notes with ease.

To achieve vertical zoom click the upper half of the MIDI Note Zoom button in the right hand scroll bar. Horizontal zooming can be achieved with the keyboard commands 'R' and 'T' if the window is in key focus.
Now each time you enter the MIDI Editor Window you will see the notes at this level of zoom. The use of color coding can also be very helpful here for some.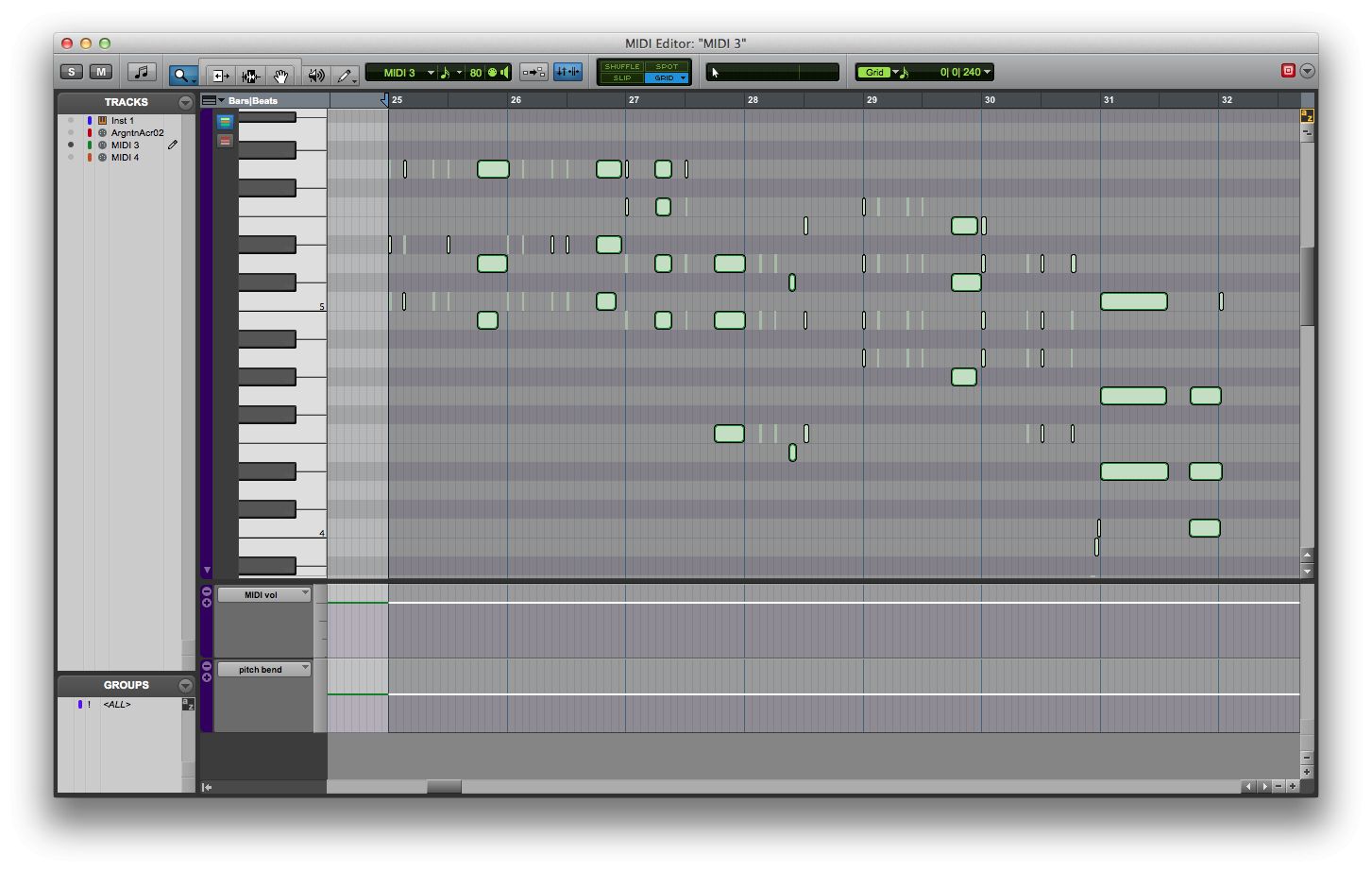 With the MIDI Editor Window in key focus the keyboard shortcut 'E' now becomes a toggle that hides and reveals any lanes of continuous controller automation.