Expanding on this series of quick tips that focus on making beats in Reason this tutorial takes a look at how to make a beat by triggering sounds with Reason's excellent CV/Gate system.
I'll be using the deadly combo of Redrum and Kong to create a house beat using this method and you'll see how we are able to use Redrum's step sequencer in conjunction with Kong's sound sculpting abilities.

Step 1 - Loading Kong with sounds
The first thing you'll need to do here is load Kong up with some sounds, as we are building a house beat I've opted for an electronic kit that features plenty of electronic hits and analog style percussion.
Of course the beauty of Kong is it's pads. You can audition the sounds in a really natural way by playing them directly on the screen, or on a MIDI controller. The only real thing missing here is a step sequencer and this is where our CV system comes in!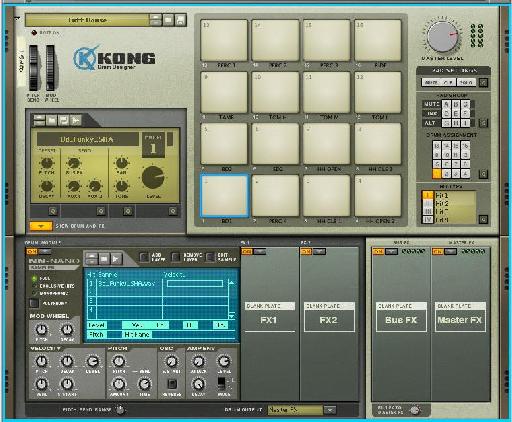 Step 2 - Setting up the CV triggering system
I plan to use the step sequencer from Redrum to make our beat, "but how?" I hear you ask! Well I'm going to use Reason's virtual CV/Gate system to hook the Redrum up to Kong. Redrum will then act as a triggering system and fire the sounds in Kong. Clever, if I don't say so myself.
Load up a Redrum below Kong in the rack and we are good to go. To start we'll need to make our connections, so flip the rack and focus on the smaller CV/Gate connections on the back of both Redrum and Kong.
You'll notice that each channel of the Redrum has a 'Gate out' and 'Gate in' point, we'll need to use the 'Gate out' here. Connect this output to the equivalent 'Gate in' on each pad in Kong. Obviously Kong has 16 pads and Redrum only has 10 but I find that this is often enough to cover most beats I've programmed.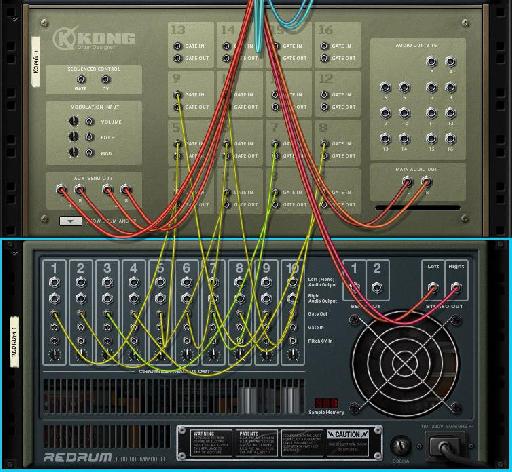 So you should now have all ten Redrum Gate outs connected to the first 10 CV inputs of Kong. When your set up looks like my pic, we are ready to move on. Just before we do though please ensure that you disconnect Redrum's audio outputs!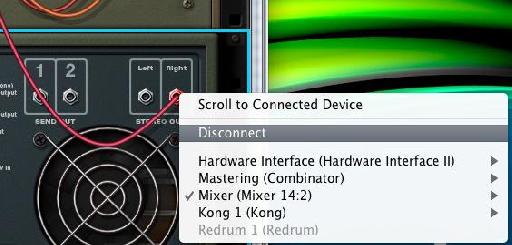 Step 3 - Programming your pattern
With our connections complete we are ready to start programming our beat. You should now be able to hit play on any of the buttons in the Redrum and trigger a sound in Kong. This means that Redrum's step sequencer will also trigger our sounds.
To fire up the step sequencer just ensure that the 'enable pattern function' light is on. You can not program your pattern in the usual way. Select a sound and enter the measures you want to use.
In this case I have gone for a simple 4/4 kick pattern, with a snare on the 2nd and 4th beats, off-beat hats and some various percussion to build up a groove.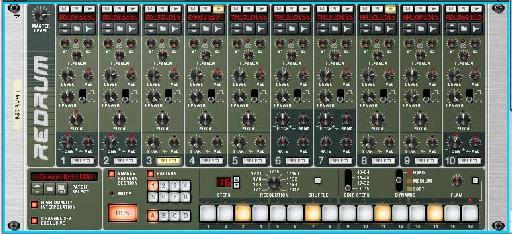 Listen to the drum pattern in isolation:
You should find that programming your beats in this way gives you a different angle to using the main sequencer and die hard fans of step sequencers should enjoy the access to Kong's awesome library.
Listen to the drum pattern in context with some simple instrumentation:
Learn to make phatter beats in Kong: