Making A Strong Case: EMC On Their New Eurorack Modular Cases
EMC custom builds some of the most incredible Eurorack modular cases in the business. We caught up with them to find out what goes into making these unique pieces of studio furniture.
While writing an article for Ask.Audio on starting a eurorack system, I reached out to 2Egress Sound & Design (2Egress.com) to ask for some photos of their beautiful cases, and Brock and Dion were happy to oblige. They've recently launched a new site, EMC (EurorackModularCase.com), focused on, well I think the name spells it out pretty clearly. I sat down with them over FaceTime for a fun chat about their new endeavour, our shared love of Japan, and their recent relocation.

First of all, I was curious to find out why they felt the need to start a new brand thing when 2Egress was already known as a fine maker of eurorack cases.

We just really focused on what it was we were doing. With 2Egress we had people writing us going "can you do sound design work for us, can you treat my living room?"

I have a degree in audio engineering. That's where the business started. My instructor came to my house, and just freaked out over the furniture I had built myself. That's where the business began, as niche word of mouth.

Eventually a client rather brusquely confronted them on the disconnect between their name and their products and they decided to try something more obvious.

I went, wow, you know, he's right.

Now we have musicstudiodesk.com and also recordingstudiofurniture.design which makes more sense for our blog.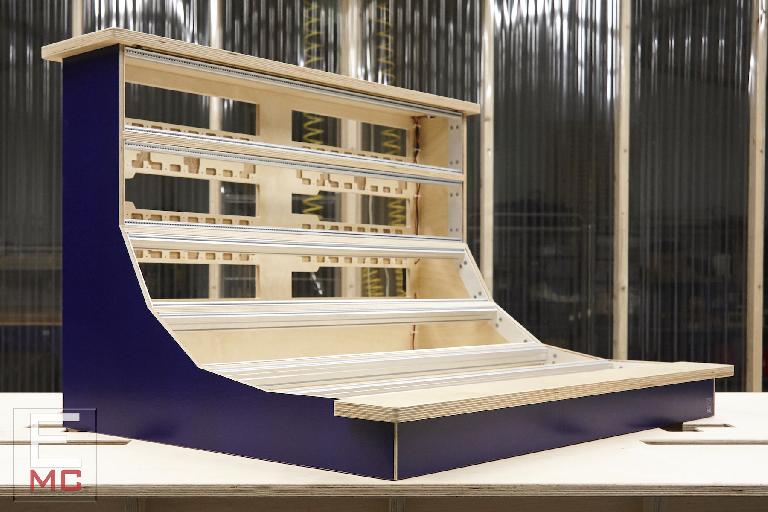 He has also found a passion and gratitude in the eurorack community that really excites and motivates him.

Eurorack devotees are awesome! They are the most fun to work with and are incredibly appreciative of the fact that we do what we do. They really love what we do, and it's very motivating to work in that industry. I have people write me emails that say "I love your work and want you to know I appreciate that you're here". It's really awesome. Yes, you get that in the furniture side a bit too, but it's different.
EMC is now located in the United States after previously residing in the Toronto area. The move was made partially for business and partially for family reasons, but they couldn't be happier with their new digs.

Shipping things into the United States was hard on our clients so it's beneficial for us to be on this side of the border. Most of our latest work has been L.A. and N.Y-based composers looking for larger format bespoke cases.
Besides Brock's sense of humour, it was quickly apparent how genuinely excited he gets about good design. His passion for his work and his attention to detail really shine through. He also takes customer service very seriously. He told me a story about a client of his that had a keyboard shipped to them in order to incorporate it into the desk before sending it to the client. The keyboard hadn't been properly packaged for shipping and broke a few keys while being delivered, so a replacement had to be sent. To complicate matters, this took place during a previous move. Furthermore, the replacement was missing a few components that rendered it useless once it arrived in his client's studio.
As someone who has worked for years in retail (selling synths and other pro audio gear), I'm well aware of the strain on client relations that can be created by situations out of your control, and retaining these people as repeat customers is often a huge challenge. Brock didn't just keep him as a repeat client, he created a lasting friendship. He insists that his clients are all kinds of people, but a large portion of them are film and television composers, for whom he has a great degree of respect.

The people I know that work the hardest are probably composers. Without question. Movie people, TV people. They work insane, ridiculous hours.

When you look at a composer, they bare their soul to create. They look at something and go "This is what this means to me" and then they create it. To be told "Nope, that's not it," or be faced with constant rejection, I don't know how composers do it.

Where I'm blessed is, I'll talk to you. Scott is doing this. And Scott's room is this big. And Scott is going to put this on it, this on it, that on it. This is gonna happen. All of this is his workflow. He's this tall so the desk is this height.

I'm really lucky. Usually the first drawing is accepted. Almost every time. Because I pay attention. I take good notes and I do what they ask.

So how a composer does that, and gets rejected often. I don't know how they do it.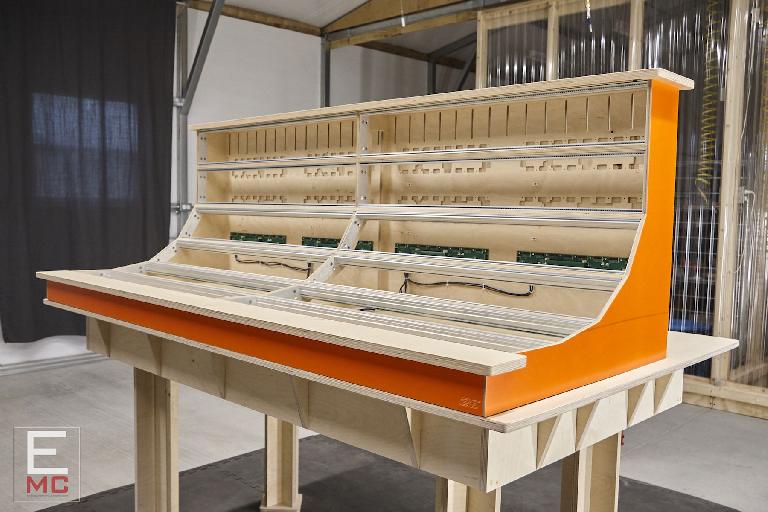 Before starting work on a custom project, he always starts with a FaceTime introduction.

I always try to get them on FaceTime. I wanna see the space that the piece is going in. I wanna feel the energy of it. People are geometric, they're either round or square, and you have to convey that in the piece of furniture or it's not going to work.

It's pretty obvious from looking at their cases that they have a strong attention to detail and commitment to quality, but I wanted to hear in Brock's own words some of the things that set them apart from other manufacturers.

We've got our own little in-house techniques for doing stuff now. All the bus-boards, we mill everything so that when you install the bus board the screw holes are already there for all the screws. Any place that there's solder on the back of the bus boards is milled away on the case. So instead of using nylon offsets, we flush mount. When you put a fastener into wood, if there's any play in it, it's done. Every time you plug and unplug that module in that spot, it will eventually weaken. Furthermore, movement reduces the case's lifespan. So I came up with the idea, why would we want to use nylon offsets when we can go direct? So we remove everything from the back of the bus board's location.

For all of our cheeks for each end of the rail sets, we mill out the thickness of them on each end. So when you put that in, instead of having a piece of aluminum show when you have your last module in, the module actually goes up against the side of the wood. So it has a really beautiful finish.

The other interesting thing we do is we put strips in between each row of rail, so we get more structural integrity in the case to reduce twisting. Say you've got a plug in the bottom of this module and a plug in the top of another, the wires would hit. So by putting in this dividing piece of wood it spaces things out so that doesn't happen. And It looks really great.

We only use the highest furniture-grade Baltic Birch plywood from Russia. The whole case is fully embedded and glued inside of itself.

We buy all of our rail from an aerospace manufacturer, Vector Electronics in California. Custom made for our use.

The rail is of highest quality and is heat treat hardened and chemically treated to mil-spec so it won't oxidize. Apparently most of our competition use Chinese rail. So that's one of the reasons that our cases are a little more expensive, we use the finest rail. We consider it the Rolls Royce of rail. It's the most expensive thing in the case next to the power supplies.

We get a lot of return business. People outgrow their cases or they want to add on.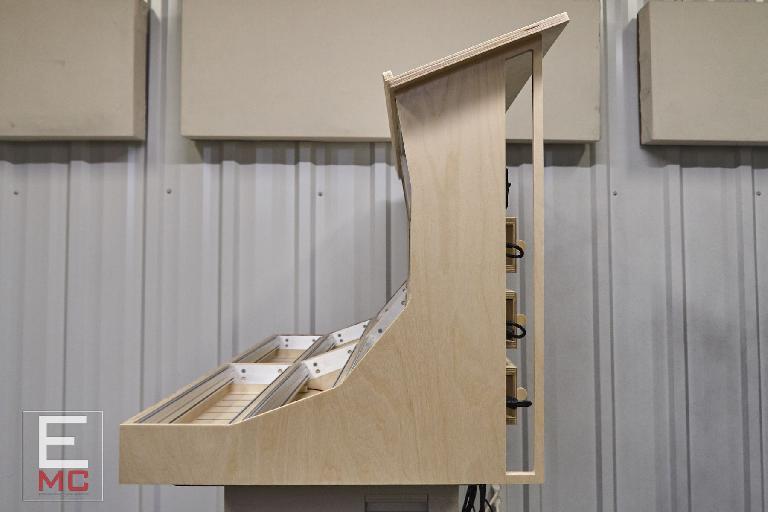 Naturally this made me curious to hear about some of the most interesting cases they had made.

Most interesting eurorack case we have completed thus far would be the "Constellation" for Christophe Beck at 104HP double wide 15U. There was a lot more detail required, the interior lighting was really unusual because he wanted to see inside the case so he could see to plug and unplug modules. There isn't any lighting on the outside of the case which is kinda neat.

(What made it really interesting was) the power block mounting solution that we came up with. They even have little gates that you can pull out. Really intricate stuff. I believe that was going to be a case that you could see the back of and he wanted the back to be clean. The only thing that came out of it was the cords for the power for each block. And the power strip plug for the LED lighting. Really proud of that one, there was a lot of extracurricular detail work.

Here you can see the power block mounting solution that they came up with for Christophe Beck's Constellation case.
With each build you improve. You remember the last one so each time you make something it gets better. We just did a really amazing case called "The Nebuchadnezzar". It was done for a three time Latin Grammy nominee. He shipped in ten POWDIS bus boards and two Acopian power supplies that weigh almost 30 pounds a piece. They generate 200 watts of heat each at full load, with 8.5 amps of pure, really nicely regulated power. They're built in the United States.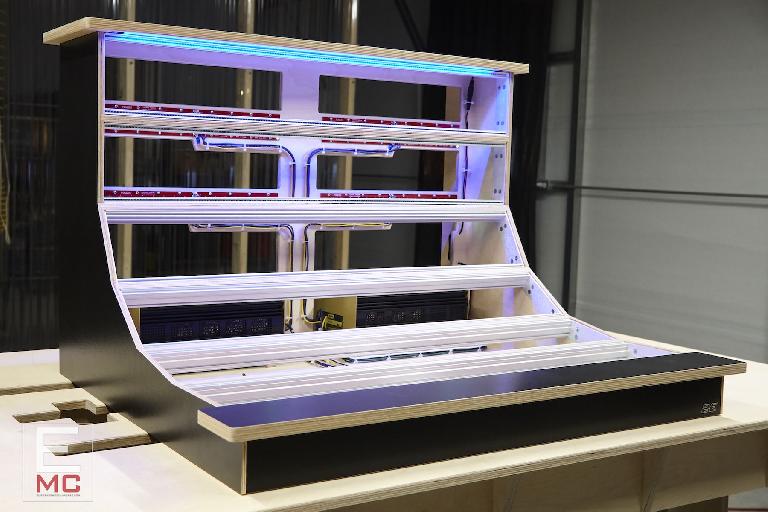 The Nebuchadnezzar was a 168HP 18U case with a blue LED strip across the underside of the top shelf's front edge and the case was painted black. It also has an armrest installed which is a real game-changer when patching for hours on end. We had to come up with a magical power supply mounting solution for these PSU's to go onto and ventilate them. We came up with an open-backed design to release any heat from the case along with a slotted top shelf. It also facilitates the easier unplugging of modules from the bus boards. So instead of trying to remove this module five down because that's where the plug ended up, you'll be able to just reach in and unplug the ones you want from the back.

It also became clear that Brock takes quite a philosophical approach to his craft and his creations.

I have realized I can sell you this as a piece of wood, as something that holds something: a stand, a thing, or as a piece of my mind. I realized that I don't sell "things" but my mind's time. You're not buying a case, you're buying the use of my mind to create something that is for you. It's every artist's dream to have the time to enjoy the creative process. I am very lucky to love what I do.

I have been told: "It's just a case". No! I build musical instruments. A desk is a musical instrument. This case is a musical instrument. This will shape how you sound, just from working on it. How it makes you feel to be in front of it. The value of it.

We used to do an event called TOMS Workshop (Toronto Modular Synth Workshop). It was to get noticed and show appreciation. Once a month we would open the shop up and everyone would bring in their gear and we had performers lined up and everyone loved it and we learned so much.

We sell stackable (vinyl) crates and we sold a set of three crates one day at a TOMS event. As we walked to his car he handed the stack of crates to his friend so he could unlock his trunk. The second they hit the guy's hand, I hear him shout out. I thought he dropped them or got a splinter in his hand or something. I was like "What? What??" and he says "They feel incredible!"

The cases are the same, but it's the way you make something feel. You put your hand against it and they convey care and attention to detail. It's like you can trust it.

We really enjoy making people's dreams come true . We want to fulfill people's wants, desires, needs, in a fun, creative and passionate way. So many of our clients have told us "I intend to leave this to my kid. This is going to be in my will". Heirloom quality. It's not a flash in the pan thing. If you look at all of the old Moog 5U stuff and the cases that they're in. Keith Emerson dragged his to the ends of the earth and back. We're trying to make things with the same idea. We really love what we do.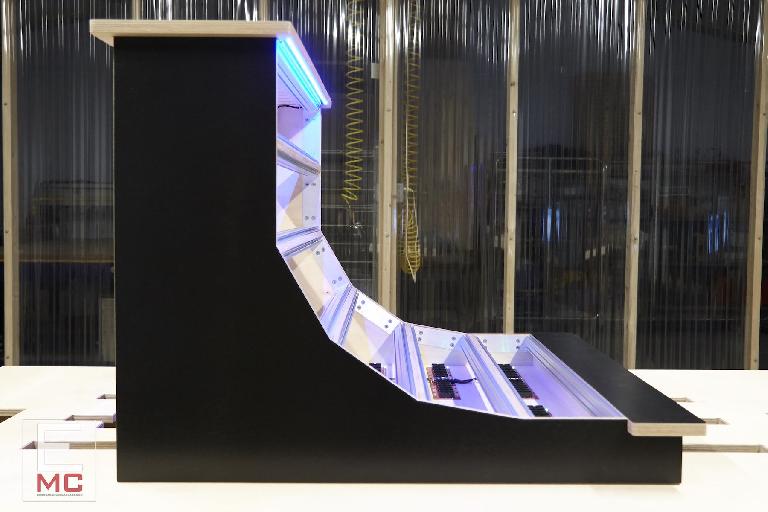 We briefly touched on some of his upcoming synth show plans, first with NAMM, followed by Knobcon, Machines in Music, and Moogfest. Next year they hope to make a stop in Tokyo, and we started talking about the epicenter of synth-lust that is FiveG Music in Harajuku.

My favourite place on the earth is Japan. We went in 2010 and Klaus Schulze was performing there. I don't know if you remember, but when you go in (FiveG) on the right hand side there was a wall and they always had tour posters of whoever was performing. They had two Klaus Schulze posters on the wall and I am a huge Tangerine Dream fan. There wasn't a spot of oxygen left in the room from where I went (gasp)! I kept going "Poster! Me! Go! Me poster go!" The guy behind the counter was so kind, and he finally comprehended what I wanted. He went and pulled the posters off the wall and took them to the counter where he got an X-Acto knife and he trimmed where the tape was extended out over the poster. Rolled them all up and put an elastic band around them with ultimate care. Went out back and got a mailing tube. Put them in it and closed it up. He then bowed, and handed it to me. I almost cried, I was so blown away. I ended up buying, of all the irony, a Dave Smith t-shirt! Everywhere I've been in the US, I wear it to any the events I go to, and people always ask me "Where did you get that Dave Smith shirt? You can't get them in the states apparently.

In our hotel room in Shinjuku. You open the door to the suite and you look down and there's a little rollerblade wheel with a stainless steel cap on it like the rim on a car. I look down and think "that's pretty cool, that's a nice doorstop." And then I realized there's a piece of string with a wooden ball on on the end of it, and that's attached underneath the wheel. So when you push the door back, you roll the ball in front of the door, and the piece of string goes under the door and It holds the door open. How amazing is that? The most simplistic beautiful thing. And that's what Japan is to me, a life changing experience. It influences the way I view design and create things daily and hopefully forever...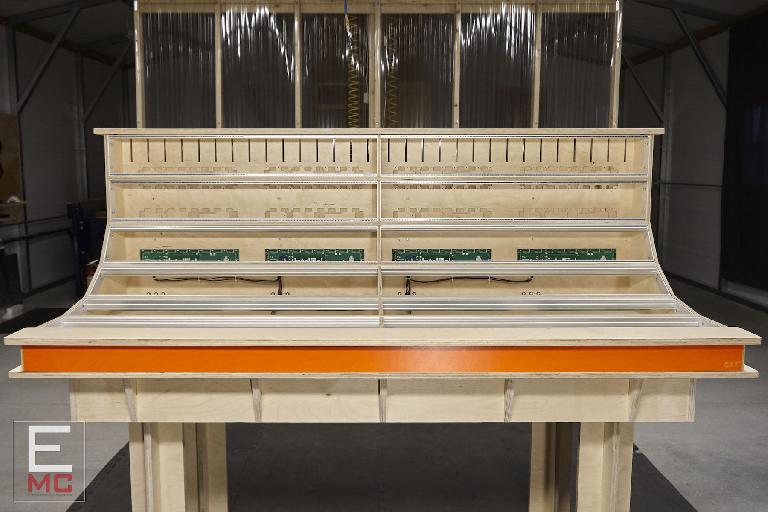 I often find that with people who really excel at whatever they do, they often find inspiration and excitement in the most unlikely places. While it was already pretty obvious from simply seeing images of their cases, sitting down for a chat really hammered home the passion and care that Brock and Dion feel for their work. Whether you're in the market for a new case or not, it's worth visiting their site for a look, as it's bound to bring out some excitement in you too.