Logic is a mixing powerhouse. Anything you can do in Pro Tools or any other "pro" DAW, you can do in Logic "Pro" and perhaps even better! In fact, Logic has more mixing magic built into its DNA than any other DAW on the planet and David Earl is here to prove it!

This very deep course explores every aspect of creating the perfect mix in Logic Pro X. You learn the process, the signal flow, the tools, EQs, filters, vocal tips, reverb theory, drum replacement, compression, automation and so many other useful tips there just isn't enough room to write about all of it on this page!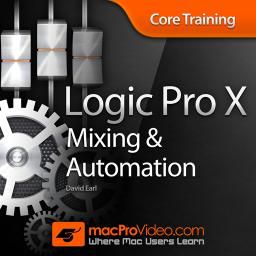 What makes this course even cooler is that David takes you fader-by-fader through the creative and technical process of constructing a Logic-style mix explaining every creative and technical choice he makes all along the way. There isn't a mixing course on the planet that even comes close!
So learn everything there is to learn about mixing in Apple's Logic Pro X from maestro David Earl. We guarantee that your mixes will benefit from the experience!
Watch the rest of the videos in this course and become a Logic Pro X Mixing maestro:
http://www.macprovideo.com/tutorial/coretraining-mixing-and-automation-basics