Bristol, a city with a rich musical heritage in the South West of England, has a special place in the hearts of several of us here in the editorial department of Ask.Audio. And now, it's getting its very own synth festival. On Saturday March 30th 2019, Machina Bristronica comes to Bristol. And as well as some of Bristol's native musical legends, there's a really strong lineup of exhibitors as well. Bristol's renowned music hardware store Elevator Sound, based in Stokes Croft is behind Machina Bristronica and has a packed programme of live sets, panel discussions, demonstrations, and giveaways at Motion and The Marble Factory.
Stalls
Novation
Native Instruments
Focusrite
Allen & Heath
Moog
Ableton
Expert Sleepers
Signal Sounds
Future Sound Systems
Bastl Instruments
Bubblesound Instruments
Befaco Barcelona
Roland
Teenage Engineering
Dove Audio
Error Instruments
Joranalogue
Arturia
Dreadbox
Instruo
Patching Panda
Music Thing Modular
Transient Modular Barcelona
Soulsby Synthesizers
XOR Electronics
Thonk
AJH Synths
Rebel Technology
Cymru Beats
ALM Busy Circuits
Korg
Brighton Modular Meet
Livestock Electronics
U.D.O Synthesizers
Isotonik
Sixty4Pixels
Damaru Cases
Bugbrand
Rakit
Lateral Sound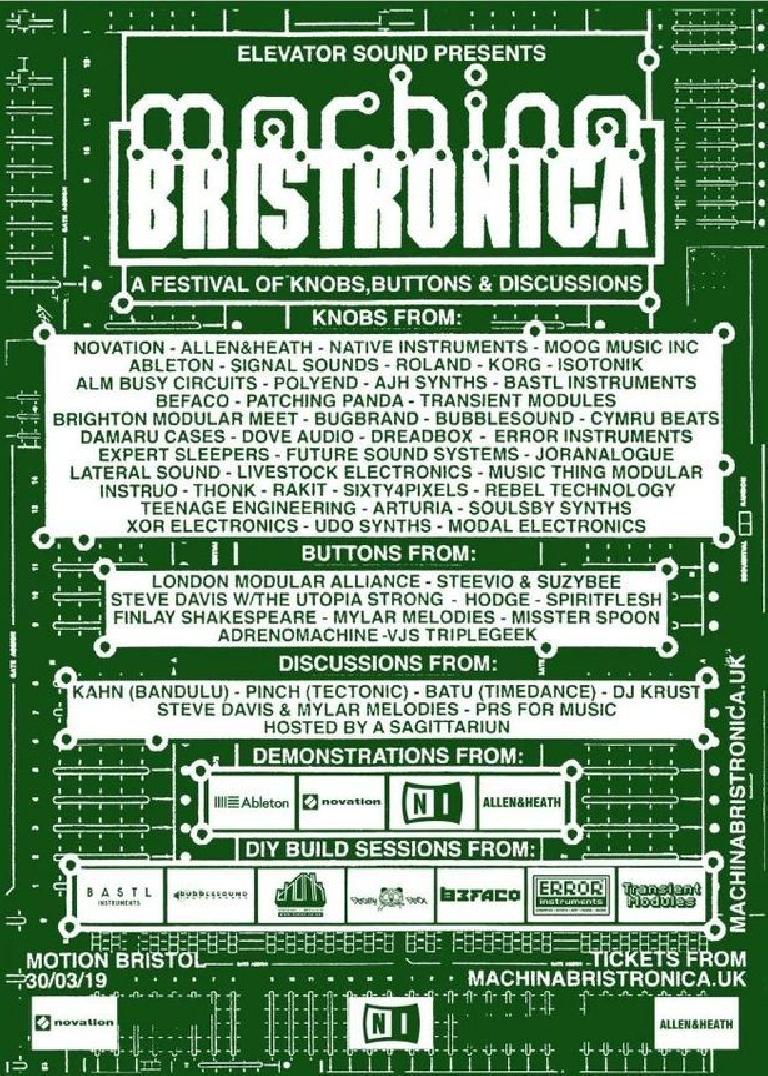 DIY builds from
Thonk
Patching Panda / Befaco / Transient Modules
Bastl Instruments
Error Instruments
Bubblesound Modular
Here's what the organisers said about the event.
"We will have a full day of live modular/hardware sets in the "Old Marble Factory" area, whilst the "New Marble Factory" space will host the main arena to loads of our favourite synthesizer companies. Come and chat to the actual people behind the building of these machines and get "hands on" with their new bits of gear.

In the build workshop area, Bastl, Error, Thonk and Patching Panda will be hosting a series of DIY modular sessions. These will be a separate pre-purchased ticket where build revenue will go direct to the company and you walk away with your own fully built module at the end of the session. Further details of each workshop and the specific modules available soon.

Ableton will also be running 2 workshops throughout the afternoon. A "beginners" session designed to get you started with Live; building sounds, loops, sequences, FX chains and using the Push controller. The later session will be focusing on Max For Live, showing how you can expand and alter Live for your personal project, idea or style. By the end of the workshop we aim to have built a simple Max for Live device with ideas of how to expand it further yourself at home. Bring your laptops to these sessions!

Native Instruments Product Specialist, Anna Disclaim shows you how to transform your productions using Komplete Kontrol's Scale, Chord and Arp features. This smart controller keyboard harnesses the full power of Komplete to create professional sounding music with any plugin."