For me, the answer was "yes". Mind you, I did not come to that conclusion lightly.
When virtual instruments first came around and many of us started to use them either instead of or in addition to hardware samplers and synthesizers, it was a new paradigm. If all you wanted was synthesizer sounds and some decent samples, it was not a big deal and even the under powered Macs, as we would now view them, were quite capable of standing up to the task. But what if you wanted to do a full orchestral mockup with what were at that time considered high quality samples? Did you have $100k for a Synclavier or $60k for a Fairlight? No? Well, you were out of luck. Stick with the hardware.
(Apart from their obvious great talent, it is not a coincidence in my opinion that some composers who found a way to afford these early on, like Alan Silvestri, Sean Callery, Brian Banks, etc. went on to great success.)
Until Nemesys GigaSampler (later GigaStudio) came along with its famous 1GB GigaPiano and GigaHarp. For the first time, a relatively affordable software solution was possible. It was a game changer.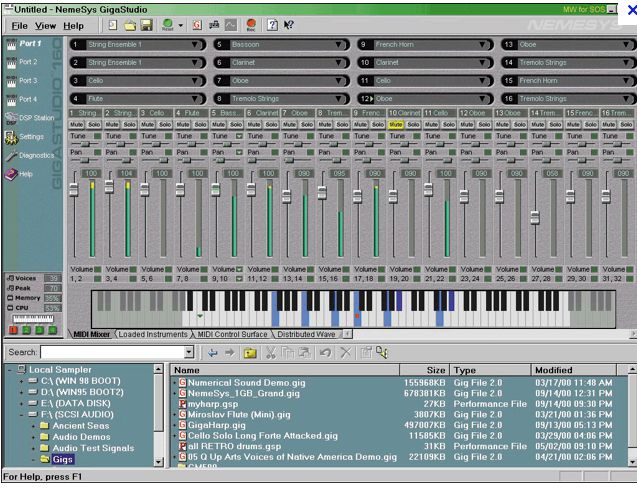 The problem for Mac users? It was only made for the PC, and if you were going to do a full orchestra you needed 3 or 4 of them. And a lot of guys did this as producers and directors of lower budgeted projects turned to composers who could do decent orchestral sounding scores with samples.
Eventually, the Emagic developers created their own version of this approach with the very efficient EXS24, which for Logic users gave us the ability to do some of this on one Mac as companies like VSL and Kirk Hunter Studios created good sounding orchestral libraries for it. However, for most guys who were really serious about this, it still was not possible on one computer because the amount of great sounding libraries for it were not sufficient.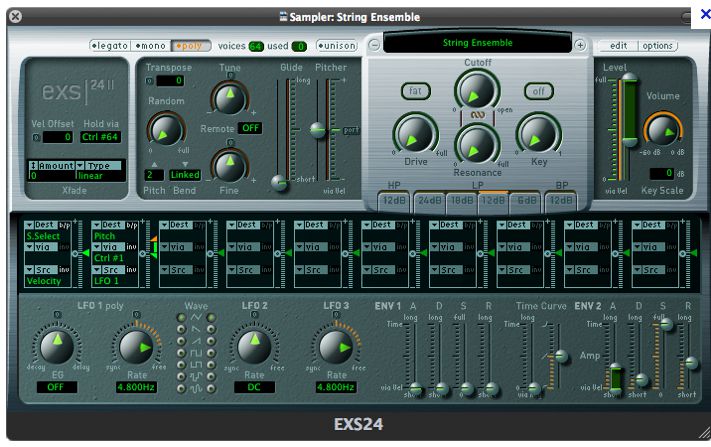 Then along came Native Instruments with its Kontakt sampler engine. In the beginning, it was inefficient, buggy, and you simply could not run a lot of large libraries with it. Over time, it became more efficient, added a memory server so you could load more samples outside of the host's memory, featured scripting ability, and so many great libraries became available for it that it really became an industry standard, easily eclipsing MOTU's Mach 5 and Steinberg's Halion in popularity. Ultimately, it led Tascam, who had purchased GigaStudio, to simply give up on it, to the dismay of many die-hard fans and folks who had a lot invested in it. Kontakt 5 is indeed terrific and there are a great number of great sounding libraries that use its engine or the Kontakt Player.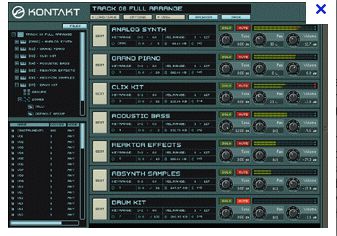 Over time, our Macs became more powerful, although they still lagged behind PCs in terms of clock speed and raw DSP power. Sure, maybe they could run Photoshop as fast or faster than a PC because of other factors in the OS and chip architecture but it was discouraging to know that we were paying more money and yet getting less power. But some of us simply did not want to deal with multiple computers, or were scared to enter the PC world with the frightening stories we heard of Windows workflow clumsiness, widespread viruses, the inability of certain 3rd party PC components to play nicely with each other, etc. We made do by freezing tracks, bouncing to audio, and sometimes simply deciding to run less.
Nature however abhors a vacuum and as our computers became more powerful with more available RAM, the library developers came up with more flexible and better sounding libraries that required more resources. Again, it became questionable whether even one very powerful Mac loaded with RAM was enough, and powerful Macs became more and more expensive.
Many of those who therefore decided that while they did indeed now need more than one computer to work with their libraries in real time opted for one or more Mac Pros or iMacs or Mac Minis as slaves. But the dirty little secret was that they still did not perform as well as a PC. At one time or another, folks from VSL, Native Instruments, Steinberg and EastWest have ALL told me that it simply is easier to code audio applications to run efficiently for a Windows based PC than an OS X based Mac. They do not go out of their way to advertise this but it is the reality they have to deal with in order to be dual platform compatible.
For me, the tipping point was libraries from EastWest and Solid State Drives. (In the interest of full disclosure, I work part time for EW as their Online Coordinator).
At a certain point several years ago, for both financial and creative ambition reasons, EastWest decided to create their own sampler engine named Play and abandon Kontakt.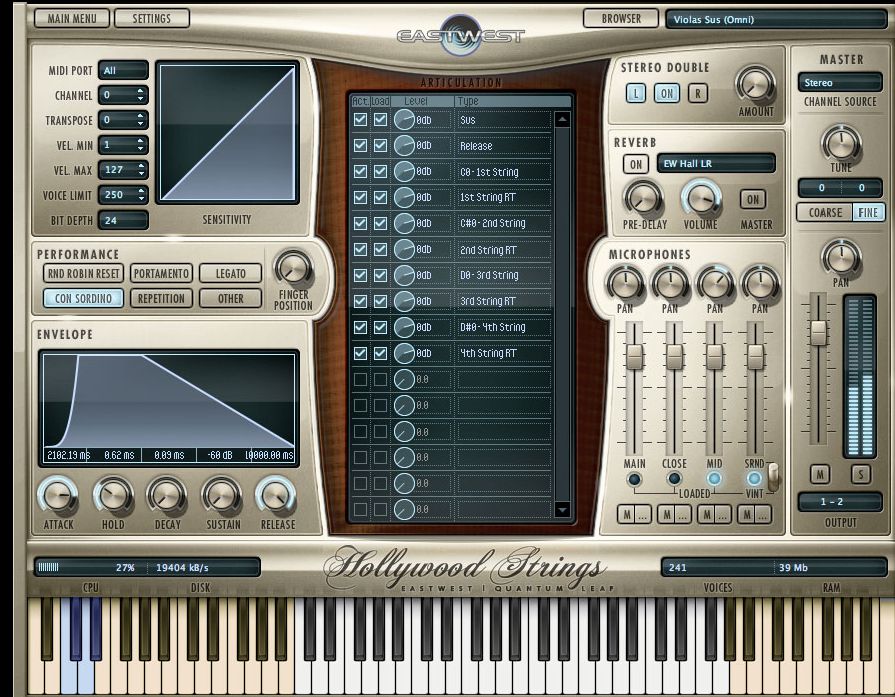 Predictably, with a new sample engine, there were growing pains, bugs, etc. but over time Play 3 has become 64 bit on both platforms, far more stable and EW developed some amazing libraries for it, notably Hollywood Strings and Hollywood Brass, with a woodwinds library promised "soon". Unlike Kontakt, Play is a player only, not a full-featured sampler but a sample player. (Play Pro is promised to be that in the future but there is no specific arrival date.)
As I said earlier, according to some of the major players in the industry, it is apparently easier to code audio apps efficiently for Windows PCs than OSX Macs and while Play 3 on the Mac has improved greatly, it simply runs more efficiently on a PC. (Kontakt actually does as well but the perceived difference is less dramatic, possibly because the new EW offerings are so much bigger than their Kontakt counterparts).
Then there is the matter of Solid State Drives, called SSDs commonly. We are all familiar with them from the ubiquitous little USB based "jump" or "flash' drives. SSDs have gotten progressively bigger, faster, and more affordable. Because there is no spinning platter, and associated seek time required they can load and stream sample/voices far more quickly and powerfully than conventional hard drives, even those that run at 10000 RPM. The bigger and more demanding the library, the more this advantage comes into play (no pun intended).
But once again, this is an area where the OSX based Mac Pro lags behind a Windows 7 based PC. The Mac Pros have a SATA II bus rather than the SATA III bus common on modern PCs. SATA II runs at 3.0Gb/s and its bandwidth is up to 300 MB/s while SATA III runs at 6 Gb/s and can reach up to 550 MB/s sequential read and write speeds. Even if you add a SATA II card to your Mac Pro, it still is dealing with a slower bus. Thunderbolt, which is available on some Macs but NOT Mac Pros yet, will presumably bring SATA III performance to the Mac but some folks believe there is also something in OSX itself that will still keep its performance a little less than a PCs. We all await some objective control study type tests.
Let's return to the saga of my journey and how I ended up with a PC slave. Quite simply, I fell in love with the sound and power of Hollywood Strings and Hollywood Brass and my aging Mac Pro was simply not up to the job. I could buy a Mac slave with an SSD and have a go at it but for far less money, I could build a PC with an SSD and know that at the end of the day I would have a more robust setup that would run my EW libraries in Vienna Ensemble Pro better and even some of my larger Kontakt libraries if I chose to. I could also load my Kontakt libraries on my Mac in Vienna Ensemble Pro for even more power and flexibility. (BTW, if you do not know about Vienna Ensemble Pro do a Google search. It is a total game changer IMHO.)
There is simply no getting away from the fact that I felt trepidation. After all, I had transitioned from the Atari platform directly to the Mac and never owned a PC at any time and indeed had never even sat down at one more than a handful of times. I had friends who said to me "don't go there" and filled me with the kind of horror stories that women who are about to give birth sometimes get from their friends who are already mothers.
But I also was told by other friends who always compose music on PCs or who successfully run slave PCs with their Macs, "Nonsense. A properly designed and maintained PC is no more trouble than a Mac. And millions more people use them than Mac so how bad can they be? "
It made sense to me logically. So I made the decision to get a PC. Not necessarily a top of the line one mind you, I neither needed nor could afford that, but something in the range of $1500-1600 that could do the job well. I talked to a lot of PC users and they pretty much all agreed that for audio work, I would be better off staying away from commercial PC offerings from Dell, HP, etc. as they are not optimized for this kind of work. Turnkey solutions from a company like VisionDaw, while the safest route, were simply out of my budget.
I reached out to a friend, a talented composer who has built PCs for himself and some friends and whose name I will not divulge here so to spare him being inundated with questions from guys like me, and he advised me which components to buy that would work harmoniously together and be more than powerful enough for what I wanted to run, some of which I bought off the internet and some at local stores.
Here is what I ended up ordering:
Intel Core i7-950 BX80601950 Processor - Quad Core, 8MB L3 Cache, 1MB L2 Cache, 3.06 GHz (3.33 GHz Max Turbo), Socket B (LGA1366), 130W, Fan

MSI X58A-GD45 Intel X58 Socket B Motherboard - ATX, Socket B (LGA1366), Intel X58 Express, DDR3 2133MHz (O.C.), SATA 6.0 Gb/s, RAID, 8-CH Audio, Gigabit LAN, USB 3.0, SLI/CrossFire Ready

Corsair Enthusiast Series TX650M High Performance 650W Power Supply

Cooler Master Storm Enforcer Mid Tower Case

EVGA 8400GS 1GB

Kingston KHX1600C9D3T1BK3/12GX HyperX T1 Desktop Memory Kit - 12GB (3x 4GB), PC3-12800, DDR3-1600MHz, 9-9-9-27 CAS Latency, Unbuffered, Non-ECC, Intel XMP Ready

Microsoft Windows 7 Professional 64BIT Operating System Software - OEM DVD SSD

OCZ Agility 3 240GB w/ CONVERTER SILVERSTONE SDP08 R

Western Digital Caviar Black w/ 64 MB cache for my boot drive.

Gear Head 8x Triple Format DVD-RW/CD-RW Mobile Slim Drive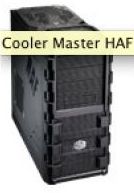 Others may be advised to order different components and since I did this several months ago, no doubt there are already more powerful yet equally affordable CPUs, motherboards etc. available. It is a moveable feast.
When all the components arrived at my studio, I brought it too a trusted local computer store's service department to install Windows 7 and assemble and a day later it was in my studio and connected to my Mac! I installed my Play libraries and Vienna Ensemble Pro on the PC with no problems.
Now I wish I could report that everything worked instantly and with no issues but of course that is not the case. There was no problem at all loading my instruments into Vienna Ensemble Pro on the two machines and connecting them to Logic Pro, as VE Pro's ethernet capabilities makes that easy. Seeing my PC desktop on my Mac monitors and controlling the PC from my Mac's mouse and keyboard with Microsoft's Remote Desktop Client should have been simple but in the end, I did have to hire a tech support guy to come over and deal with the differences in the way PCs and Mac deal with user names, IP addresses, etc.
However, for the first time ever, for well under $2000, I can now sit down and compose with a very large amount of great sounding sample libraries and virtual instruments at my fingertips almost effortlessly from my Mac with my PC slave with almost never a hiccup. If in the future I choose to update my PCs components and memory, or add a second SSD, that will be relatively easy and affordable.
And who knows, maybe I will go absolutely crazy and get an iMac or Mac Mini with Thunderbolt capabilities as well. I am the king of the world!!!