Cumberland RI, USA (June 1, 2017)— M-Audio (m-audio.com), synonymous with innovative music production technology, today announced the introduction of two brand new studio reference monitor speakers, the BX5 D3 and BX8 D3. These new speakers are unrivaled in their ability to convey recordings with lifelike clarity and dynamic accuracy, ensuring that recording engineers, producers and composers can listen with the confidence that their mixes will always sound their best.
Recognizing a crucial, unfulfilled need in the market for truly top-level monitors that are both compact and affordable, the new M-Audio BXD3 series boasts several engineering innovations that make their remarkable performance possible. To start with, the speakers' drivers—the heart and soul of any speaker's performance—are top-notch: The woofer is made of military-grade Kevlar®, rigid and lightweight for great transient response and detail resolution. The tweeters are treated silk domes, providing a near-perfect combination of low mass and internal damping, which eliminates the audible resonances that plague conventional tweeters.
Both speakers have on-board internal amplification, precisely tailored to the specific drivers they're used with for optimum response and maximum output. These are bi-amplified systems—a separate amplifier drives the tweeter and the woofer—resulting in far lower distortion than systems that use a single full-range amplifier. Utilizing Class A/B amplifier circuitry, the BX D3 amplifiers can play louder (they have greater "headroom") than the amplifiers commonly used in other systems.
Other features like the flexible connectivity options, the smoothly flared bass port that reduces port turbulence and the Acoustic Space control that tailors the speakers' sound to its specific environment are indicative of the care and attention to detail that sets the M-Audio BX D3 monitors so far apart and above other look-alike products.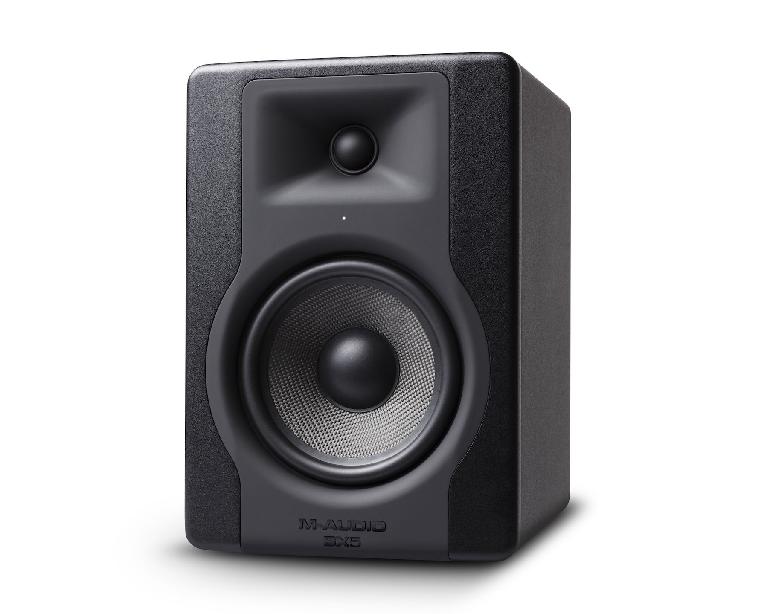 BX5 D3 Key Features:
Bi-amplified design with 100 watts (60 LF, 40 HF) for powerful, accurate sound

5" Kevlar low-frequency driver with high-temp voice coil and damped rubber surround

1" natural silk dome tweeter delivers superb transient details

New computer-optimized tweeter waveguide for precise imaging

Acoustic Space Control to fine-tune low-end response to your room

Optimized rear port for extended low-frequency response

XLR balanced and 1/4" balanced/unbalanced inputs for connecting audio interfaces, mixers, synthesizers DJ gear, and more

Volume control enables you to dial in the perfect monitor playback level
Bi-amplified design with 150 watts (80 LF, 70 HF) for powerful, accurate sound

8" Kevlar low-frequency driver with high-temp voice coil and damped rubber surround

1.25" natural silk dome tweeter delivers superb transient details

Computer-optimized tweeter waveguide for precise imaging

Acoustic Space Control to fine-tune low-end response to your room

Optimized rear port for extended low-frequency response

XLR balanced and 1/4" balanced/unbalanced inputs for connecting audio interfaces, mixers, synthesizers DJ gear, and more

Volume control enables you to dial in the perfect monitor playback level

Wide range 37-22kHz frequency response covers full musical spectrum

Front panel LED shines brightly when speaker is positioned at ideal monitor angle
"These new BX D3 monitors really raise the bar for acoustic performance, connectivity and their ability to adjust to any acoustic environment," said David Gill, Director of Engineering for M-Audio. "In order to achieve such a high level of performance, we painstakingly addressed every single aspect of monitor design, from the drivers to the amplifiers to the enclosures and the final voicing itself. We're really proud of these and we're looking forward to people using them and enjoying their benefits."
The M-Audio BX5 D3 and BX8 D3 monitors will be available in Summer 2017. Pricing is as follows:
BX5 D3--$149/ea. USD
BX8 D3--$249/ea. USD
For more information or to find your nearest dealer, visit www.m-audio.com