The LTC-1 is a touch based mixer focused on controlling up to 16 tracks inside Ableton Live. The interface offers a flexible and intuitive way for adjusting volume, pan and sends 1-4 along with the ability to mute, arm and solo a selected track. The LTC-1 provides two views, single and multitrack, giving you the right level of control for the situation. LTC-1 is made to work either alongside a hardware grid controller for working in session view or standalone for arrangement view. Whether used on its own or with other hardware, LTC-1 brings the focus less on the computer screen and more on creating music.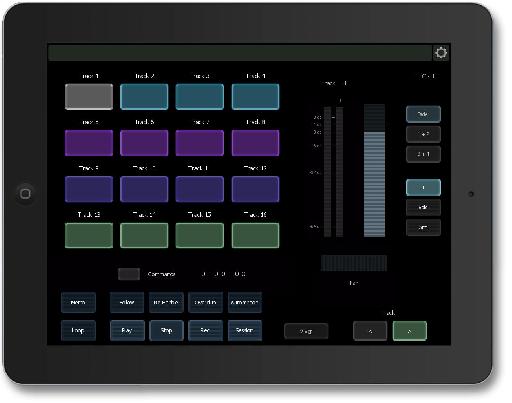 LTC-1 on iPad
Features:
Controls for volume, pan, sends 1-4, track enable, solo, and arm for up to 16 tracks in Ableton Live

Select tracks directly with one of the 16 large track select buttons or incrementally with the track forward/back buttons

Bi-directional communication via OSC keeps the touch interface constantly updated, even after adding or deleting tracks

Two views let you choose between either a detailed single track view or multitrack mixer

Complete transport controls for both session and arrangement view and an hr:min:sec time display

Additional controls for quantize, tempo, draw/view commands along with buttons for adding, deleting and duplicating tracks in Live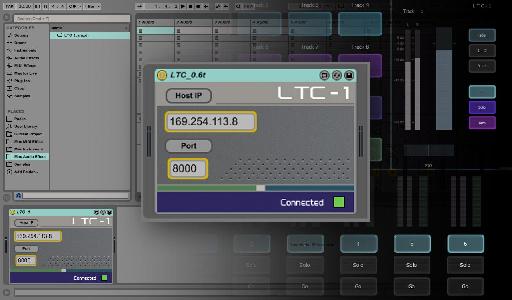 LTC-1 Max for Live device.
Technical Info:
The LTC-1 download includes a Lemur template and Max for Live device. The Lemur template communicates with Ableton Live via the Max for Live device which is placed on the master track inside a Live project. The network IP and Port settings can be entered directly in the LTC-1 M4L device UI and saved with the device or Live project for future use. Finally, a connection indicator on the LTC-1 Max for Live device lights up green once bi-directional communication is established between the computer running Live and the tablet running the Lemur app.