A repetição é uma característica fundamental de toda a música. A capacidade do DAW a repetição material, copiando e colando é uma maneira de conseguir isso. Rapidamente a criação de cópias sucessivas de um clipe no entanto, sem lacunas, torna isso ainda mais fácil. No Pro Tools este é referido como looping. Para esclarecimento, os exemplares criados usando este método são realmente apelidos ou referências ao clipe original. Eles não são clipes distintas em seu próprio direito, e não pode ser editado de forma independente do clipe (ou fonte) original da qual eles derivam.

Pro Tools oferece várias maneiras de loop.
O Caminho de menu
Select a clip. This can be MIDI, audio or video, or a clip group (you can even loop a clip group that contains MIDI, audio and video)

Choose 'Loop' from the Clip menu (Command–Option–L)

Na caixa de diálogo looping clipe que está sendo oferecidas 3 opções:
Specify the number of loops — this is the total number, including the source clip

Specify the total length of the looped clips — this will be expressed in units as determined by the main timescale

Loop the clip up to the end of the session or the start of the next clip on that track
Se o clipe de áudio é então você também será capaz de decidir se mixagens deve ser aplicada, e ajustar as configurações de acordo.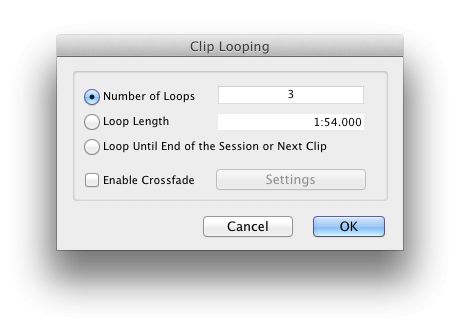 A caixa de diálogo Looping Clipe
Para remover o loop (s) selecione o clipe em loop (ou grupo clip) e escolha Unloop a partir do menu Clip.
Usando uma ferramenta
Clique e segure sobre a ferramenta Cortar na barra de ferramentas, em seguida, escolha a ferramenta laço da guarnição do pop-up que aparece. Em alternativa, utilize o atalho de teclado Command2 (pressione-o quatro vezes para percorrer as ferramentas da guarnição). Posicionamento esta ferramenta na metade superior de um clipe vai permitir que você crie iterações do clipe de origem, arrastando com o mouse. E se você mantenha pressionada a tecla Control enquanto você estiver fazendo isso, ele vai forçar o Pro Tools para criar apenas iterações clipe inteiro.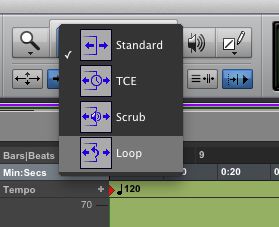 Escolher a ferramenta laço da guarnição
Editando Clipes Looped
Uma vez que um clipe foi loop você pode editar as configurações de loop em uma série de maneiras:
Double-click on the loop icon on a clip with the Selector tool (Command–3)

Right click on a looped clip with the Selector, Grabber or Trim tool and choose Loop... from the pop-up menu

Select the looped clip and choose Loop Clip from the Clip menu (Option-Command-L)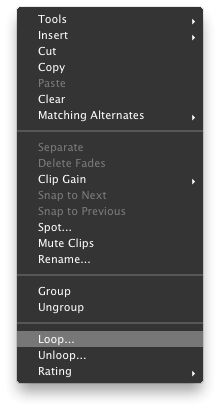 Botão direito do mouse para escolher loop ... a partir do menu pop-up
Você também pode editar clips em loop com o padrão da guarnição ou Loop ferramentas guarnição da seguinte forma:
If positioned anywhere over the looped clip but the Loop icon, either tool will allow you to trim the entire looped clip; holding Control will force only whole clip iterations to be created

Cortando o clipe inteiro em loop
Positioned over the loop icon, either tool will trim the length of the loop iterations themselves, but the length of the whole looped clip will stay the same

Cortando o comprimento da iteração do loop
Feito!