Die Wiederholung ist ein wesentliches Merkmal aller Musik. Die Fähigkeit des DAW, um Material durch Kopieren und Einfügen zu wiederholen, ist ein Weg, dies zu erreichen. Schnelles Erstellen von aufeinanderfolgenden Kopien eines Clips jedoch ohne Lücken, macht dies noch einfacher. In Pro Tools wird dies als Schleife bezeichnet. Zur Verdeutlichung sind die Exemplare mit dieser Methode erstellt wirklich Aliase oder Verweise auf das Original-Clip. Sie sind keine deutliche Clips in ihrem eigenen Recht, und kann nicht unabhängig von der ursprünglichen (oder Quelle) Clip, aus denen sie stammen bearbeitet werden.

Pro Tools bietet mehrere Möglichkeiten, um Schleife.
Die Menü-Way
Select a clip. This can be MIDI, audio or video, or a clip group (you can even loop a clip group that contains MIDI, audio and video)

Choose 'Loop' from the Clip menu (Command–Option–L)

In dem Clip Looping Dialog werden Sie 3 Möglichkeiten angeboten:
Specify the number of loops — this is the total number, including the source clip

Specify the total length of the looped clips — this will be expressed in units as determined by the main timescale

Loop the clip up to the end of the session or the start of the next clip on that track
Wenn der Clip Audio-dann werden Sie auch in der Lage sein zu entscheiden, ob Überblendungen angewendet werden sollte, und passen Sie die Einstellungen entsprechend an.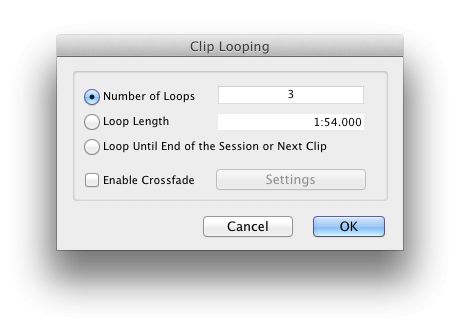 Die Clip-Looping-Dialog
Um die Schleife zu entfernen (n) wählen Sie den geloopten Clip (oder Clip-Gruppe), und wählen Sie Unloop aus dem Clip-Menü.
Mit einem Werkzeug
Klicken und halten Sie auf dem Trim-Tool in der Symbolleiste, und wählen Sie dann die Loop-Trim-Tool aus dem Pop-up, das erscheint. Alternativ verwenden Sie die Tastenkombination Command2 (drücken Sie viermal, um durch die Trim-Tools). Positionieren Sie dieses Werkzeug in der oberen Hälfte eines Clips können Sie Iterationen der Original-Clip durch Ziehen mit der Maus zu schaffen. Und wenn man Sie die Strg-Taste gedrückt halten, während Sie dies tun, wird sie zwingen, Pro Tools, um nur ganze Clip Iterationen zu schaffen.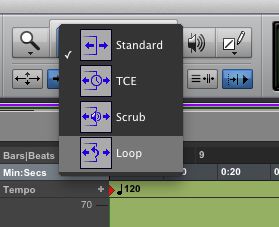 Die Wahl des Loop Trim Werkzeug
Bearbeiten von Clips Looped
Sobald ein Clip geloopt wurde, können Sie bearbeiten die Loop-Einstellungen in eine Reihe von Möglichkeiten:
Double-click on the loop icon on a clip with the Selector tool (Command–3)

Right click on a looped clip with the Selector, Grabber or Trim tool and choose Loop... from the pop-up menu

Select the looped clip and choose Loop Clip from the Clip menu (Option-Command-L)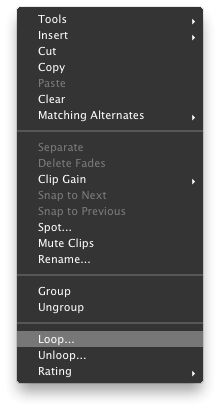 Ein rechter Mausklick auf Loop wählen ... aus dem Popup-Menü
Sie können auch Loop-Clips mit den Standard-Trim oder Loop-Trim-Tools wie folgt:
If positioned anywhere over the looped clip but the Loop icon, either tool will allow you to trim the entire looped clip; holding Control will force only whole clip iterations to be created

Trimmen der gesamte Loop-Clip
Positioned over the loop icon, either tool will trim the length of the loop iterations themselves, but the length of the whole looped clip will stay the same

Schneiden Sie die Länge der Iteration
Fertig!