Ultrabeat es un sintetizador de batería y el reproductor de muestra que viene incluido con Logic Express y Logic Pro 9. Viene con su secuenciador por pasos muy propio que le permite crear patrones para todas y cada una de las personas de 25 sonidos (conocidos como las voces). Cada voz puede ser una muestra o un sonido sintético ajustado por sí mismo (o, por supuesto, sobre la base de uno de los muchos presets incluidos).

Una pregunta que surge es cómo agregar un efecto plug-in para una única voz .... Por ejemplo, puede que quiera añadir reverb a la caja única y añadir un compresor sólo a la patada o añadir un poco de retraso exclusivamente a los hi-hats. Por supuesto, al arrastrar el patrón en la lógica del área Organizar, todos los sonidos están en una pista asignada al canal = un conjunto de efectos para que la banda de canal. En este consejo nos centraremos en cómo agregar el procesamiento de una voz individual dentro de la lógica de Ultrabeat.
ADVERTENCIA: Una vez que sepa cómo hacer esto, sus patrones de batería nunca será igual otra vez ...
Paso 1 - Colocar una instancia de salida multi-

Crear una pista de instrumento de software nuevo. Ahora tenemos que insertar un ejemplo de salida de varios de Ultrabeat en él. Esto le permitirá a las voces de la ruta de Ultrabeat a sus salidas por separado.
Haga clic y mantenga en la ranura superior de E / S y del menú seleccione Ultrabeat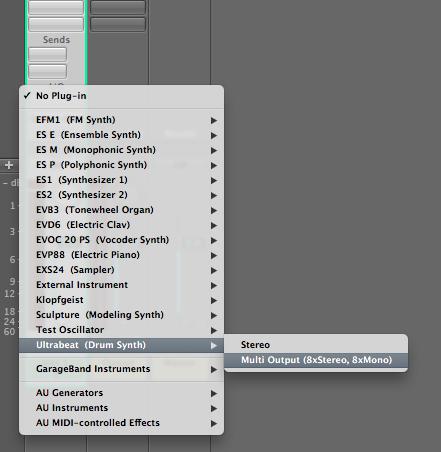 En Ultrabeat, elija cualquier preset y el patrón de elección. Voy a utilizar el valor por defecto y el patrón.


Paso 2 - Asignación de salidas

Con el fin de agregar diferentes efectos a diferentes voces, las voces deben ser en su canal propio. En realidad, la señal de la voz elegida será dirigido a separar las tiras de canal Aux.
Para hacer esto tenemos que centrarnos en el área de Ultrabeat de asignación de voz (a la izquierda). Aquí puedes mute, solo, cambiar los niveles y pan y la ruta a cualquier voz que es la producción propia. Se dará cuenta de que cada voz en la actualidad se encuentra a la salida principal (o el instrumento de software de canal).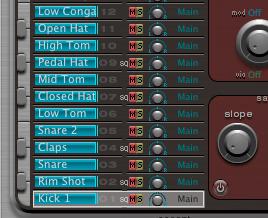 Voy a asignar Patada 1, Foto de culo, Claps, cerrado Hat Hat y pedal (que contienen secuencias) para separar los canales auxiliares para poder procesarlos por separado.
Haga clic en la palabra principal (de salida) para una voz y desde el menú desplegable asignar su voz elegida (s) a su propia producción.
Tenga en cuenta que usted tiene 8 estéreo (incluyendo la salida principal) y 8 salidas mono.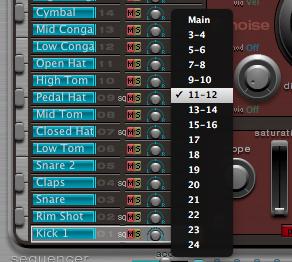 Paso 3 - Creación de Canales Auxiliares

La lógica de Open Mixer (se puede cerrar la ventana de Ultrabeat GUI si desea o pulse V en su teclado para alternar ocultar / mostrar todos los plug-in de Windows).
Ahora, tenemos que crear los canales auxiliares para cada sonido que se dirige a. Puede crear canales Aux en una serie de formas ... pero, el siguiente método será asegurarse de crear canales Aux con la configuración correcta de enrutamiento de Ultrabeat.
Haga clic en el botón en la parte inferior del canal Ultrabeat. Esto creará un canal auxiliar con la entrada de puesta a la salida que ha creado en Ultrabeat. Hacer esto para tantos canales Aux según sea necesario.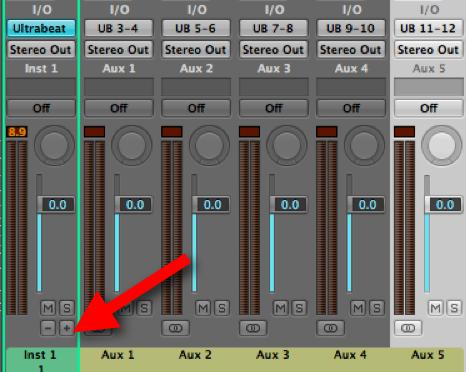 Excelente! Usted ha encaminado sus sonidos elegido / voces de Ultrabeat a diferentes canales auxiliares que sea una brisa para procesar cada canal auxiliar con diferentes efectos,
Consideraciones finales

Que le gustaría reproducir el patrón de Ultrabeat en este punto y empezar a insertar efectos en los diferentes canales auxiliares. Es una buena idea para el nombre de cada canal Aux haciendo doble clic sobre el nombre. Además para cada canal auxiliar puede ajustar los niveles, el equilibrio, en solitario, la vía de silencio, a las salidas más, añadir efectos extraños y maravillosos ... el mundo está a tus pies Ultrabeat!
Si necesita más ayuda en este o en cualquier otra lógica o un problema de software Mac visítenos en www.macprovideo.com/forum/

Interested in learning more about Ultrabeat and unleashing the drummer inside? These tutorials will help you to become proficient whether you are starting out or looking for advanced tips, tricks and techniques! We'd love to hear from you. Let us know what you think by writing a comment below!