Ultrabeat ist eine Drum-Synthesizer und Sample-Player, die mit Logic Express und Logic Pro 9 geliefert wird. Es kommt mit sehr eigenen Step Sequencer, die es Ihnen ermöglicht, Muster für jede einzelne davon sind 25 Klänge (auch bekannt als Stimmen) zu erstellen ist. Jede Voice kann eine Probe oder ein synthetisches Klang selbst (oder natürlich auf einer der vielen Presets basieren) optimiert werden.

Eine oft gestellte Frage ist, wie ein Effekt-Plug-in zu einer Stimme nur hinzufügen .... Zum Beispiel können Sie Hall auf die Snare nur hinzufügen, und fügen Sie einen Kompressor nur zum Kick oder fügen Sie etwas Verzögerung ausschließlich auf die hallo-Hüte. Natürlich, wenn Sie das Muster in Logic ziehen Arrangierbereich, sind alle Töne auf einer Spur zugeordnet zu einem Channel-Strip = eine Reihe von Effekten für die Channel-Strip. In diesem Quick Tip wir darauf konzentrieren, wie die Verarbeitung einer einzelnen Stimme hinzufügen von Ultrabeat in Logic.
ACHTUNG: Wenn Sie wissen, wie Sie dies tun, Ihre Drum-Patterns wird nie wieder dasselbe sein ...
Schritt 1 - Legen Sie eine Multi-Output Instanz

Erstellen Sie eine neue Software-Instrument-Spur. Jetzt müssen wir eine Multi-Output Instanz Ultrabeat auf ihn einzufügen. Dadurch werden Sie auf Route Stimmen aus Ultrabeat eigene separate Ausgänge ermöglichen.
Klicken und halten Sie auf dem Gipfel I / O-Slot und aus dem Menü wählen Ultrabeat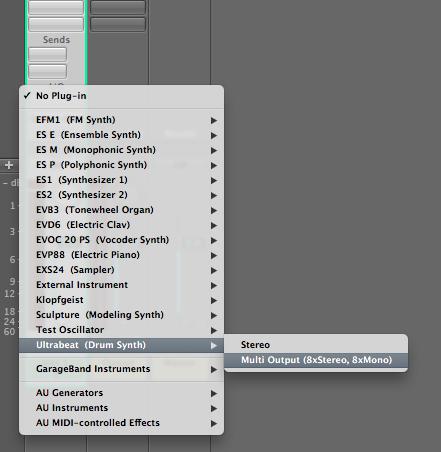 In Ultrabeat, wählen Sie eine voreingestellte und das Muster der Wahl. Ich werde die Standard-Voreinstellung und Muster verwenden.


Step 2 - Zuweisen von Ausgängen

Um verschiedene Effekte auf verschiedene Stimmen hinzuzufügen, müssen diese Stimmen sich auf ihre eigenen Kanalzug werden. In der Tat das Signal von uns ausgewählten Stimmen werden geführt, um Aux Channel-Strips zu trennen.
Um dies für die wir brauchen, um auf Ultrabeat Voice-Zuordnung Bereich (links) zu konzentrieren. Hier können Sie Mute, Solo, ändern Sie die Ebenen und Schwenk-und Route zu jeder Stimme eine eigene Ausgabe. Sie werden bemerken, dass jede Stimme ist derzeit auf der Main-Ausgang (oder das Software-Instrument-Channel-Strip) eingestellt.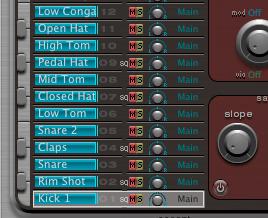 Ich werde Kick 1, Rim Shot, Claps, Closed Hat und Pedal Hat (die alle Sequenzen enthalten) zu Aux-Kanäle trennen, damit wir sie getrennt zu verarbeiten zuweisen können.
Klicken Sie auf das Wort Main (Output-Bereich) für eine Stimme und aus dem Dropdown-Menü die von Ihnen ausgewählten Stimme (n), ihre eigene Leistung.
Beachten Sie, dass Sie 8 Stereo-(einschließlich der Main-Ausgang) und 8 Mono-Ausgänge haben.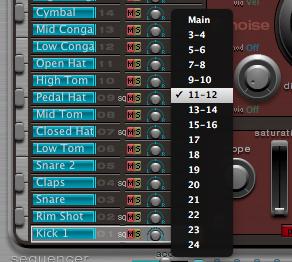 Schritt 3 - Erstellen von Auxiliary-Kanäle

Öffnen Sie Logic Mixer (Sie können die Ultrabeat GUI Fenster zu schließen, wenn Sie möchten, oder drücken Sie V auf der Tastatur zu verstecken Umschalten / Zeige alle Plug-in-Fenster).
Jetzt müssen wir Aux-Kanälen für jeden Sound zu verlegen erstellen. Sie können Aux-Kanäle in eine Reihe von Möglichkeiten zu schaffen ... aber wird die folgende Methode sicherzustellen, dass Sie erstellen Aux-Kanäle mit der richtigen Routing-Setup von Ultrabeat.
Klicken Sie auf die -Taste auf der Unterseite des Ultrabeat Kanalzug. Dadurch wird eine Aux-Kanal mit dem Eingang auf den Ausgang, den Sie in Ultrabeat erstellt. Tun Sie dies für so viele Aux-Kanäle als erforderlich.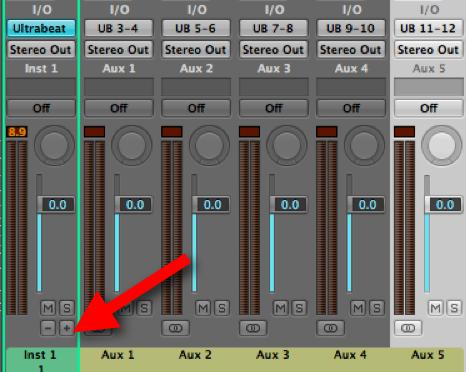 Excellent! Sie haben nun Ihre gewählte Geräusche / Stimmen aus Ultrabeat verschiedene Aux-Kanäle, die es ein Kinderspiel für jeden Aux-Kanal mit verschiedenen Effekten Prozess wird geführt,
Final Thoughts

Man könnte, um die Wiedergabe Ihrer Ultrabeat Pattern an dieser Stelle und beginnen Einsetzen Auswirkungen auf die verschiedenen Aux-Kanäle. Es ist eine gute Idee, jede Aux-Kanal durch einen Doppelklick auf den Namen auf den Namen. Außerdem für jeden Aux-Kanal können Sie die Pegel, Balance, Solo, Mute, ein Weg zu weiteren Ausgängen, fügen seltsame und wunderbare Effekte ... die Welt ist nun Ihre ultrabeat Auster!
Wenn Sie weitere benötigen Hilfe auf dieser oder einer anderen Logik oder Mac Software-Problem besuchen Sie uns auf www.macprovideo.com/forum/

Interested in learning more about Ultrabeat and unleashing the drummer inside? These tutorials will help you to become proficient whether you are starting out or looking for advanced tips, tricks and techniques! We'd love to hear from you. Let us know what you think by writing a comment below!