In my previous article on link modes in Logic Pro we explored their function in the Piano Roll, Score, and Sample Editors. Now let's take a look at how useful they can be in other areas: plugin windows, the Event List, and the Environment window, with a bit of the Arrange window and Mixer thrown in. Let's start with...

Plugin Window Linking

The default link mode for plugin windows is no link (link = gray), and in this mode every plugin opens in a separate window. But when the link button is activated (link = purple), the window will update its display and change its size as needed to present the GUI of whatever plugin you select from that point forward! This window behavior is particularly useful for musicians running Logic on laptops, where screen real estate is limited. But it's also a great way to work even if the monitors you're using are the size of Jumbotrons, as we'll see shortly.
Activating the link in a plugin window officially puts it into same level link mode. And similar to what we explored in the previous article regarding the Sample Editor in same level link mode, there aren't actually any "levels" to navigate when it comes to plugins, either. So don't let the name of this mode confuse you. Think of it this way instead: when the link is purple, that window is in "one window for all plugins link mode".
This behavior isn't limited to effects plugins. A plugin window in this mode will adapt to display the GUI of any type of plugin that you select, whether it's an effect or a virtual instrument, Logic native or a third party plugin.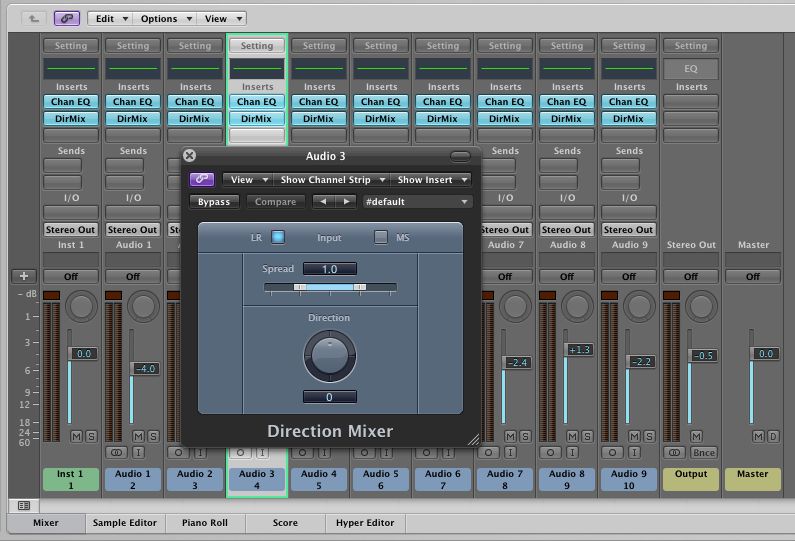 Plugin window in same level link mode.
Arrange and Mixer Windows, Plugin "Scanning"

This is neat