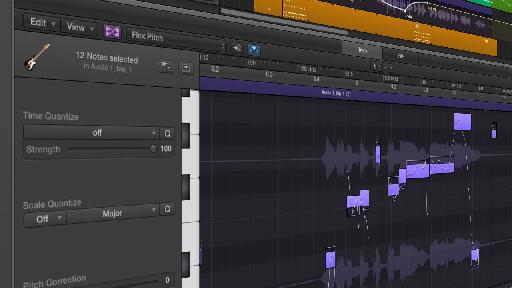 Flex Passo: Uma das grandes novidades em Logic Pro X.
A mudança pode ser traumática, especialmente quando isso envolve a sua DAW! Sua tarefa difícil extraordinário para qualquer empresa de software para atualizar seu software carro-chefe, pois afeta diretamente a vida das pessoas e meios de subsistência. Milhares de usuários que dependem desse software ... que vivem, comem e respiram que software ... que, usá-lo todos os dias para colocar comida na mesa estão antecipando e preocupado com a mudança.
The Evolution of Logic Pro X
Há muitas perguntas que a Apple (e da equipe Logic na Alemanha) tiveram que perguntar e responder no desenvolvimento Logic Pro X: Quais são as características e funcionalidades que você continua? Como você introduzir novos? Você toma uma abordagem revolucionária, rompendo todos os laços com o passado? Ou, se você tomar o caminho da evolução, de Darwin, empurrando suavemente Logic Prós DNA em um admirável mundo novo? E, no caso da lógica, como é que você faça o mais poderoso, criativo, rico em recursos e DAW mais utilizado no planeta ainda melhor, sem prejudicar alguns usuários? Talvez esta seja a questão mais urgente de tudo!
Então vamos dar um passeio na máquina do tempo (trocadilho intencional). Ive sido usando Logic profissionalmente por quase 2 décadas. Ive testemunhado muitas versões Lógica (alguns suportou com grandes dificuldades DAW como quando eu tive que comprar Space Designer separadamente por muitas centenas de dólares apenas para descobrir que foi incluído na próxima rev)! O que estou tentando colocar aqui todo é que o profissional me assistiu Logic crescer e transformar-se não muito diferente de alguma forma de vida primordial por um longo, longo tempo. Ive sido tanto a Logic bandeira vacilar e seu maior crítico. Assim, Ive uma boa vista a partir daqui, e é isso que eu vejo.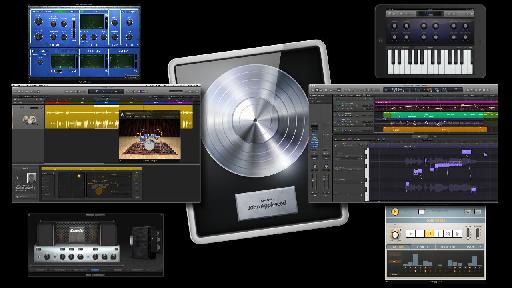 Há muito a gosto no novo Logic Pro X se você pensar nisso como evolutivo ou revolucionário é com você!
A magia do Logic Pro
A resposta é simples: eu realmente gosto Logic Pro X e sua definitivamente não em uma espécie fanboy do caminho. Eu gosto dele porque sua tanto revolucionário e evolucionário. Como isso é possível? Há toneladas de grandes e pequenos redesenhos, os avanços e as características que são extraordinários e sutil, mas, eu achei que eu poderia sentar-se e começar a usá-lo com um nível extremo de conforto quando eu carregá-lo para cima.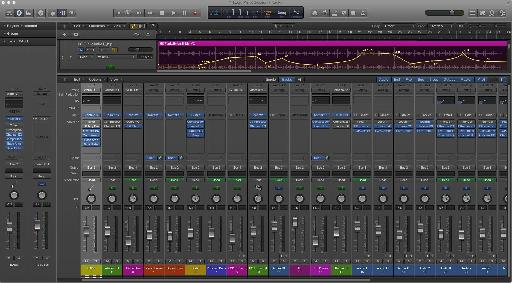 O misturador eo canal tiras redesenhado em Logic Pro X.
Essa é a magia (e) do Logic Pro X. Sua tem um novo olhar mais escuro e de organização de janelas, os menus foram reorganizados e ele vem com um novo ciclo e uma biblioteca de som. Sua repleto de tecnologias como Flex passo, MIDI FX, Pista Stacks, controles inteligentes e edição de áudio região no editor de áudio (incrível). Mesmo o canal tiras e mixer são redesenhados! Logic Pro X também vem com um aplicativo de iPad gratuito chamado Logic remoto que pode ser baixado na App Store. É uma ferramenta multi-touch, segunda tela e desempenho inteligente projetado exclusivamente para Logic Pro X. Mas com todas essas mudanças e isso é apenas a pequena lista você vai encontrar o seu uma transição fácil e luxuosa em um novo e poderoso mundo, da exploração da música.
Veredicto de Steve H
Tempo de confissão: Ive batendo na lógica X por cerca de um mês e agora eu comecei a sentir um pouco culpada. Seu gosto Ive apaixonou Logic 9s irmã mais nova e não há como voltar atrás! Na verdade, Eu ainda não abriu ou mesmo perdeu Logic 9 em tudo. Isso é errado?
Ah, com certeza, a mudança é difícil para algumas pessoas e não haverá manivelas por aí que não vai como a lógica X por um motivo ou outro. Eu digo abraçar a mudança porque Logic Pro X é incrivelmente poderoso, estação de trabalho de produção musical inovadora e inspiradora que vai melhorar a forma como você percebe, produzir e executar sua música por muitos anos para vir.
Viva la evolução / revolução!