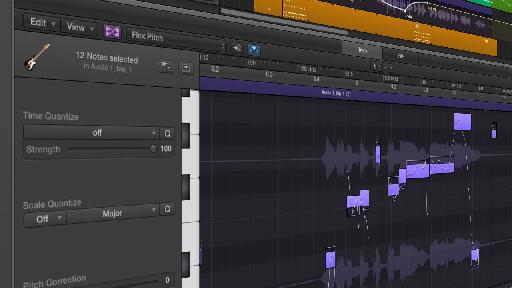 Flex Paso: Una de las principales novedades en Logic Pro X.
El cambio puede ser traumático, especialmente si eso implica la aplicación de audio! Es una tarea difícil extraordinaria para cualquier compañía de software para actualizar su software insignia, ya que afecta directamente a los pueblos vidas y medios de subsistencia. Miles de usuarios que dependen de que el software ... que viven, comen y respiran ese software ... que, úselo todos los días para poner comida en la mesa están anticipando y preocupado por el cambio.
The Evolution of Logic Pro X
Hay un montón de preguntas que Apple (y el equipo lógico en Alemania) tuvo que preguntar y responder en el desarrollo de Logic Pro X: ¿Qué características y funcionalidades qué sigues? ¿Cómo introducir otros nuevos? ¿Toma un enfoque revolucionario, rompiendo todos los lazos con el pasado? O, ¿se toma el camino evolutivo darwiniano, empujando suavemente ADN Pros lógica en un mundo feliz? Y, en el caso de la lógica, ¿cómo hacer que el más poderoso, creativo, rico en características y DAW más utilizado en el planeta aún mejor sin molestar a algunos usuarios? Tal vez esta es la pregunta más apremiante de todos!
Así que vamos a dar un paseo en la máquina del tiempo (nunca mejor dicho). He estado usando la lógica profesionalmente durante casi 2 décadas. He presenciado muchas versiones de Logic (algunos soportaron con gran dificultad DAW como cuando tuve que comprar Space Designer separado por muchos cientos de dólares sólo para descubrir que se incluirá en la próxima vuelta)! Lo que estoy tratando de transmitir es que el profesional me ha visto crecer la lógica-y transformar no a diferencia de alguna forma de vida primordial durante mucho, mucho tiempo. Ive sido a la vez una lógica bandera flaquear y su mayor crítico. Así, Ive una muy buena vista desde aquí, y esto es lo que veo.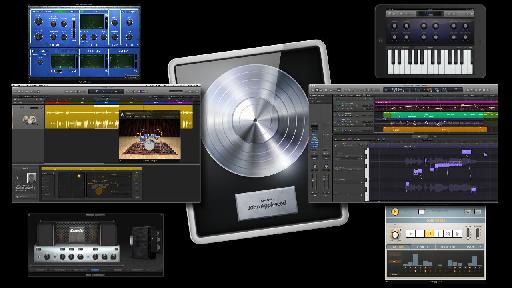 Hay muchas cosas que desea en el nuevo Logic Pro X si usted piensa en él como evolutivo o revolucionario depende de usted!
La magia de Logic Pro
La respuesta es simple: me gusta mucho Logic Pro X y no es sin duda en una especie fanboy de paso. Me gusta porque su revolucionario y evolucionario. ¿Cómo es eso posible? Hay un montón de grandes y pequeños rediseños, avances y características que son a la vez extraordinaria y sutil, sin embargo, me di cuenta que podía sentarse y comenzar a utilizarlo con un nivel extremo de la comodidad de la primera vez que arranca para arriba.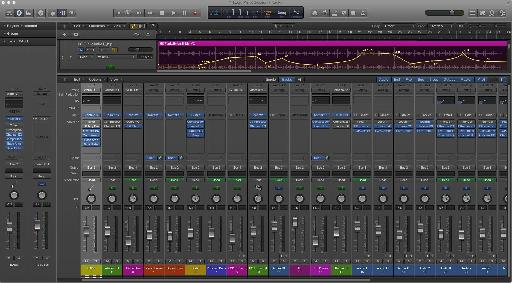 El mezclador y el canal tiras rediseñados de Logic Pro X.
Esa es la (e) magia de Logic Pro X. Su conseguido un nuevo aspecto más oscuro y organización de las ventanas, los menús se han reorganizado y viene con un nuevo bucle entero y una biblioteca de sonido. Su lleno de tecnologías como Flex Pitch, MIDI FX, Pilas pista, controles inteligentes y edición de región de audio en el Editor de Audio (impresionante). Incluso los canales y el mezclador se rediseñan! Logic Pro X también viene con una aplicación gratuita para iPad llamada Lógica remoto que se puede descargar desde la App Store. Es una herramienta multi-touch, segunda pantalla y un rendimiento inteligente diseñado exclusivamente para Logic Pro X. Pero con todos estos cambios y eso es sólo una lista corta usted encontrará su una transición fácil y lujosa en un poderoso nuevo mundo de exploración de música.
Veredicto de Steve H
Tiempo Confesión: Ive estado golpeando en la lógica X durante un mes y empecé a sentirme un poco culpable. Es como he enamorado de Lógica 9s hermana menor y theres no hay vuelta atrás! De hecho, no he abierto o incluso perdí Logic 9 en absoluto. ¿Es eso malo?
Oh, sí, el cambio es difícil para algunas personas y no habrá manivelas por ahí que planteo como la lógica X por una razón u otra. Digo abrazar el cambio, porque Logic Pro X es un, innovador e inspirador trabajo de producción musical increíblemente poderosa que mejorará la forma en que te das cuenta, producir e interpretar la música durante muchos años por venir.
Viva la evolución / revolución!