Logic Pro X already had me intrigued with Drummer, but Drum Kit Designer is also something really special. There are a lot of drum kits out there. We have BFD2, Oceanway Drums, the Abbey Road kits... I have to admit though, I'm always looking for more drum kits. It's an obsession of mine. I love old kits, new kits, red kits, blue kits. If I was a drummer I would be hopelessly poor because of my drum kit hoarding tendencies.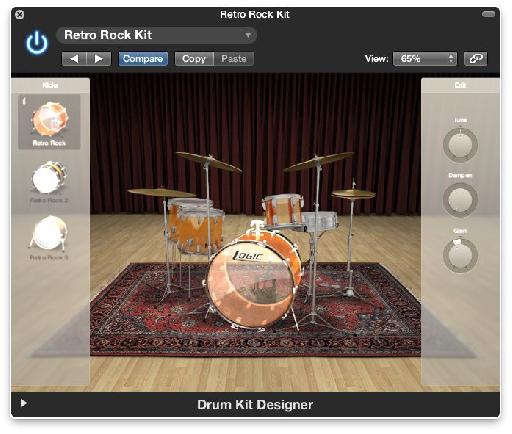 The Drum Kit Designer interface is clean and simple. What it lacks in terms of controls it makes up for with high-quality drum sounds.
Drum Kit Designer has some things going for it. It sounds really good. It's got a nice selection of the greats. From Ludwig to Yamaha, they have a nice range of kits to choose from. Editing the drum kits is very easy and choosing the pieces of a kit is also bonehead simple. The trick once we have our kit selected is to figure out how to properly prepare it for mixing.

Break it Out
When choosing Drum Kit Designer as an instrument for a channel strip, choose Multi Output. This will give us the ability to send all of the kit's pieces to individual auxiliary channel strips that are assigned to Drum Kit Designer.

Select the Multi Out instance of Drum Kit Designer.
Get the Mixer Ready to Receive
In the mixer, we find a single channel strip with the familiar '