Para este artigo Logic Design de Som, vamos ser recriando o som pad introdutório do Yeah Yeah Yeahs "Heads Will Roll". Você pode ouvir e vê-lo aqui:


Nota: o que o tecladista é mostrado jogando nesse vídeo não é a parte do teclado real!

Agora vamos ver se conseguimos descobrir o que está acontecendo neste som. É baseado em cordas baixa, claramente, embora não seja "real" stringsquite possivelmente uma amostra Mellotron, ou talvez uma amostra de orquestra, ou algum tipo de sintetizador string (se Logic incluiu uma amostra cadeia agradável Mellotron, estaríamos na maior parte lá. Pena ele não faz). Há também algum tipo de modulação aplicada às cordas, talvez um flanger ou chorus ou alguma combinação desses, e alguma distorção. E parece que a parte de corda pode ser duplicada e transposta uma oitava acima, como há um componente de alta freqüência significativa para o som. Vamos começar por aí e ver onde nos leva. Há muitas maneiras de abordar a criação este som, e este é apenas um deles.
Passo 2 - Criar a primeira trilha
Comece criando um novo projeto vazio, com uma única faixa software do aparelho. Carregar o instrumento Sampler EXS24 na pista, e escolha Cordas Pop
Em seguida, digite nas notas na parte, seja por reproduzi-los ou introduzi-los no Piano Roll ou editores de Pontuação. Esta parte não tem muito no caminho da dinâmica nele, então você pode jogar ou entrar em notas com a mesma velocidade por toda parte. O nome da faixa "HWR principal" para que não se confunda mais tarde.
Abrir a janela para EXS24 para revelar o seu editor; vamos fazer uma pequena alteração aqui. Se você jogar a parte com as configurações padrão do Arco Strings, você ouvirá um ataque de arco pronunciado no início do som que não está na peça original.
[Audio id = "10744"]
Queremos nos livrar desse ataque, por isso vamos aumentar o tempo de ataque para escondê-la. Vamos começar esse ataque afiada de volta mais tarde com o processamento.
Na janela EXS24, arraste a bola de fundo verde para o controle deslizante "A" para o Envelope 2 até próximo de metade o número pointthe real que surge no valor de pop-up é 221.59ms, mas você não precisa ser que preciseit deve ser apenas o tempo suficiente para que o ataque arco é removido, mas o ataque geral não é muito lento: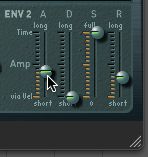 E isso deve soar como este:
[Audio id = "10745"]
Nós podemos deixar todas as outras configurações como estão.
Passo 3 - Duplicar a primeira trilha
Em seguida, com a pista principal HWR selecionado, clique no New Track com botão Configurações Duplicate logo acima dele para criar a segunda faixa. Chamá-lo HWR Octave. Em seguida, mantenha pressionada a tecla Option, clique na região nota na primeira faixa, e arraste-a para baixo na segunda faixa para duplicar todas as notas.

Passo 4 - Transpor e editar a segunda faixa
Em seguida, com a segunda faixa que selecionada, vá ao Inspector apenas à sua esquerda, clique sobre a transposição, e escolher 12 para transpô-la uma oitava acima. Então dê um duplo clique na região nota MIDI para a faixa para abrir o editor Piano Roll, selecione todas as notas graves na região (as notas abaixo C2), e excluí-los, nós só quer dobrar as cordas superior na primeira faixa, não as notas graves. Sua trilha sonora deve agora assim:
[Audio id = "10747"]
Estamos chegando mais perto ....
Passo 5 - Comprima o Mix
Em seguida, vamos estar aplicando uma série de efeitos à mistura outputthe do tracksto dois tentam aproximar-se o som original. Para os meus ouvidos, há alguma compressão, alguns EQ, e alguns chorusing, que vamos aplicar e ajustar, por sua vez.
Para começar, abra o Mixer para o seu projeto, clique no primeiro slot plugin de inserção para a faixa de saída, e escolher Dynamics
Em seguida, defina os seguintes parâmetros como segue:
Attack: 0.0ms

Ratio: 17.0:1 (this will give us fairly extreme compression)

Release: 10.0ms (a short release like this in this particular compressor adds some distortion that will helps us get closer to the original sound)

Compressor Threshold: -30.0dB

Gain: 17.5dB (you'll probably need to adjust this with your own tracks—be careful not to let the gain get so hot that it clips)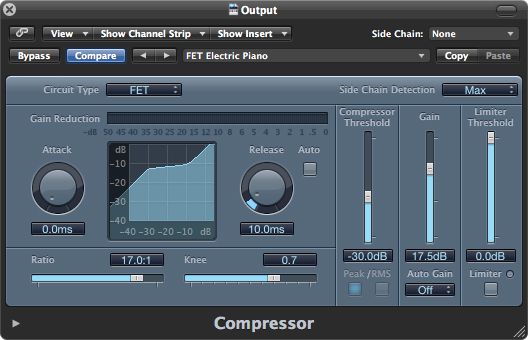 Aqui está o que minhas configurações de Compressor parecer
Agora, se ouvir o mix, você vai ouvir algo um pouco mais próximo do original: temos uma distorção similar, esses ataques slowish que fizemos para trás em ESX24 foram acentuou-se e fez mais Mellotron-ish, ea faixa-geral é mais alto e "bajular".
[Audio id = "10748"]
Passo 6 - EQ do Mix
Agora precisamos EQ o som um pouco mais de perto corresponde ao original. Clique no slot Inserir próxima plugin no Stereo Out strip e escolha EQ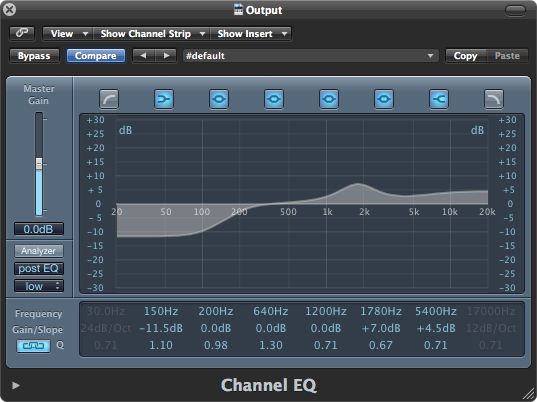 E aqui estão os resultados:
[Audio id = "10750"]
Quase lá ....

Passo 7 - Coro da Mix
Nossa etapa quase-final é adicionar alguma modulação para o mix de acrescentar que pouco de movimento ouvimos no original. Então, clique em Inserir no slot seguinte para a faixa de saída, e escolher Modulation
E aqui está a nossa última faixa, que aos meus ouvidos é bastante próximo do original:
[Audio id = "10751"]
Encorajo-vos a experimentar com todas essas configurações para ver se você pode obter a faixa mais próxima do original, ou, é claro, para chegar a seus próprios sons. E como sempre, divirta-se!