Per questo articolo Progettazione Logic Audio, stiamo andando a ricreare il suono introduttivo pad dal Yeah Yeah Yeahs "Heads Will Roll". È possibile ascoltare e guardare qui:


Nota: ciò che il tastierista è mostrato giocando in questo video non è la parte della tastiera reale!

Ora vediamo se riusciamo a capire cosa sta succedendo in questo suono. E 'basato su stringhe chino, chiaramente, anche se non "reale" stringsquite possibilmente un campione Mellotron, o forse un campione orchestra, o una sorta di sintetizzatore stringa (se Logic incluso un bel campione stringa Mellotron, saremmo per lo più lì. Peccato non). C'è anche una sorta di modulazione applicata alle stringhe, forse un flanger o chorus o una combinazione di questi, e qualche distorsione. E suona come la parte di stringa di base può essere raddoppiata e trasposti di un'ottava, in quanto vi è una significativa componente ad alta frequenza al suono. Inizieremo lì e vediamo dove ci porta. Ci sono molti modi di affrontare la creazione di questo suono, e questo è solo uno di loro.
Passo 2 - Creare il primo brano
Iniziamo creando un nuovo progetto vuoto, con un binario unico strumento software. Caricare lo strumento Campionatore EXS24 nella traccia, e scegliere le stringhe Pop
Successivamente, inserire nelle note a parte, o giocando dentro o inserendoli nel Piano Roll o redattori punteggio. Questa parte non ha molto in termini di dinamiche in esso, in modo da poter giocare o inserire le note con la stessa velocità per tutto. Il nome del brano "HWR principale" in modo da non confondersi successivamente.
Aprire la finestra per EXS24 a rivelare il suo editore, stiamo andando a fare una piccola modifica qui. Se si gioca la parte con le impostazioni predefinite Arco Strings, sentirete un attacco pronunciato arco all'inizio del suono che non è in parte originale.
[Audio id = "10744"]
Vogliamo sbarazzarci di questo attacco, quindi ci limiteremo a incrementare il tempo di attacco di nasconderlo. Otterremo che l'attacco acuto più tardi con l'elaborazione.
Nella finestra EXS24, trascinare la palla fondo verde per il dispositivo di scorrimento "A" per Busta 2 a metà strada in prossimità del numero pointthe effettivo che arriva nel valore pop-up è 221.59ms, ma non è necessario essere che preciseit dovrebbe essere giusto il tempo in modo che l'attacco arco è stato rimosso, ma l'attacco generale non è troppo lenta: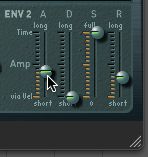 E dovrebbe suonare così:
[Audio id = "10745"]
Possiamo lasciare tutte le altre impostazioni come sono.
Fase 3 - Duplicate la prima traccia
Successivamente, con il brano selezionato HWR principale, fare clic sul New Track con Duplicate pulsante Impostazioni appena sopra per creare la seconda traccia. Chiamatelo HWR Octave. Quindi tenere premuto il tasto Opzione, fare clic sulla regione nota nella prima traccia, e trascinarlo verso il basso nella seconda traccia di duplicare tutte le note.

Fase 4 - Recepire e modifica la seconda traccia
Poi, con quel secondo brano selezionato, vai alla ispettore appena alla sua sinistra, clicca su recepimento, e scegliere da 12 a recepirla di un'ottava. Quindi fare doppio clic sulla regione nota MIDI per la traccia per aprire l'editor Piano Roll, selezionare tutte le note basse della regione (le note sotto C2), ed eliminarli, vogliamo solo raddoppiare le corde in alto nella prima traccia, Non le note basse. La traccia dovrebbe suonare come questo:
[Audio id = "10747"]
Ci stiamo avvicinando ....
Fase 5 - Comprimere il Mix
Quindi, stiamo per essere applicando una serie di effetti al mix outputthe dei due tracksto cercare di ottenere più vicini al suono originale. Alle mie orecchie, c'è un po 'di compressione, alcuni EQ, e alcuni cori, che provvederemo ad applicare e regolare, a sua volta.
Per iniziare, aprire il mixer per il progetto, fare clic sul primo slot plugin per inserire la striscia di uscita, e scegliere Dynamics
Quindi, impostare i seguenti parametri come segue:
Attack: 0.0ms

Ratio: 17.0:1 (this will give us fairly extreme compression)

Release: 10.0ms (a short release like this in this particular compressor adds some distortion that will helps us get closer to the original sound)

Compressor Threshold: -30.0dB

Gain: 17.5dB (you'll probably need to adjust this with your own tracks—be careful not to let the gain get so hot that it clips)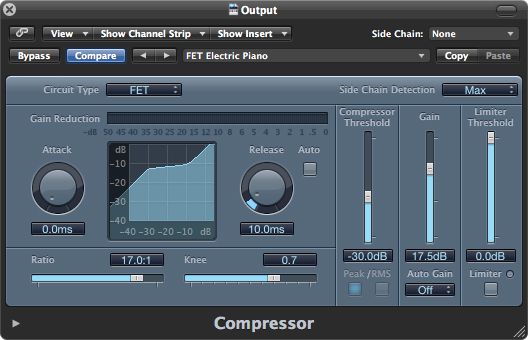 Ecco quello che le mie impostazioni di compressione sembrano
Ora, se ascoltate il mix, sentirete qualcosa di un po 'più vicino all'originale: abbiamo una distorsione simile, quegli attacchi slowish abbiamo fatto ritorno in ESX24 sono state affilate e reso più Mellotron-ish, e la traccia generale è più forte e più "piatto".
[Audio id = "10748"]
Fase 6 - EQ Mix
Ora abbiamo bisogno di equalizzare il suono un po 'per avvicinarlo all'originale. Fare clic sul prossimo slot per inserire plug-in Stereo Out striscia e scegli EQ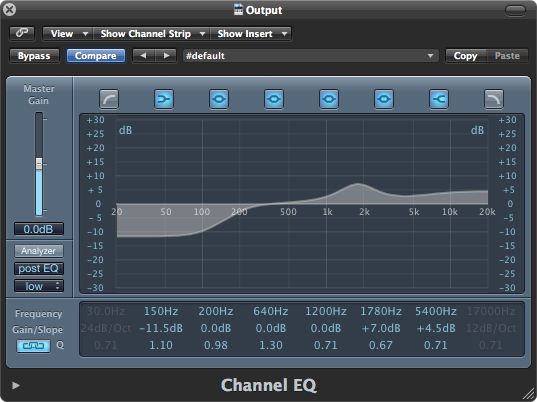 Ed ecco i risultati:
[Audio id = "10750"]
Ci siamo quasi ....

Fase 7 - Coro Mix
Il nostro passo quasi-finale è quello di aggiungere un po 'di modulazione per il mix di aggiungere quel po' di movimento si sente in originale. Quindi, fare clic sulla fessura per inserire la striscia prossima uscita, e scegliere di modulazione
Ed ecco il nostro traccia finale, che per le mie orecchie è abbastanza vicino a quello originale:
[Audio id = "10751"]
Vi incoraggio a sperimentare tutte queste impostazioni per vedere se è possibile ottenere la pista più vicina all'originale o, naturalmente, a venire con i tuoi suoni. E come sempre, buon divertimento!