Pour cet article, Logic Design sonore, nous allons recréer le son pavé de présentation du Yeah Yeah Yeahs "Heads Will Roll". Vous pouvez écouter et regarder ici:


Remarque: ce que le joueur de clavier est montré à jouer dans cette vidéo n'est pas la partie de clavier réel!

Maintenant, nous allons voir si nous pouvons comprendre ce qui se passe dans ce son. Il est basé sur cordes frottées, clairement, bien que non «réel» stringsquite éventuellement un échantillon de Mellotron, ou peut-être un échantillon d'orchestre, ou une sorte de synthétiseur de chaîne (si Logic inclus un échantillon de Mellotron belle chaîne, nous serions essentiellement là . Dommage elle n'existe pas). Il ya aussi une sorte de modulation appliquée aux cordes, peut-être un flanger ou de chorus ou une combinaison de ceux-ci, et une certaine distorsion. Et ça sonne comme la partie la chaîne de base peut être doublé et transposé d'une octave, car il ya une importante composante de haute fréquence au son. Nous allons commencer par là et voir où cela nous mène. Il ya plusieurs façons d'aborder la création de ce son, et ce n'est que l'un d'eux.
Etape 2 - Créer la première piste
Commencez par créer un nouveau projet vide, avec une piste d'instrument logiciel unique. Charger l'instrument échantillonneur EXS24 dans la piste et choisissez Strings Pop
Ensuite, entrez dans les notes dans la partie, soit en les jouant ou en les inscrivant dans le Piano Roll ou éditeurs de partition. Cette partie n'a pas beaucoup de la manière de la dynamique du dedans, ainsi vous pouvez jouer ou entrer les notes avec les mêmes vitesses partout. Nom de la piste "HWR principal" afin de ne pas être gêné plus tard.
Ouvrez la fenêtre pour EXS24 de révéler son éditeur, nous allons faire un petit changement ici. Si vous jouez la partie avec les paramètres par défaut des chaînes Arco, vous entendrez une attaque à l'arc prononcé au début du son qui n'est pas dans la pièce d'origine.
[Audio id = "10744"]
Nous voulons nous débarrasser de cette attaque, donc nous allons simplement augmenter le temps d'attaque pour le cacher. Nous allons obtenir cette attaque vive revenir plus tard avec le traitement.
Dans la fenêtre EXS24, faites glisser la balle fond vert pour les "A" curseur pour l'enveloppe 2 à mi-chemin près du numéro pointthe réelle qui revient dans la valeur pop-up est 221.59ms, mais vous n'avez pas besoin d'être que preciseit devrait être juste assez longue pour que l'attaque à l'arc est retiré, mais l'attaque globale n'est pas trop lent: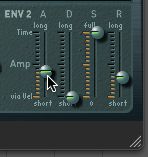 Et elle devrait ressembler à ceci:
[Audio id = "10745"]
Nous ne pouvons laisser tous les autres paramètres comme ils sont.
Étape 3 - Dupliquer la première piste
Ensuite, avec la voie principale HWR sélectionné, cliquez sur la nouvelle piste avec le bouton Paramètres Dupliquer juste au-dessus pour créer la deuxième piste. Appelez ça HWR Octave. Ensuite, maintenez la touche Option enfoncée, cliquez sur la région note dans la première piste, et faites-la glisser vers le bas dans la seconde piste de dupliquer toutes les notes.

Étape 4 - Transposer et éditer la piste Second
Ensuite, avec cette seconde piste sélectionné, passez à l'inspecteur juste à sa gauche, cliquez sur la transposition, et choisir de 12 à transposer d'une octave. Puis double-cliquez sur la région de note MIDI pour la piste pour ouvrir l'éditeur Piano Roll, sélectionner toutes les notes de la basse dans la région (les notes ci-dessous C2), et de les supprimer, nous ne voulons doubler les membrures supérieures dans la première piste, pas les notes basses. Votre piste devrait maintenant ressembler à ceci:
[Audio id = "10747"]
Nous nous rapprochons ....
Étape 5 - Comprimer le mélange
Ensuite, nous allons appliquer une série d'effets au mixage de l'outputthe tracksto deux tentent de se rapprocher de son original. Pour mes oreilles, il ya une certaine compression, l'égalisation, et quelques chorus, que nous allons appliquer et d'adapter à leur tour.
Pour commencer, ouvrez la table de mixage pour votre projet, cliquez sur le logement d'insertion premier plugin pour la bande de sortie, et choisissez Dynamics
Ensuite, réglez les paramètres suivants comme suit:
Attack: 0.0ms

Ratio: 17.0:1 (this will give us fairly extreme compression)

Release: 10.0ms (a short release like this in this particular compressor adds some distortion that will helps us get closer to the original sound)

Compressor Threshold: -30.0dB

Gain: 17.5dB (you'll probably need to adjust this with your own tracks—be careful not to let the gain get so hot that it clips)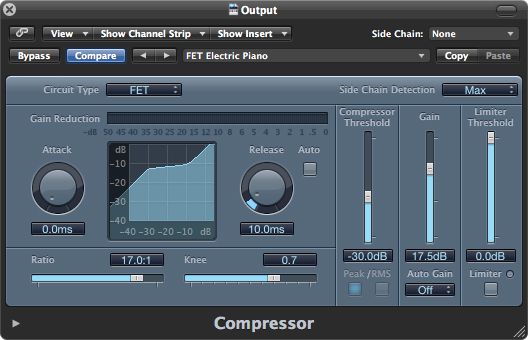 Voici ce que mes réglages de compresseur ressemblent
Maintenant, si écouter le mix, vous allez entendre quelque chose un peu plus proche de l'original: nous avons une distorsion similaire, ces attaques slowish nous avons fait retour dans ESX24 ont été aiguisées et rendues plus Mellotron-ish, et la piste d'ensemble est plus fort et plus «plates».
[Audio id = "10748"]
Étape 6 - EQ Mix
Maintenant, nous devons EQ un peu le son pour mieux correspondre à l'original. Cliquez sur l'emplacement greffon suivant Insérer dans la bande de sortie stéréo et choisissez EQ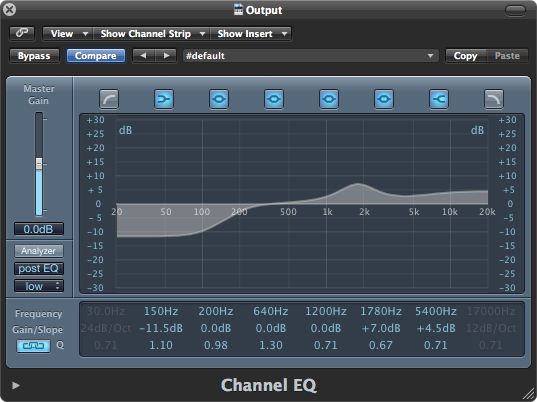 Et voici les résultats:
[Audio id = "10750"]
On y est presque ....

Étape 7 - Chorus Mix
Notre étape quasi-finale est d'ajouter quelques modulation du mix d'ajouter que peu de mouvement que nous entendons dans l'original. Alors, cliquez sur le logement d'insertion pour la bande de la prochaine sortie, et choisissez de modulation
Et voici notre dernière piste, qui à mes oreilles est assez proche de l'original:
[Audio id = "10751"]
Je vous encourage à expérimenter avec tous ces réglages pour voir si vous pouvez obtenir la piste proche de l'original ou, bien sûr, de venir avec vos propres sons. Et comme toujours, amusez-vous!