Para este artículo la lógica de diseño de sonido, vamos a recrear el sonido de pad de presentación de los Yeah Yeah Yeahs "Heads Will Roll". Usted puede escuchar y ver aquí:


Nota: lo que el jugador del teclado se muestra jugando en este video no es la parte del teclado actual!

Ahora vamos a ver si podemos averiguar lo que está pasando en este sonido. Se basa en la cuerda frotada, con claridad, aunque no "real" stringsquite posiblemente una muestra Mellotron, o tal vez una muestra de la orquesta, o una especie de sintetizador de cuerdas (si la lógica se incluyó una muestra Mellotron cadena agradable, nos gustaría ser en su mayoría no. Es una pena no lo hace). También hay algún tipo de modulación aplicada a las cuerdas, tal vez un flanger o un coro o una combinación de ellos, y la distorsión alguna. Y parece que la parte de cadena básica puede ser duplicado y transportarla una octava, ya que existe un importante componente de alta frecuencia para el sonido. Vamos a empezar por ahí y ver a dónde nos lleva. Hay muchas maneras de acercarse a la creación de este sonido, y esto es sólo una de ellas.
Paso 2 - Creación de la primera pista
Comience por crear un nuevo proyecto vacío, con una pista de instrumento de software individuales. Cargar el instrumento sampler EXS24 en la pista, y elegir Cuerdas Pop
A continuación, introduzca en las notas de la pieza, ya sea jugando en o entrando en el Piano Roll o editores de partituras. Esta parte no tiene mucho en el camino de la dinámica en la que, para que pueda jugar o entrar en las notas con las mismas velocidades en todas partes. Nombre de la pista "HWR principal" por lo que no se confunda más tarde.
Abra la ventana de EXS24 para revelar su editor, que vamos a hacer un pequeño cambio aquí. Si el papel con la configuración predeterminada Arco Strings, se escucha un ataque de arco pronunciado al inicio del sonido que no está en la parte original.
[Audio id = "10744"]
Queremos deshacernos de ese ataque, tan sólo tendremos que aumentar el tiempo de ataque para ocultarlo. Conseguiremos que el ataque agudo de nuevo más adelante con el procesamiento.
En la ventana de EXS24, arrastre la bola verde de fondo para la "A" slider de Sobre N ° 2 hasta cerca de la mitad el número real pointthe que aparece en el valor emergente es 221.59ms, pero usted no tiene que ser que preciseit debe ser lo suficiente como para que el ataque de proa se quita, pero el ataque en general no es demasiado lento: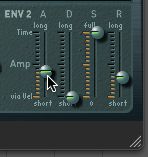 Y debe sonar como esto:
[Audio id = "10745"]
Podemos dejar todas las otras opciones como son.
Paso 3 - Duplicar la primera pista
A continuación, con la pista principal HWR seleccionado, haga clic en la nueva pista con el botón Configuración de duplicados justo encima de él para crear la segunda pista. Llaman HWR Octave. A continuación, mantenga pulsada la tecla Opción, haga clic en la región tenga en cuenta en la primera pista, y se arrastra hacia abajo en la segunda pista de duplicar todas las notas.

Paso 4 - Incorporar y editar la pista de Segunda
A continuación, con la segunda pista seleccionada, vaya al inspector justo a su izquierda, haga clic en la transposición, y elegir 12 para su incorporación hasta una octava. A continuación, haga doble clic en la región de notas MIDI para la pista para abrir el Editor de teclado, seleccionar todas las notas bajas en la región (las notas por debajo de C2), y eliminarlos, sólo queremos duplicar las cuerdas superiores en la primera pista, no a los bajos. Su pista ahora debería sonar así:
[Audio id = "10747"]
Estamos cada vez más cerca ....
Paso 5 - Comprimir la mezcla
A continuación, vamos a estar aplicando una serie de efectos a la mezcla de la outputthe tracksto dos tratan de acercarse al sonido original. Para mis oídos, hay un poco de compresión, ecualización algunos, y algunos coros, que vamos a aplicar y adaptar a su vez.
Para empezar, abra el mezclador para su proyecto, haga clic en la ranura de plugin de primera inserción de la tira de salida y seleccione Dinámica
A continuación, establezca los siguientes parámetros de la siguiente manera:
Attack: 0.0ms

Ratio: 17.0:1 (this will give us fairly extreme compression)

Release: 10.0ms (a short release like this in this particular compressor adds some distortion that will helps us get closer to the original sound)

Compressor Threshold: -30.0dB

Gain: 17.5dB (you'll probably need to adjust this with your own tracks—be careful not to let the gain get so hot that it clips)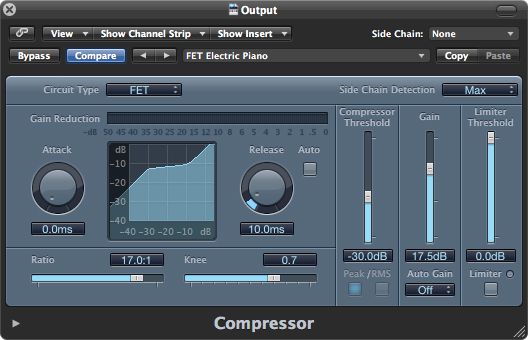 Esto es lo que la configuración de mi compresor parece
Ahora bien, si escuchamos a la mezcla, se escucha algo un poco más cerca de la original: tenemos una distorsión similar, los ataques slowish que hicimos en ESX24 se han agudizado y hecho más Mellotron-ish, y es el tema general más y más "plano".
[Audio id = "10748"]
Paso 6 - EQ de la mezcla
Ahora tenemos que ecualizar el sonido un poco para que coincida más con el original. Haga clic en la ranura Insert plugin siguiente de la salida estéreo de banda y elegir EQ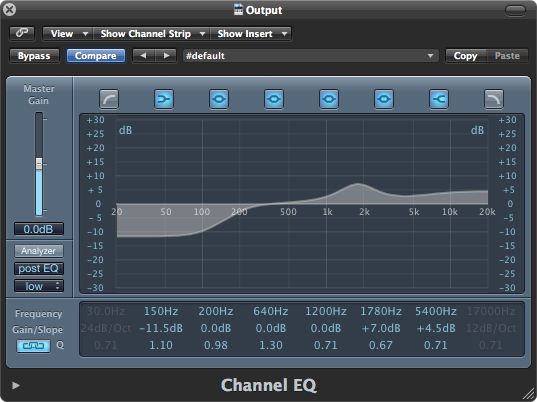 Y aquí están los resultados:
[Audio id = "10750"]
Casi no ....

Paso 7 - Coro de la mezcla
El paso casi final es añadir un poco de modulación a la mezcla para añadir ese toque de movimiento que escuchamos en el original. Por lo tanto, haga clic en la ranura de inserción junto a la franja de salida, y elegir la modulación
Y esta es nuestra última canción, que a mis oídos es bastante cercano al original:
[Audio id = "10751"]
Os animo a experimentar con todas estas opciones para ver si usted puede conseguir la pista más cercana a la original o, por supuesto, para llegar a sus propios sonidos. Y como siempre, ¡diviértase!