Aus diesem Logic Sound Design Artikel, werden wir werden Neuerstellung des einleitenden Pad-Sound aus den Yeah Yeah Yeahs "Heads Will Roll". Man kann hören und sehen Sie es hier:


Hinweis: was der Keyboarder ist gezeigt, spielen in diesem Video ist nicht die eigentliche Tastatur-Part!

Nun wollen wir sehen, ob wir herausfinden können, was los ist in diesem Ton. Es ist auf verneigte-Strings, klar, aber nicht "real" stringsquite möglicherweise ein Mellotron Probe, oder vielleicht ein Orchester Probe, oder irgendeine Art von String-Synthesizer (wenn Logic enthalten einen schönen Mellotron string Probe, wir würden vor allem dort zu sein. Schade es nicht). Es gibt auch eine Art von Modulation auf die Saiten, vielleicht ein Flanger, Chorus oder eine Kombination dieser und einige Verzerrungen. Und es klingt wie die grundlegenden String Teil kann verdoppelt werden und eine Oktave nach oben transponiert, da es eine erhebliche hochfrequente Komponente, um den Klang. Wir werden dort starten und sehen, wohin es uns bringt. Es gibt viele Möglichkeiten sich zu nähern Erstellung dieser Ton, und das ist nur einer von ihnen.
Schritt 2 - Erstellen der ersten Spur
Beginnen Sie, indem ein neues leeres Projekt, mit einer einzigen Software-Instrument-Spur. Laden Sie die EXS24 Sampler Instrument in die Spur, und wählen Sie Pop Strings
Als nächstes in die Noten in die Rolle geben, entweder indem du sie in oder um sie in der Piano Roll oder Score-Editoren. Dieser Teil muss nicht viel in der Art von Dynamik in ihm, so können Sie spielen, oder geben Sie die Noten mit der gleichen Geschwindigkeit durch. Nennen Sie den Track "HWR Main", so dass wir später nicht verwechselt.
Öffnen Sie das Fenster für EXS24 an die Redaktion zu offenbaren; werden wir eine kleine Änderung hier zu machen. Wenn Sie den Teil mit der Standard-Arco Strings Einstellungen spielst, wirst du einen ausgeprägten Bogen Angriff am Anfang des Sounds, die nicht im ursprünglichen Teil zu hören.
[Audio id = "10744"]
Wir wollen loswerden, dass Angriff, so dass wir nur erhöhen die Attack-Zeit, es zu verbergen. Wir werden das scharfe Angriffe wieder später mit der Verarbeitung.
In den EXS24 Fenster, ziehen Sie den unteren grünen Ball für die "A"-Regler für Envelope 2 bis nahe an die Mittellinie pointthe tatsächliche Zahl, die angezeigt wird in den Wert pop-up ist 221.59ms, aber Sie brauchen nicht zu, dass preciseit werden sollte gerade lang genug, so dass der Bogen Angriff entfernt wird, aber die gesamte Attacke ist nicht zu langsam: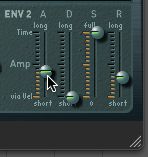 Und es sollte so klingen:
[Audio id = "10745"]
Wir verlassen können alle anderen Einstellungen wie sie sind.
Schritt 3 - Doppelte des ersten Titels
Als nächstes mit der HWR Main-Spur ausgewählt, klicken Sie auf den New Track mit Duplicate Schaltfläche Einstellungen direkt über in die zweite Spur zu erstellen. Nennen Sie es HWR Octave. Dann halten Sie die Wahltaste gedrückt, auf dem Zettel Region klicken Sie in die erste Spur, und ziehen Sie sie gerade nach unten in die zweite Spur, um alle Töne zu duplizieren.

Schritt 4 - Ãœbernahme und Bearbeiten der Zweiten Schiene
Als nächstes mit dem zweiten Track ausgewählt, um den Inspector gehen, nur auf der linken Seite, über die Umsetzung klicken, und wählen Sie 12 bis transponieren eine Oktave nach oben. Dann doppelklicken Sie auf die MIDI-Note Region für den Titel in die Piano Roll-Editor zu öffnen, wählen Sie alle Bass-Noten in der Region (die Noten unterhalb von C2), und löschen Sie sie, wir wollen nur die obere Akkorde in der ersten Spur Doppel-, nicht die tiefen Töne. Ihr Weg sollte nun wie folgt klingen:
[Audio id = "10747"]
Wir nähern uns ....
Schritt 5 - Compress the Mix
Als nächstes werden wir sein Anwendung einer Reihe von Wirkungen auf die outputthe Mischung aus den beiden tracksto versuchen, näher an den Original-Sound zu bekommen. In meinen Ohren, es gibt einige Kompression, EQ einige, und einige Chorus, die wir anwenden und dann passen wiederum.
Um zu starten, öffnen Sie den Mixer für Ihr Projekt, klicken Sie auf das erste Plugin Insert-Slot für die Ausgabe Streifen, und wählen Sie Dynamics
Als nächstes legen Sie die folgenden Parameter wie folgt:
Attack: 0.0ms

Ratio: 17.0:1 (this will give us fairly extreme compression)

Release: 10.0ms (a short release like this in this particular compressor adds some distortion that will helps us get closer to the original sound)

Compressor Threshold: -30.0dB

Gain: 17.5dB (you'll probably need to adjust this with your own tracks—be careful not to let the gain get so hot that it clips)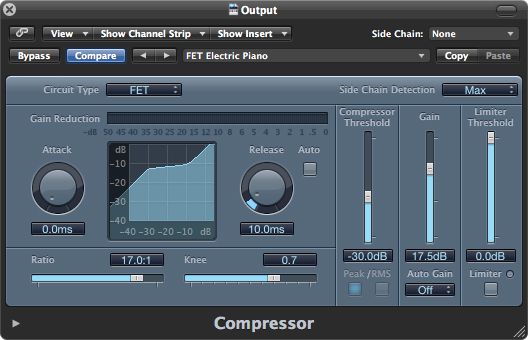 Hier ist, was mein Kompressor-Einstellungen aussehen
Nun, wenn die Mischung zu hören, werden Sie etwas ganz ein bisschen näher an das Original zu hören: Wir haben eine ähnliche Verzerrung, haben diese slowish Angriffe machten wir wieder in ESX24 worden und geschärft gemacht Mellotron-ish, und die gesamte Strecke ist lauter und "flacher".
[Audio id = "10748"]
Schritt 6 - EQ den Mix
Jetzt müssen wir EQ den Sound ein bisschen mehr mit dem Original übereinstimmt. Klicken Sie auf den nächsten Plugin Insert-Slot in den Stereo-Streifen, und wählen Sie EQ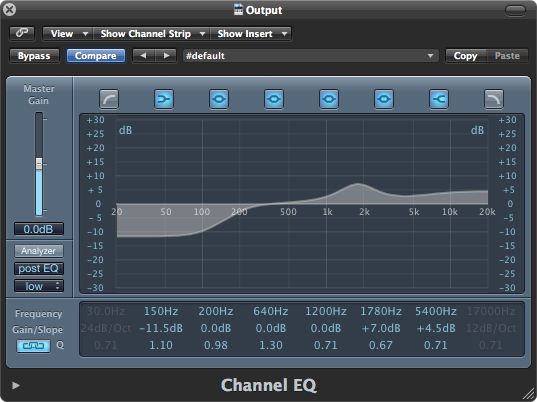 Und hier sind die Ergebnisse:
[Audio id = "10750"]
Fast da ....

Schritt 7 - Chorus the Mix
Unsere fast-letzte Schritt besteht darin, einige Modulation der Mischung hinzufügen, um das bisschen Bewegung hören wir in der ursprünglichen hinzuzufügen. Also, auf der nächsten Insert-Slot klicken Sie für die Ausgabe Streifen, und wählen Sie Modulation
Und hier ist unsere letzte Spur, die in meinen Ohren ganz dem Original liegt in der Nähe:
[Audio id = "10751"]
Ich ermutige Sie, mit all diesen Einstellungen experimentieren, um zu sehen, wenn Sie die Strecke näher an das Original bekommen kann oder, natürlich, um mit eigenen Sounds. Und wie immer, viel Spaß!