在这个步行 ​​通过çš"第二部分逻è¾'çš"高级量化功能去一看,有可能是最有ç"¨å'Œå¼ºå¤§çš"åŠŸèƒ½ï¼Œä¸ºåˆ›é€ æ›´è‡ªç"¶çš"å† å†•å '皇çš"量化ã€'量化强度ã€'
量子化强度
å› æ­¤ï¼ŒIVE记录çš"é'¢ç´ä½ï¼Œä½†å…¶ä½çš"时间ã€'其可怕çš"其实是(!),所以æˆ'è¦çº æ­£å®ƒã€'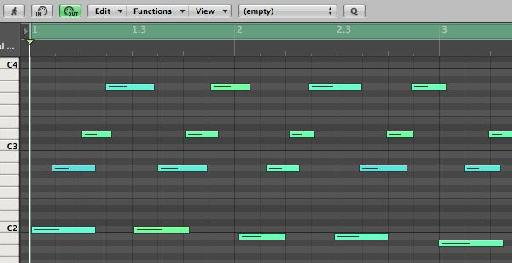 Here's the non-quantized piano:
现在,作为一个音乐家ID可能不光荣的事,并再次发挥它,直到我得到了良好的业绩,但有时还挂我头量化以上的截止日期仅仅是更快。
æˆ'ä»Žæ¥æ²¡æœ‰è¿™æ ·åšçš"一件事情是量化到ç"µç½'ã€'相反,æˆ'ç"¨é‡åŒ–çš"实力接è¿'ç½'æ ¼æ‹‰ç¬"è®°ã€'这将保留至å°'æˆ'çš"è¡¨çŽ°ä¸€æ— æ‰€çŸ¥ï¼Œå®ƒdoesnt觉得喜欢的音乐是由一个机器人扮演!
若要使ç"¨æ­¤åŠŸèƒ½ï¼Œä½ 需要将它åº"ç"¨åˆ°ä¸€ä¸ªåœ°åŒºï¼ˆå®ƒä¸èƒ½åšé‡Œé¢çš"é'¢ç´å·å¸˜ï¼‰ã€'ä½ é€‰æ‹©è¿è§"çš"地区,并从下拉菜单中选择一个基地量化值ã€'ç"±äºŽæˆ'çš"ç¬"记(大约)第八音符值ç"Ÿç—…选择1 / 8注"。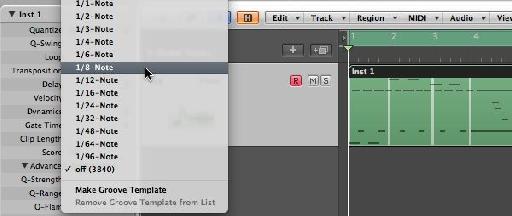 掉电牵引光束!
ä¸€æ—¦è¿™æ ·åšç¬"è®°ï¼Œå°†ä¸¥æ ¼é‡åŒ–ã€'区域å'数"框çš""高级量化å'Œä¸‰è§'形上按一下以揭示隐藏çš"å'æ•°ã€'
åœ¨è¿™é‡Œä½ ä¼šçœ‹åˆ°â€œQ力量"(简称量化强度)选项。目前其在其100%的默认。进出口持续下降到80%。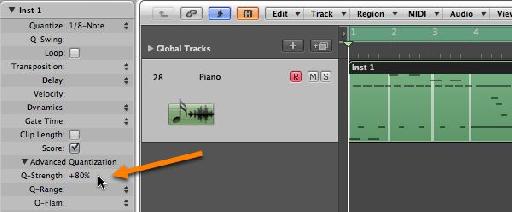 Now all my notes have been pulled 80% of the way between their original position and the absolute 1/8-note grid position I set. Quantize Strength has a kind of gravitational effect on note events.
The distance they travel is relative to how out of time they were. The most important thing is they never reach that absolute value and what you're essentially hearing is (at least) 20% of my original performance.
You can see the effect of this in the image below.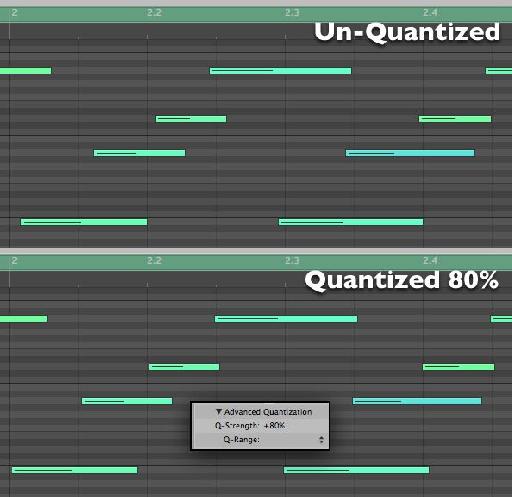 Here's the Piano with a Q-Strength of 80%:
If you have to quantize then this is the most natural way to do it. Use your ear to decide how much percentage is enough. If it sounds OK with just 50% then use 50%!
它不只是为MIDI!

Quantize Strength is also available as an option when using Flex Time with audio. This means you can naturally tighten up a performance just a bit without sucking all the life out of it.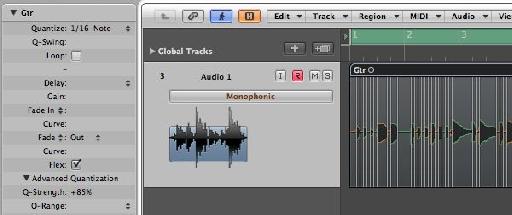 最后的思考
Don't forget that Q-Strength is a global setting: it affects all the MIDI notes inside the selected region. Next time well look at how we can be a bit more selective in what we actually quantize.
了解更多有关在量化逻辑逻辑201 -逻辑大师
... ...和Flex时间