Na segunda parte deste passeio, através de características Logic quantização avançada estavam indo para dar uma olhada, provavelmente, a característica mais útil e poderosa para a criação de mais natural quantizations som. Quantize força.
Quantize Força
Então, Ive gravou um pouco de piano, mas a sua um pouco fora de tempo. Sua terrível verdade (!), Então Im vai ter que corrigi-lo.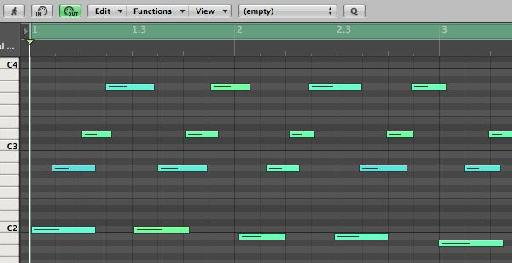 Here's the non-quantized piano:
Agora, como um músico Id provavelmente fazer a coisa honrosa e jogá-lo novamente até que eu tenho um bom desempenho, mas às vezes com um prazo pendurado acima da minha cabeça é apenas quantizing mais rápido.
Uma coisa que eu nunca faço é quantizar às redes. Em vez disso eu uso Força Quantize para puxar as notas mais perto da grade. Isso mantém, pelo menos, uma vaga idéia do meu desempenho e ele não sente que a música foi tocada por um robô!
Para usar este recurso você precisa aplicar-lo para uma região (que não pode ser feito dentro do Piano Roll). Você faz isso selecionando a região ofender e escolhendo um valor Quantize de base a partir do menu drop-down. Uma vez que todas as minhas notas têm (aproximadamente) um valor de nota 8-Ill escolha '1 / 8-Note ".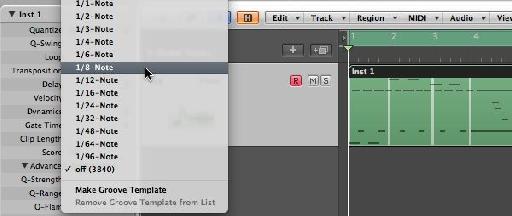 Power Down o raio trator!
Após fazer isso as suas notas serão rigidamente quantizada. Vá para a quantização avançada na caixa Parâmetros Região e clique no triângulo de divulgação para revelar os parâmetros ocultos.
Aqui você vai ver a 'Q-Strength "(abreviação de Força Quantize) opção. No momento em que a sua em seu padrão de 100%. Im que vão deixá-lo cair para 80%.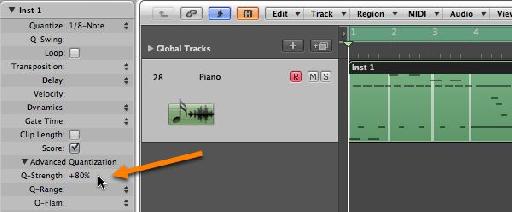 Now all my notes have been pulled 80% of the way between their original position and the absolute 1/8-note grid position I set. Quantize Strength has a kind of gravitational effect on note events.
The distance they travel is relative to how out of time they were. The most important thing is they never reach that absolute value and what you're essentially hearing is (at least) 20% of my original performance.
You can see the effect of this in the image below.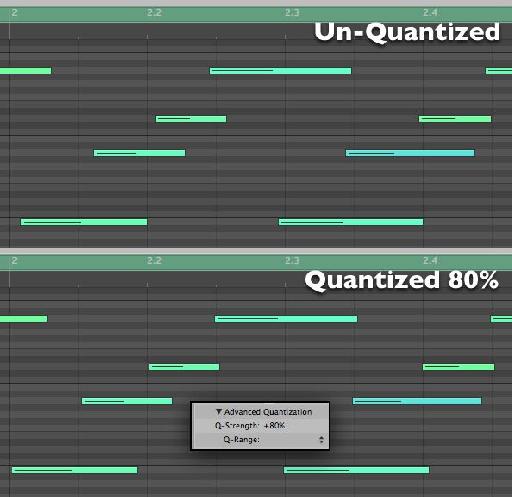 Here's the Piano with a Q-Strength of 80%:
If you have to quantize then this is the most natural way to do it. Use your ear to decide how much percentage is enough. If it sounds OK with just 50% then use 50%!
Não apenas para a sua MIDI!

Quantize Strength is also available as an option when using Flex Time with audio. This means you can naturally tighten up a performance just a bit without sucking all the life out of it.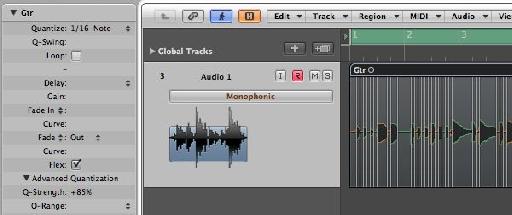 Considerações Finais
Don't forget that Q-Strength is a global setting: it affects all the MIDI notes inside the selected region. Next time well look at how we can be a bit more selective in what we actually quantize.
Saiba mais sobre Quantização no Logic em Logic 201 - Logic Masterclass
... e Hora em Flex