Por lo tanto, has el mejor jugador de la actuación de su vida, pero estaba en la lógica de reproducción y no de registro, el modo. No todo está perdido! Echemos un vistazo a cómo usted puede recordar la última vez que jugó el rendimiento de audio o MIDI incluso cuando la lógica no estaba en modo de grabación.

Sí, has leído bien, y esto no es justo para ti demonios MIDI. Logic Pro es capaz de recordar la última presentación de audio reproducido también!
Empecemos por explorar cómo funciona esto con interpretaciones MIDI ...
1 - Capturar como la grabación de MIDI
Aunque esta es una característica bien documentada, muchos usuarios de Logic puede no ser consciente de ello. Comience haciendo clic derecho sobre el transporte y optar por personalizar la barra de transporte. Asegúrese de activar la grabación de captura en la columna primero. El botón de grabación de captura de ahora se mostrará al lado del botón de grabación en el transporte.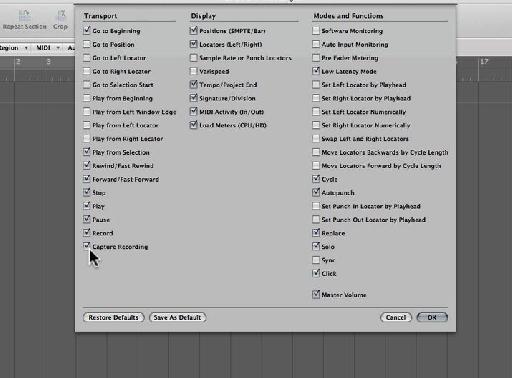 Fig. 1. Activar el botón de grabación de captura en el transporte.
Nota: También puede asignar un comando de teclado para capturar la grabación. Ir a Logic Pro
A continuación, siga estos pasos:
Create a software instrument track.

Hit play (Logic's Transport MUST be running for this to work).

Play some keys on your MIDI Controller or Caps lock keyboard and hit stop.

Click the Capture as Recording button (or use the key command).
Y eso es todo lo que hay que hacer. Su última actuación se grabará en una región MIDI en la pista! Asegúrese de que para captar la grabación inmediatamente después de suspender el transporte Lógica. Si lleva a cabo otras funciones antes de hacerlo, la lógica puede olvidar que la última actuación.
2 - Captura de audio como la grabación
La captura de la última grabación juega en pistas de audio es considerado por todos, pero un puñado de expertos en lógica como imposible. Sin embargo, es imposible no lo es! Siga estos pasos y youll nunca perder una actuación de nuevo!
Setup the inputs of an audio track to record an audio source.

Enable Punch on the Fly mode so Logic is always listening: Options > Audio > Punch on the Fly. (See Fig 2.)

Record-arm the audio track, hit Play in Logic's transport and begin playing / singing.

BEFORE you stop playback, hit the Record button (R) then stop playback.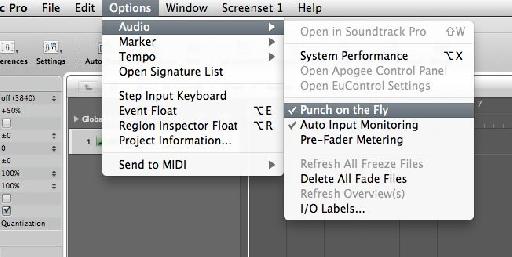 La figura 2. Hacer ponche que sobre la marcha está activada.
Como era de esperar en una región de audio corta aparece cuando se alcanzan récord. Porque la lógica era en Punch en el modo de mosca esa región contiene todo el archivo de audio de cuando se inició la reproducción! Ahora arrastre la esquina izquierda de la región para revelar el rendimiento de audio completo capturado como una grabación!

Arrastre la parte inferior izquierda esquina de la región de audio a la izquierda para revelar el rendimiento de audio.
Y eso es todo lo que hay! A menos que usted se olvida de tomar ponche sobre la marcha habilitado, el transporte o la lógica no estaba en modo de reproducción que no hay excusa para perder que toda la importancia, una vez que-en-la-vida mermelada de cuando usted está utilizando Logic Pro!