How-to Create Green Apple Loops in 3 easy steps in Logic
If you've ever used Garageband or Logic you will undoubtedly have encountered Apple Loops that can be time stretched and transposed to fit into your songs. The Apple Loops format has become one of the big players in the world of samples and loops.
It's the format of choice in Apple's Pro Apps and across home & pro studios worldwide. The Loop Browser in Logic is a great way to quickly find and sift through musical elements, preview loops and sound effects and then add them to your project.
Apple Loops come in two flavors, blue and green. In this quick tip we're going to create our own Green Apple Loops in 3 easy steps.
Green Apple loops are like super-charged Blue Apple Loops. Both types contain audio data but Green Apple Loops also contain a MIDI region and channel strip settings.... so the possibilities in manipulating them in any MIDI editor and their plugin settings are
endless!
Step 1

For this example I've created a Software Instrument Track and placed a 2 bar MIDI region created in Ultrabeat on that track with some plugin effects to taste.
Simply drag the region from the Arrange area into the Loop Browser (in your Media Area).
Step 2

From the Add Regions to Apple Loops Library window you can choose to give it a name and add some descriptors too. Taking an extra 30 seconds now to describe your loop may save you a lot of searching later!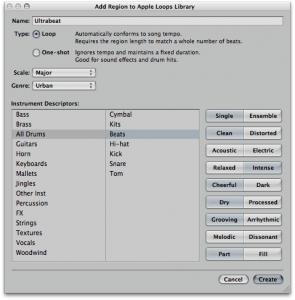 Type: Select Loop for musical or rhythmic loops or One-shot for a non-looping sound effect.
Scale: My loop is beat based so I could select 'Any', 'Good for Both' or 'Neither'.
Genre & Instrument Descriptors: These will help you use the filter buttons in the Loop Browser to narrow down your search for an Apple Loop that fits your project.
When you're done describing your loop to Logic click Done.
Step 3

A quick way to find your own Apple Loops is to choose My Loops from the View menu in the Loops Browser. Click on the All Filter button and your green apple loop will be displayed.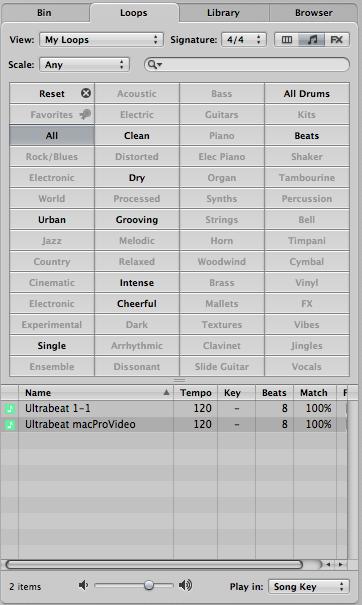 You can now click on the loop to preview it at the current project's tempo, or change the project tempo to speed up or slow down the loop. Dragging your green Apple Loop to a Software Instrument track will create the MIDI region and insert all the effects and instruments used to create your loop. Now that've created one loop you'll be able to access it from any project in Logic, Garageband or even Soundtrack Pro!
Check out our logic video tutorials for more info.