Assim, você terminar de compor, gravar, organizar, mixagem e masterização sua música / music em Lógica. Qual será a próxima? Bem, você poderia jogar suas músicas terminou em Logic ... tanto quanto eu amo Logic, não é o meu leitor de música da escolha! Você pode querer ouvir a sua música terminou no carro, no banho, no seu iPod através do iTunes ... ou talvez você tem aspirações maiores e queremos compartilhá-lo via YouTube, MySpace, Facebook ou gravá-lo em um CD como uma demonstração ou para prepará-lo para um estúdio de masterização! Como você pode ver a lista cresce cada vez mais. O que você faz com a sua música depois que terminar o processo criativo é inteiramente até você ... mas a grande questão é como chegar a sua música para fora da Lógica e no resto do mundo. Neste Tutorial Hub vamos cobrir apenas como fazer isso em ambos os Logic Logic 8 e 9.


Passo 1 - Deixe-o O ut
O primeiro aspecto é escolher que partes do seu Organizar janela que você deseja estar presente em seu mix final. Uma regra é que tudo que você pode ouvir a partir do canal de saída Stereo Logic 02/01 aparecerá no seu arquivo de áudio exportado.
Portanto, agora é um bom momento para silenciar todas as trilhas ou regiões que você não quer em seu mix final!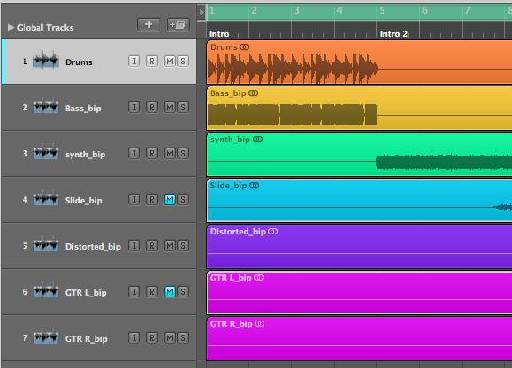 Passo 2 - Não xportar E, Bounce
A primeira vez que quase todo mundo, inclusive eu, queria exportar seus música terminou de Logic eles começaram a procurar o comando export ... Parar ali! Este NÃO é o que você quer neste caso. O Arquivo
O que nós queremos fazer é misturar-down ou tornar audível para todas as faixas de um único arquivo de áudio. Em Lógica este processo é conhecido como "Bounce". Você vai encontrar isso no arquivo
Você também pode ver o botão Bnce na Faixa de Canal de Saída no Inspector e / ou a janela Mixer.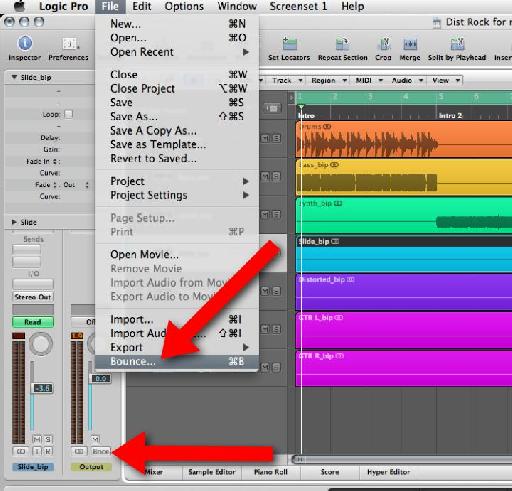 Passo 3 - A Janela Bounce Demy stified
A janela Bounce é um cruzamento entre um normal "Salvar como ..." diálogo e uma vasta gama de possíveis variáveis ​​e opções para escolher. Se você estiver familiarizado com computadores e Macs, você provavelmente vai se sentir confortável com a metade superior da janela. Aqui você pode escolher o nome do arquivo saltou e escolher o local que será salvo.
A metade inferior dos negócios Bounce janela com o Destino, formatos de arquivo e tipo de salto que deseja executar. A primeira área a focar é abaixo da caixa de destino. Aqui podemos decidir que área da área Arrange será levado
Nota: Se você definir uma área de Ciclo em seu arranjo antes de saltar os pontos inicial e final será definido automaticamente para os localizadores esquerdo e direito respectivamente.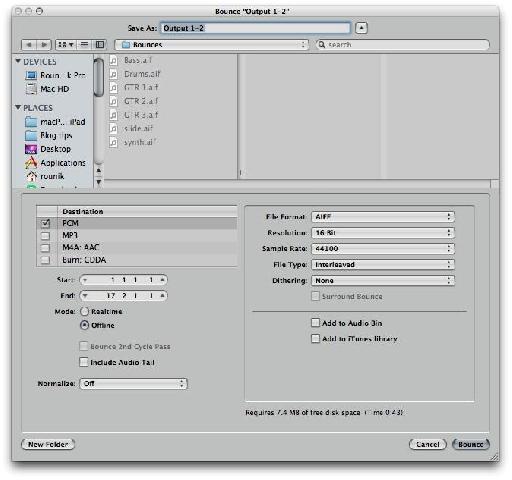 O modo de rejeição pode ser alterada entre Realtime ou Offline. Normalmente off-line será mais rápido, mas você não será capaz de ouvir o Bounce como ela ocorre. Além disso, se você usar alguns objetos em tempo real no Logic Organizar área como Lines Delay e arpejadores eles podem não aparecer na final saltou arquivo de áudio.
Incluem Cauda de áudio é útil se no final da sua música, pode haver atraso ou reverb que é ainda audível além do ponto final. Esta funcionalidade irá permitir que ele seja capturado avaliador do que cortar no final da canção.
Finalmente o recurso Normalize normaliza ou aumenta o nível do áudio final para torná-la perceptivelmente mais alto. Eu normalmente manter a minha posição OFF como prefiro misturar e mestre para minhas próprias configurações personalizadas antes Bouncing do projeto. Outras opções incluem On e Proteção contra sobrecarga Only. Esta opção mais tarde pode ser muito útil se saltar uma mistura rápida para garantir que a níveis nunca clipe ou causar qualquer distorção.
Passo 4 - wn Destino Unkno
O destino do seu arquivo final de áudio depende muito de como você quer distribuir ou ouvi-la. Seleccionar um Destino irá atualizar as opções de formato no lado direito da janela do Bounce.
PCM: PCM ou Pulse-code modulation, é uma forma padrão para áudio digital. Ele é descompactado e pode fornecer alta qualidade. Você deve estar usando este destino para arquivar a sua música e / ou passar uma mistura em um estúdio de masterização e saltar para o CD.
Aqui você pode escolher o formato de arquivo (AIF e WAV ainda são os dois mais populares e amplamente aceita na época da escrita).
Resolução (CD especificação é de 16 bits, para fornecer uma Casa Mastering com seu mix você deve usar 24-bit).
Certifique-se que a taxa da amostra seja o mesmo que seu projeto ou se for necessário alterá-lo para a taxa de amostragem exigida. CD é 44,1. Áudio para filme será provavelmente necessária a uma taxa de amostragem de 48 kHz.
Tipo de arquivo Interleaved irá colocar os canais esquerdo e direito no mesmo arquivo de áudio. Pode haver momento em que você deseja que o lado esquerdo e direito do seu campo de estéreo dividido para funcionar bem em Pro Tools ...
As opções são usadas quando Dithering reduzindo a profundidade de bits de seu projeto de 24 bits para 16 bits. Ele adiciona uma pequena quantidade de ruído. Está além do escopo deste post no blog para descrever os diferentes algoritmos disponíveis aqui ... Não há tamanho único. Experimentá-los e ouvir de volta para ter uma noção do que soa melhor ao ouvido.

Passo 5 - MP3 e M4A / AAC
Se você está interessado em criar mp3 ou de qualidade inferior versões compactadas da sua música para distribuição via MySpace e outros sites de compartilhamento de MP3 ... ou apenas para colocar no seu iPod, ative a opção MP3!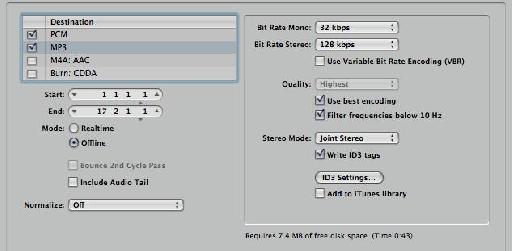 After enabling the MP3 option, make sure the MP3 destination is highlighted so the Format options are updated to reflect that. Here you'll be able to change the quality of the Bit rate, encoding and even set the ID3 tags. These are tags that will be written to the mp3 file, for example the composer, artist, copyright, etc.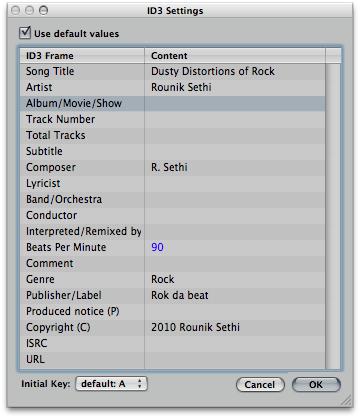 Você tem opções menos sob o destino AAC, mas sem dúvida eles são de melhor qualidade que mp3. Para ambos os mp3 e M4A/AAC você também pode escolher para adicionar à sua biblioteca do iTunes.
Passo 6 - em CD
Embora possa sentir como CD estão no seu caminho para fora ... infelizmente ... Há momentos em que você pode querer queimar sua música direto para um CD de áudio a partir de Logic. Isso é exatamente o que o Burn: CDDA destino opção permite que você faça.
Você pode optar por Burn to CDDA (CD Digital Audio) ou DVD-A (Audio DVD) a partir do Modo drop-down menu.
As outras opções são padrão para software mais candentes, mas importante é que você deve escolher o dispositivo correto (Gravador de CD conectado ao seu Mac), a velocidade e as opções de dithering. Lembre-se que se seu projeto contém todos os arquivos de 24 bits de áudio que você vai precisar usar as opções de dither para reduzir a profundidade de bits para 16 bits (que é necessária devido à tecnologia CD spec).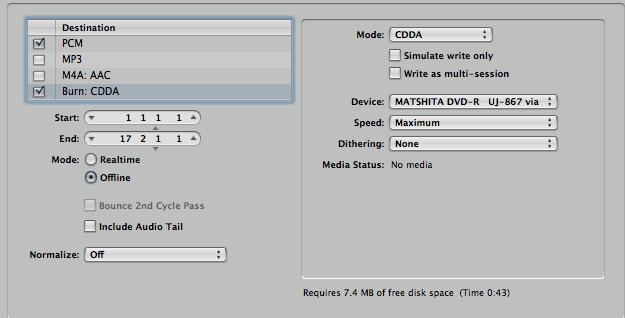 Agora você está pronto para Clique no Bounce Bounce ou

To learn more about Logic check these tutorials out!
We'd love to hear from you. Let us know what you think by writing a comment below!
.