Por lo tanto, que haya terminado de componer, grabar, organizar, mezcla y masterización de su canción / música en Logic. ¿Y ahora qué? Bueno, puede reproducir las pistas de música terminó en la lógica ... tanto como me encanta la lógica, no es mi reproductor de música de su elección! Es posible que desee escuchar la pista terminó en el coche, en el baño, en su iPod a través de iTunes ... o quizás usted tiene aspiraciones más grande y queremos compartir a través de YouTube, MySpace, Facebook o grabarlo en un CD como un demo o para prepararse para un estudio de masterización! Como se puede ver la lista crece cada vez más largos. ¿Qué haces con tu música después de haber terminado el proceso creativo es totalmente de usted ... pero la gran pregunta es cómo conseguir que su música fuera de la lógica y en el resto del mundo. En este tutorial vamos a cubrir Hub cómo hacer que, tanto en Logic 8 y Logic 9.


Paso 1 - Dejar O ut
El primer aspecto es elegir qué partes de su ventana Organizar quiere estar presente en la mezcla final. Una regla básica es que todo lo que se puede escuchar desde el canal de salida estéreo 2.1 Lógica aparecerá en el archivo de audio exportado.
Así que ahora es un buen momento para silenciar las pistas o regiones que no quieren en la mezcla final!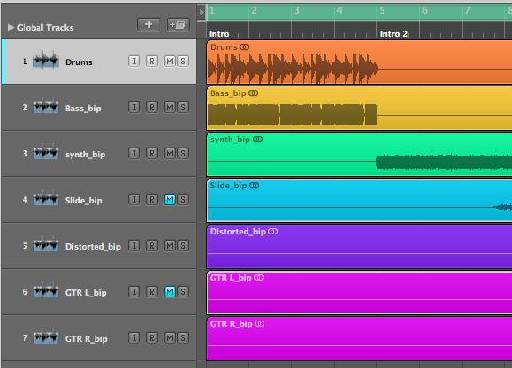 Paso 2 - No E xport, Bounce
La primera vez casi todos, incluido yo mismo, quería exportar su canción terminada de la lógica que comenzar a buscar el comando de exportación ... ¡Alto ahí! Esto no es lo que desea en este caso. El archivo
Lo que queremos hacer es mezclar hacia abajo o hacer todas las pistas sonoras a un único archivo de audio. En la lógica de este proceso se conoce como "rebote". Usted encontrará esto en el archivo
También puede ver el botón bnce en el canal de salida en el Inspector y / o la ventana del mezclador.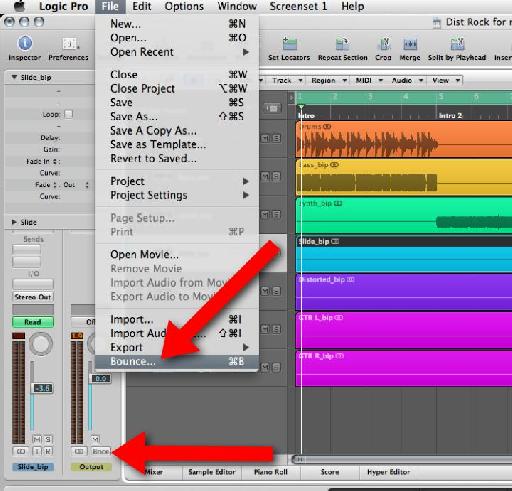 Paso 3 - La ventana de rebote Demy stified
La ventana de rebote es un cruce entre una normal "Guardar como ..." diálogo y una amplia gama de variables y opciones para elegir. Si está familiarizado con los ordenadores y Mac, es probable que se sienta cómodo con la mitad superior de la ventana. Aquí se puede elegir el nombre del archivo rebotado y elegir la ubicación en la que se guardará.
La mitad inferior de la ventana de ofertas de rebote con el destino, los formatos de archivo y el tipo de rebote que desea realizar. La primera área de centrarse en está por debajo de la caja de Destino. Aquí podemos decidir qué área de la zona de arreglos se recuperó
Nota: Si se establece un área de ciclo en el Acuerdo antes de rebotar a los puntos de inicio y fin se ajusta automáticamente a los localizadores izquierdo y derecho respectivamente.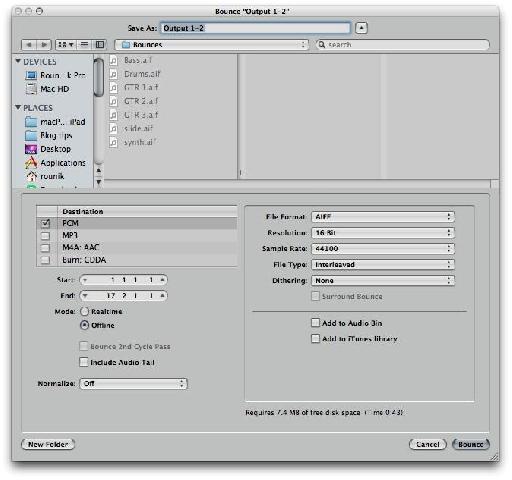 El modo de rebote se puede cambiar entre tiempo real o fuera de línea. Normalmente fuera de línea será más rápido, pero no será capaz de escuchar el rebote, ya que se lleva a cabo. Además, si utiliza algunos de los objetos en tiempo real en el área Organizar de Logic como líneas de retardo y arpegiadores pueden no aparecer en la final rebotó archivo de audio.
Incluir la cola de audio es muy útil si al final de su canción puede haber un retraso o reverberación que se sigue oyendo más allá del punto final. Esta característica le permitirá ser capturado evaluador que corta en el final de la canción.
Finalmente la función Normalizar normaliza o aumenta el nivel de la final de audio para que sea perceptiblemente más alto. Yo normalmente mantener en OFF, como yo prefiero mezclar y masterizar a mis propios ajustes personalizados antes de rebotar el proyecto. Otras opciones son On y Protección de sobrecarga solamente. Esta última opción puede ser muy útil si rebotar una mezcla rápida para asegurarse de que los niveles de clip o no causa ninguna distorsión.
Paso 4 - Destino wn Unkno
El destino del archivo de audio final depende en gran medida de cómo quiere distribuir o escuchan. Selección de un destino se actualizarán las opciones de formato a la derecha de la ventana de rebote.
PCM: PCM o Pulse el código de modulación, es una forma estándar para audio digital. Es sin comprimir y pueden proporcionar alta calidad. Usted debe utilizar este destino para archivar su canción y / o pasar una mezcla a un estudio de Mastering y rebotar en un CD.
Aquí se puede elegir el formato de archivo (AIF y WAV siguen siendo los dos más populares y ampliamente aceptadas en el momento de escribir esto).
Resolución (CD especificación es de 16 bits, para proporcionar una Casa Mastering con la mezcla se debe utilizar 24 bits).
Asegúrese de que la frecuencia de muestreo sea el mismo que el proyecto o si es necesario cambiar a la frecuencia de muestreo requerida. CD es 44,1. Audio para el cine por lo general se requiere una frecuencia de muestreo de 48 kHz.
Tipo de archivo intercaladas colocará los canales izquierdo y derecho en el mismo archivo de audio. No puede ser el momento cuando se desea que la izquierda ya la derecha del campo estéreo divididos para trabajar bien en Pro Tools ...
Las opciones de difuminado se utilizan cuando la reducción de la profundidad de bits de su proyecto de 24-bit a 16-bit. Se añade una pequeña cantidad de ruido. Está más allá del alcance de esta entrada del blog para delinear los diferentes algoritmos disponibles aquí ... No hay talla única. Trate de ellos y escuchar de nuevo a tener una idea de qué es lo mejor suena en el oído.

Paso 5 - MP3 y M4A / AAC
Si usted está interesado en la creación de mp3 o de menor calidad versiones comprimidas de su música para su distribución a través de sitios de intercambio de MySpace y otros MP3 ... o simplemente para colocar en su iPod, activar la opción de MP3!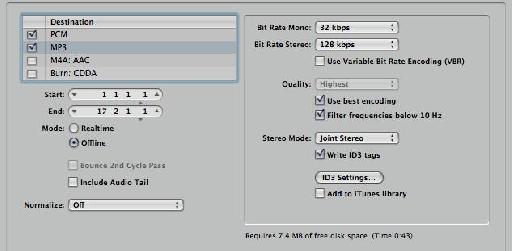 After enabling the MP3 option, make sure the MP3 destination is highlighted so the Format options are updated to reflect that. Here you'll be able to change the quality of the Bit rate, encoding and even set the ID3 tags. These are tags that will be written to the mp3 file, for example the composer, artist, copyright, etc.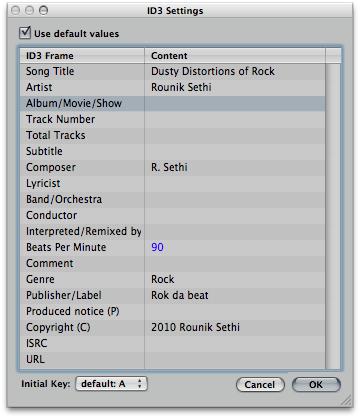 Usted tiene menos opciones en el destino AAC, pero sin duda son de mejor calidad que los mp3. Por tanto mp3 y M4A/AAC también puede optar por añadir a su biblioteca de iTunes.
Paso 6 - en un CD
Aunque puede sentirse como CD son en su salida ... por desgracia ... Hay ocasiones en las que desea grabar la pista directo a un CD de audio de Logic. Eso es exactamente lo que el Burn: CDDA opción de destino le permite hacer.
Usted puede elegir grabar en CDDA (CD Digital Audio) o un DVD (Audio DVD) desde el modo de menú desplegable.
Las otras opciones son estándar para el software más candentes, pero es importante que usted debe elegir el dispositivo correcto (quemador de CD conectado a su Mac), la velocidad y las opciones de tramado. Recuerde que si el proyecto contiene todos los archivos de audio de 24 bits tendrás que usar las opciones de tramado para reducir la profundidad de bits a 16 bits (lo cual es necesario debido a la especificación de CD de alta tecnología).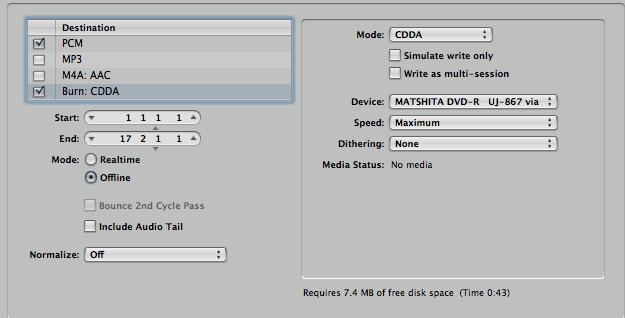 Ahora estás listo para Haga clic en el Rechazar

To learn more about Logic check these tutorials out!
We'd love to hear from you. Let us know what you think by writing a comment below!
.