Also, Sie haben fertige Komposition, Recording, Arrangieren, Mixing und Mastering Ihres Songs / Musik in Logic. Was kommt als nächstes? Nun, Sie könnten Ihre fertige Musikstücke in Logic zu spielen ... so viel wie ich Logic Liebe, es ist nicht meine Musik-Player der Wahl! Vielleicht möchten Sie Ihre fertige Strecke im Auto hören, in der Badewanne, auf Ihrem iPod via iTunes ... oder vielleicht haben Sie größeren Ambitionen und wollen es über YouTube, MySpace, Facebook teilen oder brennt sie auf CD als Demo oder um es für eine Mastering-Studio vorzubereiten! Wie Sie sehen können die Liste wird immer länger. Was Sie mit Ihrer Musik, nachdem Sie den kreativen Prozess abgeschlossen haben, liegt ganz bei Ihnen ... aber die große Frage ist, wie Sie Ihre Musik raus für Logik und in die weite Welt. In diesem Hub Tutorial werden wir decken nur, wie man das in beiden Logic 8 und Logic 9 tun.


Schritt 1 - Lassen Sie es O ut
Der erste Aspekt ist zu wählen, was Teile der Fenster, das Sie wollen in Ihrem finalen Mix präsentieren anordnen. Eine Faustregel ist, dass alles, was Sie von Logic Stereo 2.1 Ausgangskanal hören kann, wird in die exportierte Audiodatei angezeigt.
So ist jetzt ein guter Zeitpunkt, um alle Spuren oder Regionen, die Sie nicht in Ihrem finalen Mix wollen stumm!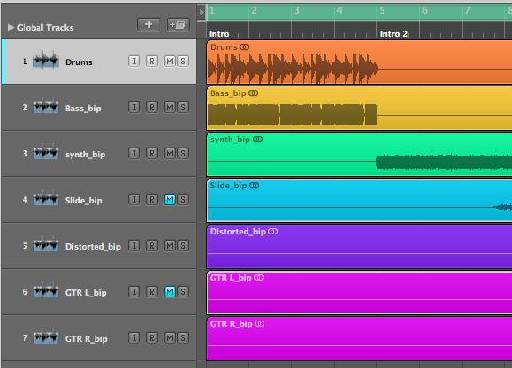 Schritt 2 - Nicht E xport, Bounce
Das erste Mal, fast jeder, mich eingeschlossen, wollten ihre fertigen Song aus Logic sie begonnen, einen Blick für den Export-Befehl Export ... Stoppen Sie sofort stehen! Dies ist nicht das, was Sie in diesem Fall wollen. Die Datei
Was wir wollen, ist zu mischen-down oder machen alle Audio-Tracks auf eine einzelne Audiodatei. In Logic dieser Vorgang wird als "Bounce" bekannt. Sie finden diese in der Datei zu finden
Außerdem können Sie die Bnce auf die Schaltfläche Output Channel Strip im Inspector und / oder im Mixer-Fenster.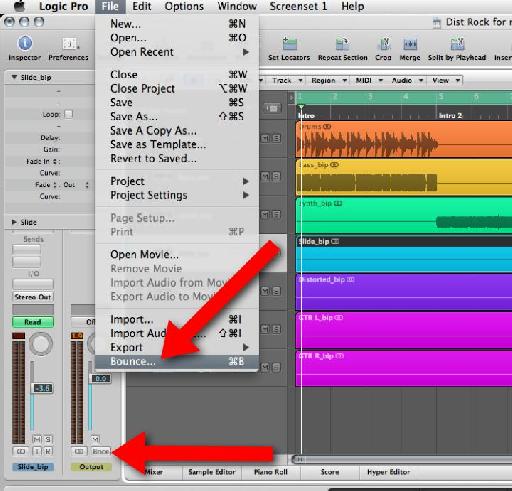 Schritt 3 - The Bounce Fenster Demy stified
Die Bounce-Fenster ist eine Kreuzung zwischen einem normalen "Speichern unter ..." Dialog und eine breite Palette von möglichen Variablen und Optionen zur Auswahl. Wenn Sie sich mit Computern und Macs sind, werden Sie wahrscheinlich bequem mit der oberen Hälfte des Fensters. Hier können Sie den Namen des prallte Datei und wählen Sie den Speicherort sie gespeichert werden.
Die untere Hälfte der Bounce-Fenster beschäftigt sich mit der Destination, Dateiformate und die Art der prallen die Sie durchführen möchten. Der erste Bereich zu konzentrieren ist unter dem Feld Ziel. Hier können wir entscheiden, in welchem ​​Bereich der Arrangierbereich wird zurückgeschickt
Hinweis: Wenn Sie einen Cycle-Bereich festlegen in Ihren Arrangement vor bouncing die Start-und End-Punkte werden automatisch auf die linken und rechten Locator bzw. eingestellt werden.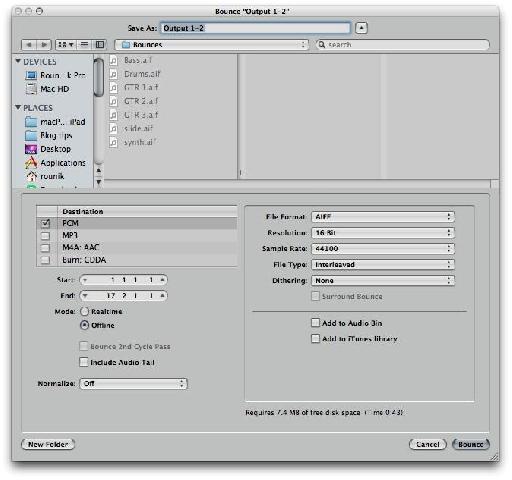 Die Bounce-Modus kann zwischen Realtime-oder Offline geändert werden. Normalerweise verbunden werden schneller, aber du wirst nicht in der Lage sein, die Bounce zu hören, wie es stattfindet. Auch wenn Sie einige Echtzeit-Objekte in Logic Arrangierbereich wie Delay Lines und Arpeggiators verwenden dürfen sie nicht in die endgültige erscheinen prallte Audiodatei.
Include Audio Rute ist nützlich, wenn am Ende des Songs gibt Delay oder Reverb, der noch hörbar über den Endpunkt sein kann. Diese Funktion wird es ermöglichen, rater erfasst werden, als sich am Ende des Songs schneiden.
Schließlich wird die Normalisieren-Funktion normalisiert oder hebt das Niveau der letzten Audio-, damit es wahrnehmbar lauter. Ich normalerweise immer meine Einstellung OFF, wie ich zu mischen und zu meistern, meine eigene benutzerdefinierte Einstellungen vor Bouncing das Projekt bevorzugen. Weitere Optionen sind On-und Überlastschutz Only. Diese Option kann später sehr nützlich sein, wenn Prellen eine schnelle Mischung, um sicherzustellen, das Niveau nie Clip oder zu keiner Verzerrung.
Schritt 4 - Destination Unkno wn
Die Destination Ihrer letzten Audiodatei hängt sehr davon ab, wie Sie verteilen möchten oder hören Sie es. Auswählen eines Ziels aktualisiert die Format-Optionen auf der rechten Seite des Bounce-Fenster.
PCM: PCM oder Pulse-Code-Modulation, ist ein Standard-Formular für digitales Audio. Es ist nicht komprimiert und können hohe Qualität zu bieten. Sie sollten mit diesem Ziel zu archivieren dein Lied und / oder weiterzugeben einen Mix an ein Studio für Mastering und CD bounce.
Hier können Sie das Dateiformat (AIF und WAV sind noch die beiden beliebtesten und am weitesten zum Zeitpunkt des Schreibens akzeptiert).
Auflösung (CD-Spezifikation ist 16-bit, eine Mastering Haus mit Ihrer Mischung, die Sie 24-bit verwenden sollte).
Sicherstellen, dass die Abtastrate ist entweder das gleiche wie Ihr Projekt oder bei Bedarf ändern Sie die Abtastrate erforderlich. CD ist 44,1. Audio für Film wird in der Regel mit einer Abtastrate von 48 kHz erforderlich.
Interleaved Dateityp wird die linken und rechten Kanal in die gleiche Audio-Datei zu platzieren. Eventuell gibt es Zeit, wenn Sie den linken und rechten Seite des Stereo-Bereich aufgeteilt, um gut zu funktionieren in Pro Tools wollen ...
Die Dithering-Optionen werden verwendet, wenn die Verringerung der Farbtiefe des Projekts aus 24-Bit-auf 16-Bit. Es fügt eine kleine Menge Lärm. Es sprengt den Rahmen dieses Blog-Post auf die verschiedenen Algorithmen finden Sie hier Outline ... Es gibt keine one size fits all. Probieren Sie es aus und hören Sie wieder ein Gefühl von dem, was am besten klingt ans Ohr zu bekommen.

Schritt 5 - MP3 und M4A / AAC
Wenn Sie bei der Erstellung mp3-Dateien oder niedriger Qualität komprimiert Versionen Ihrer Musik für die Verbreitung über MySpace und andere MP3-Sharing-Sites interessiert ... oder einfach nur auf Ihrem iPod Platz, aktivieren Sie die Option MP3!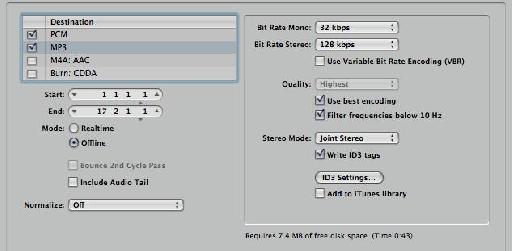 After enabling the MP3 option, make sure the MP3 destination is highlighted so the Format options are updated to reflect that. Here you'll be able to change the quality of the Bit rate, encoding and even set the ID3 tags. These are tags that will be written to the mp3 file, for example the composer, artist, copyright, etc.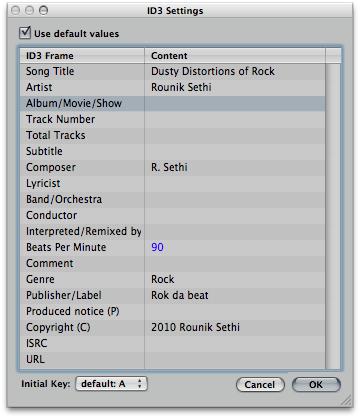 Sie haben weniger Optionen im Rahmen des AAC Ziel, aber wohl, sie sind besser Qualität, mp3. Für beide mp3 und M4A/AAC Sie können auch wählen, um Ihre iTunes-Bibliothek hinzufügen.
Schritt 6 - Auf CD
Obwohl es wie fühlen CDs sind auf ihrem Weg aus ... leider ... Es gibt Zeiten, die Sie brennen möchten Ihren Track direkt auf eine Audio-CD von Logic kann. Das ist genau das, was die Burn: CDDA Ziel Option, die Sie tun können.
Sie können wählen, um CDDA (CD Digital Audio) oder DVD-A (Audio DVD) aus dem Modus-Dropdown-Menü brennen.
Die anderen Optionen sind Standard für die meisten Brennsoftware, aber wichtiger ist, man muss das richtige Gerät (CD Burner mit Ihrem Mac verbunden), Geschwindigkeit und Dithering-Optionen wählen. Denken Sie daran, dass, wenn Ihr Projekt enthält eine 24-Bit-Audio-Dateien benötigen Sie den Dither-Optionen verwenden, um die Bit-Tiefe von 16-Bit (was unter anderem durch den CD-Tech-spec ist) zu reduzieren werde.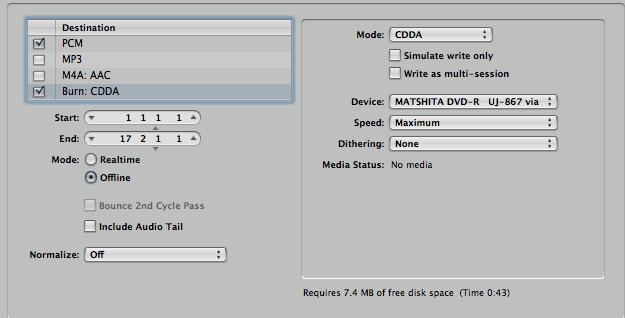 Jetzt sind Sie bereit, um die Bounce klicken oder Bounce

To learn more about Logic check these tutorials out!
We'd love to hear from you. Let us know what you think by writing a comment below!
.