09 March, 2015'" LK - Live Controller (formerly know as LIVKONTROL) is a tool dedicated to electronic musicians in live-act or studio performances. It was built from scratch to provide a consistent experience and appearance across iOS and Android, while keeping usability and easiness in mind.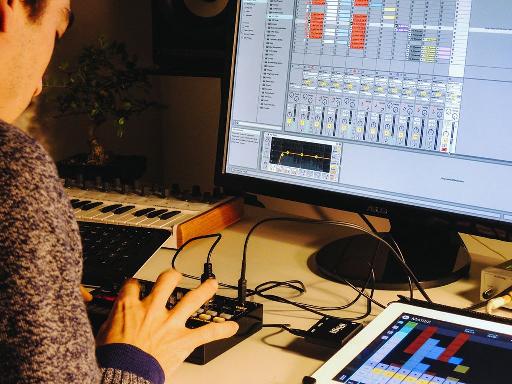 At its core, LK is a general purpose wired/wireless MIDI controller featuring a tight integration with the industry standard digital audio workstation Ableton Live. It is composed of four different modules: MATRIX, MIDI PADS, MIDI CONTROLLER and X/Y PAD.
MATRIX is a dedicated Ableton Live controller module with clip launching and editing abilities, device browsing and mixer abilities, packed into an elegant and highly intuitive user interface.

MIDI PADS provides a set of 16 MPC style pads for instrument playing while featuring an arpeggiator, chorder and radial velocity control.

MIDI CONTROLLER adds general parameter control over four pages of thirty two screen controls each.

X/Y PAD is an elegant X/Y controller featuring LFO modulation for X and Y axis, as well as a special ASR envelope generator for the Z axis.

Besides its full integration with Ableton Live, LK can also be used to control your favorite piece of gear via wired MIDI, while remotely controlling your Live set remotely.
LK - Live Control's MATRIX Composer on iPad.
LK - Live Control's XY Pad on a 7"Android tablet.
LK is available worldwide via Apple App Store for iPad devices or via Google Play for tablet devices. It will be freely distributed, allowing 15 minutes of usage per session. The different modules can be unlocked for unlimited usage at any time.
Full product information available at www.livkontrol.com