Austin, TX, June 16, 2014 - Livid Instruments today released Base II, a new and improved control surface for creative production with all major music software. Building on the flagship Base controller, which introduced velocity sensitivity and touch responsive hardware to Livid's line of MIDI controllers, Base II delivers thicker and more playable drum pads, brighter multi-color LEDs and an ergonomically redesigned enclosure for $349. Base II is available now at the Livid Instruments Shop and at retailers worldwide.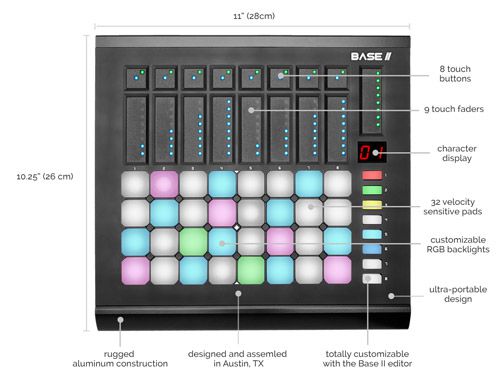 Livid Instruments BASE II.
Base II puts your beats, synths and effects, or your entire mix, right at your fingertips. Thicker, softer pads make drumming more comfortable and allow a delicate touch for playing samples or velocity sensitive instruments. Ultra bright RGB LED backlighting can color the Base II to help you arrange your set, indicate effects, or organize the pads for different scales and modes. Base II also features on-board banking to save programs and update MIDI messages on the fly. The Base II controls are housed in a sleek and solid aluminum chassis, designed to maximize play and portability.

Base II is a powerful control surface that adapts to a wide range of applications. Continuing Livid's philosophy of developing universal MIDI hardware, innovative scripts and templates for Base II are available for Bitwig Studio, Ableton Live, Propellerheads Reason, Max and Max for Live, Liquid Rhythm, NI Traktor, VDMX, and more, for music or visual production and performance. Base II is appropriate for both professional and amateur artists and can also be reprogrammed using the Livid Universal Editor application for advanced MIDI hardware or software configurations.

Pricing and availability
Base II is available for purchase now from $349, through retailers worldwide and the Livid Instruments Shop. Expected shipping date is July 28th, 2014
More info: